Partizipation
PEPfinal-expanded.pdf (application/pdf-Objekt) Principles of Public Participation. Public participation in democratic society is both vital and problematic.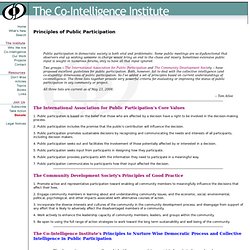 Some public meetings are so dysfunctional that observers end up wishing someone in charge would bring an end to the chaos and misery. Sometimes extensive public input is sought in numerous forums, only to have all that input ignored. Two groups -- The International Association for Public Participation and The Community Development Society -- have proposed excellent guidelines for public participation. Both, however, fail to deal with the collective intelligence (and co-stupidity) dimensions of public participation. So I've added a set of principles based on current understandings of co-intelligence. 4 Typen von Partizipation Makriyannis-De_Liddo. From Participatory Culture to Public Participation.
This project explores continuities between online participatory culture and civic engagement.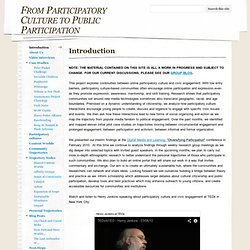 With low entry barriers, participatory culture-based communities often encourage online participation and expression even as they promote expression, awareness, mentorship, and skill training. Research shows that participatory communities set around new media technologies sometimes also transcend geographic, racial, and age boundaries. Premised on a dynamic understanding of citizenship, we analyze how participatory culture interactions encourage young people to create, discuss and organize to engage with specific civic issues and events.
We then ask how these interactions lead to new forms of social organizing and action as we map the trajectory from popular media fandom to political engagement. Iceland Is Crowdsourcing Its New Constitution - Politics. Vikings.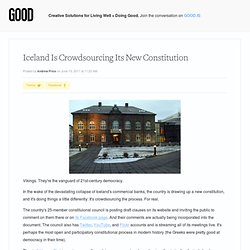 They're the vanguard of 21st-century democracy. In the wake of the devastating collapse of Iceland's commercial banks, the country is drawing up a new constitution, and it's doing things a little differently: It's crowdsourcing the process. The Enabling City: Creative Examples of Cities Sharing Resources. This post is part of Thesis Chronicles.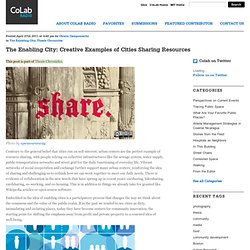 Photo by opensourceway. Contrary to the general belief that cities run on self-interest, urban centers are the perfect example of resource sharing, with people relying on collective infrastructures like the sewage system, water supply, public transportation networks and street grid for the daily functioning of everyday life. Vibrant networks of social cooperation and exchange further support many urban centers, reinforcing the idea of sharing and challenging us to rethink how we can work together to meet our daily needs. There is evidence of collaboration in the new words that have sprung up in recent years: carsharing, bikesharing, yardsharing, co-working, and co-housing.
This is in addition to things we already take for granted like Wikipedia articles or open source software. From Do It Yourself to Do It Together - John Hagel III, John Seely Brown and Lang Davison - John Hagel III and John Seely Brown. Chris Anderson continues to explore the edges of the Big Shift playing out around us. Having introduced us to The Long Tail and the growth of Free as a business model, Chris has just published a new article called "Atoms Are the New Bits" in the current issue of Wired. This article, highlighting the move from the "long tail of bits" to the "long tail of atoms," provides an important preview to a new book Chris Anderson is developing. Eric Von Hippel's Homepage. Futurelab - Projects - Digital Participation. Summary 'Digital Participation' describes the ways in which people participate in learning, work, civic life, and leisure in a context where digital technologies and media are more prevalent.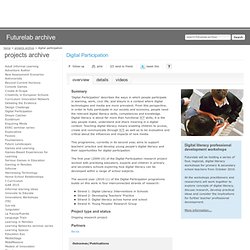 From this perspective, in order to fully participate in our society and economy, people need the relevant digital literacy skills, competences and knowledge.
---