Twitter
How Does Twitter Work And What Can Twitter Mean For Your Business. HASHTAG The hashtag is used to categorize tweets in topics or subjects.
This facilitates life for Twitter users when they want to follow a certain topic. So for example, if you wanted to know what everyone else is saying about SEO on Twitter, you type the hash or pound sign (#) in front of the word SEO like so #SEO. If you wanted to follow tweets on copywriting, you type #copywriting. OK, now that we know a little bit about Twitter, let's move on to learn how Twitter works! The screenshot below shows you how your HOME page on Twitter will look like.
4 Useful Twitter Automation Tools and How to Use Them. Social media is about engagement, so there's often quite a large debate about adding any automated elements to a social media campaign.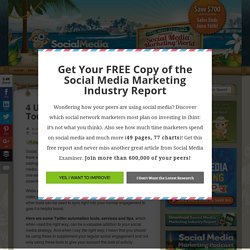 Because let's face it—no one wants to follow an account that's essentially a bot. Or do they? While some automation tools do nothing but make your social media profile look like an announcement board, other tools can be used to sync right into your normal engagement to give it a helpful boost. Twitter Ads Earn More Money Per Impression Than Facebook Ads [REPORT] How To Optimize Twitter: Be Real, Profiles, RT, Hashtags & More. Twitter loves me, Twitter loves me not.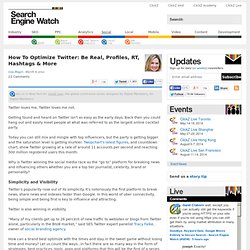 Getting found and heard on Twitter isn't as easy as the early days. Back then you could hang out and easily meet people at what was referred to as the largest online cocktail party. Today you can still mix and mingle with top influencers, but the party is getting bigger and the saturation level is getting murkier. Twopchart's latest figures, and countdown chart, show Twitter growing at a rate of around 11 accounts per second and reaching 500 million registered users this month. Why is Twitter winning the social media race as the "go to" platform for breaking news and influencing others whether you are a top tier journalist, celebrity, brand or personality? Twitter Tips: Turning Your Twitter Followers into Readers. Social You: 6 More Reasons No One Follows You on Twitter. Recently Ted listed four reasons people don't follow you on Twitter.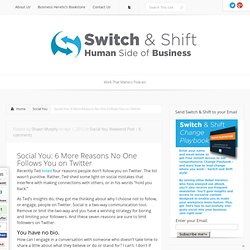 The list wasn't punitive. Rather, Ted shed some light on social mistakes that interfere with making connections with others, or in his words "hold you back." As Ted's insights do, they got me thinking about why I choose not to follow, or engage, people on Twitter. Everything You Need To Know About Images For The New Facebook Pages.
61 Flares Twitter 0 Facebook 24 Google+ 16 LinkedIn 16 inShare16 Pin It Share 0 Buffer 5 Email -- Email to a friend 61 Flares × I'm loving playing around with the new Facebook Timeline, I feel a bit like a kid with a new tool, there's lots to learn and discover.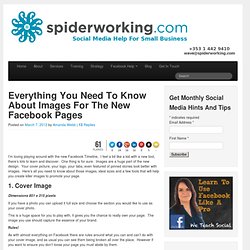 One thing is for sure. This is why you must use Twitter. If you're like me, you probably hated Twitter when you first tried it.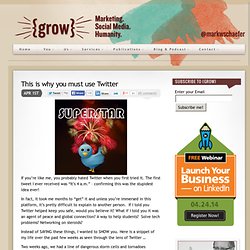 The first tweet I ever received was "It's 4 a.m." – confirming this was the stupidest idea ever! In fact, it took me months to "get" it and unless you're immersed in this platform, it's pretty difficult to explain to another person. If I told you Twitter helped keep you safe, would you believe it? What if I told you it was an agent of peace and global connection? A way to help students? The Anatomy of Effective Tweets. Now that you've decided to jump on the Twitter bandwagon to gain maximum benefits for your business, what do you do next?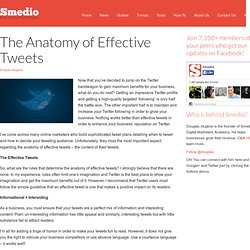 Getting an impressive Twitter profile and getting a high-quality targeted 'following' is only half the battle won. The other important half is to maintain and increase your Twitter following in order to grow your business. Nothing works better than effective tweets in order to enhance your business' reputation on Twitter. I've come across many online marketers who build sophisticated tweet plans detailing when to tweet and how to decide your tweeting audience.
Unfortunately, they miss the most important aspect regarding the anatomy of effective tweets – the content of their tweets. Can Twitter Make Local Pay? The crazy kids at Twitter have been busy turning a revolution into a business.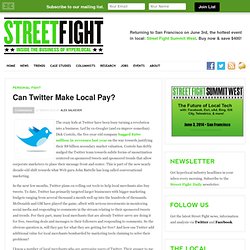 Led by ex-Googler (and ex-improv comedian) Dick Costolo, the five-year-old company bagged $260 million in revenues last year on the way towards justifying their $8 billion secondary market valuation. Costolo has deftly nudged the Twitter team towards subtle forms of monetization centered on sponsored tweets and sponsored trends that allow corporate marketers to place their message front and center. This is part of the now nearly decade-old shift towards what Web guru John Battelle has long called conversational marketing.
In the next few months, Twitter plans on rolling out tools to help local merchants also buy tweets. To date, Twitter has primarily targeted larger businesses with bigger marketing budgets ranging from several thousand a month well up into the hundreds of thousands. 10 Tips to Master Twitter Etiquette. This post was written by Jenny Urbano, our Social Media Manager.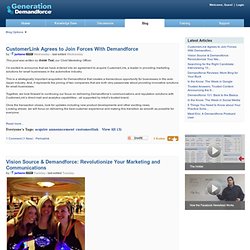 Here at Demandforce, we love seeing and celebrating your ideas! And more than that, we love to hear from YOU. We want to bridge the gap between us and you, so that's why we're offering a once in a lifetime opportunity to win a trip to San Francisco, sightsee in this amazing city, visit Demandforce headquarters and share your ideas with us! 6 winners, and a guest of their choice will be flown out to San Francisco, California on March 12-14th, 2014, where they will stay in Union Square, spend a day at Demandforce, have dinner with the team, and explore the lovely City by the Bay! 5 Tricks for Twitter Power Users. If you love Twitter—and you also have a life—you probably use Buffer to schedule your tweets: To make announcements at a specific time, to send time-sensitive tweets like for limited-time offers, to communicate when your followers are most likely to notice, and to avoid membership in the tweet-a-minute club.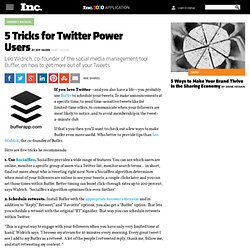 If that's you then you'll want to check out a few ways to make Buffer even more useful. Who better to provide tips than Leo Widrich, the co-founder of Buffer. Here are five tricks he recommends:
---