Social Media
7-Step Social Media Business Plan: Effective Social Media Tips For Business. We all know that failing to plan, is planning to fail.
And this goes for social media too. No you can't just create a Facebook page, post a few nice photos here and there and expect to succeed. You've got to have a plan. 50 social media case studies and reports that are well worth reading. As social media evolves as sector we are starting to see some great case studies emerge around the world and we wanted to pick 50 of the best and share them here for you to enjoy.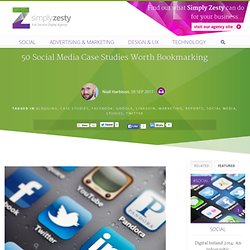 We've focused in on the big social media areas of Linkedin, Facebook, Twitter, Youtube, mobile and Blogging so as you can drill down in to the area that suits you best. There is a good mixture here of case studies for both smaller businesses and large brands so sit back and start reading and learning from these 50 great social media case studies... Twitter. Destroy Real-Time Social Media Obstacles | mobile. 14 Ways to Build Strategic Relationships With the Who's Who of Social Media. Is Social Media Strategy Required or Redundant | social media strategy. Top 52 Social Media Platforms Every Marketer Should Know.
In my book, Go Mobile, written with Jeanne Hopkins from HubSpot, we point out that the vast majority of social media platforms can be accessed via mobile devices.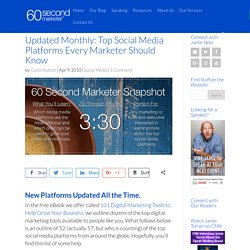 That should come as no surprise since the number one way many people access the internet via their smart phones. Whether you're accessing your social media platform from a desktop or a smartphone, it's important to be familiar with all of them. 9 Social Media Marketing Tips From the Pros. Are you looking for some new ideas to simplify your social media marketing?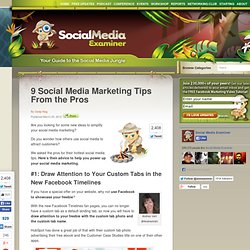 Do you wonder how others use social media to attract customers? We asked the pros for their hottest social media tips. Social Networking Spam - 5 Rules for Marketers | Guest Posts. What to Say on Social Media - 10 Talk Worthy Topics. Are you participating with your friends, followers and likes on social media?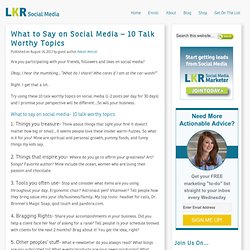 Okay, I hear the mumbling…"What do I share? Who cares if I am at the car-wash?" Writing for Social Media - Strategy. Social Media Jobs and Salaries Guide. The Social Brand Value of the World's Leading Brands - By Erich Radstake.
LinkedIn
Social Media For Business. Pinerly. Pinterest. Google + YouTube. Facebook. Twitter. How To Write Readable - And Retweetable - Tweets. You know the basics of Twitter, but now you want to boost the number of people following your 140-character missives.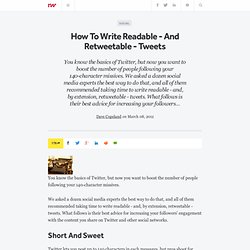 We asked a dozen social media experts the best way to do that, and all of them recommended taking time to write readable - and, by extension, retweetable - tweets. What follows is their best advice for increasing your followers' engagement with the content you share on Twitter and other social networks. Short And Sweet Twitter lets you post up to 140 characters in each messages, but pros shoot for tweets in the sweet spot of 100 to 120 characters. The reason is simple: that lets people add their own quick comment when they retweet your message to their followers.
---