Facebook
How Brands Can Get the Most from Facebook Timeline. With all Facebook pages now upgraded to the new Timeline whether they like it or not, many brands have found themselves struggling with the challenge of adapting their content and marketing approach to the new layout.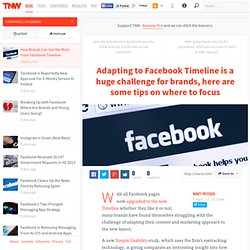 A new Simple Usability study, which uses the firm's eyetracking technology, is giving companies an interesting insight into how effectively Facebook Timeline is working as a marketing tool. The company has also provided a series of tips for areas to focus on to make the best of the new layout. To draw its conclusions, Simple Usability monitored the Facebook pages of six brands American Express, Pizza Hut, Manchester United, Gap, Coldplay and Coca-Cola, assessing how fans are interacting with the new features. Facebook gets nasty as users fight back against Timeline? Fear vs. Greed at Facebook. Even as Facebook prepares to go public, Mark Zuckerberg, the founder and CEO, still owns 28% of his company.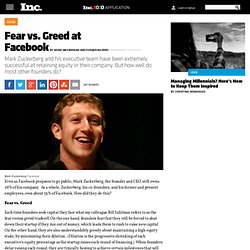 As a whole, Zuckerberg, his co-founders, and his former and present employees, own about 55% of Facebook. How did they do this? Fear vs. Research Shows Half of Facebook Pages Have Less Than 256 Fans. Posted by Katy Ryan Schamberger on March 25, 2012 · 3 Comments Despite the prevalence of Facebook pages, a recent study conducted by Recommend.ly indicates that more than half of them (56 percent, to be exact) have less than 256 fans.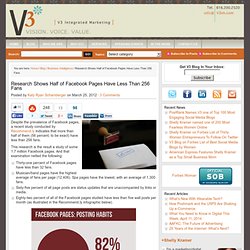 This research is the result a study of some 1.7 million Facebook pages. And that examination netted the following: Facebook adds higher resolution photo viewing. Facebook has added high resolution photos and full screen photo viewing.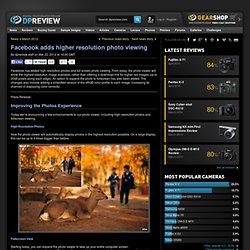 From today, the photo viewer will show the highest resolution image available, rather than offering a download link for higher-res images (up to 2048 pixels along each edge). An option to expand the photo to fullscreen has also been added. The changes also include adding a simplified version of the sRGB color profile to each image, increasing its chances of displaying color correctly. Press Release: 4 Quotes That Show Facebook's New Touchy-Feely Intentions | facebook. Should Your Employer Have Access to Your Facebook Account? Yesterday, I read a report in the American magazine The Atlantic which asked the question Should Employers Be Allowed to Ask for Your Facebook Login?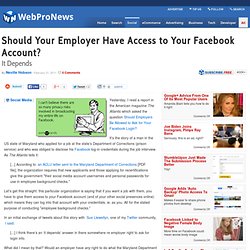 It's the story of a man in the US state of Maryland who applied for a job at the state's Department of Corrections (prison service) and who was obliged to disclose his Facebook log-in credentials during the job interview. As The Atlantic tells it: Facebook Ads Rogues Gallery: The Good, the Bad & the Inexplicable! Facebook ads can be horrible, awesome and (sometimes) downright perplexing or creepy, whether due to targeting, images, headlines, or body copy.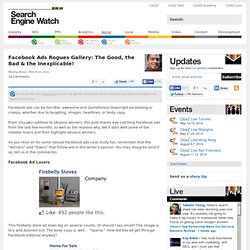 From icky peccadilloes to obvious winners, this post shares eye-catching Facebook ads from the last few months, as well as the reasons why. We'll start with some of the notable losers and then highlight obvious winners. As you read on for some obtuse Facebook ads case study fun, remember that the "winners" and "losers" that follow are in this writer's opinion. You may disagree (and if so, tell us in the comments). 5 Ways to Find Leads via Facebook. According to Entrepreneur's Ann Handley, 70% of B2B marketers used Facebook in their content marketing strategy in 2011.
While Facebook can help businesses generate leads, the process can be a delicate balance of sharing useful content and turning your community into customers. Businesses should think of Facebook as a way to interact with real people on an individual level. Facebook Brand Page Owners Not Engaging As 82% Post Less Than 5 Updates A Month. With all the talk about interacting with your audience online, it seems that the majority set up social media profiles to expand their business but fail to put the time into engaging and interacting with fans.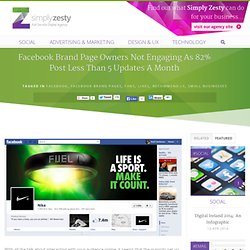 New research from Facebook optimisation site, Recommend.ly found that on average, 82 per cent of Facebook brand pages post less than five update posts per month, signalling a lack of interaction and effort for businesses to engage fans. The research took into account 1.7 million Facebook pages, categories across Business (local businesses and companies), Personal Brands (Politicians, Musicians, Actors) and Interest Groups (Community, Restaurants, Spas). The 1.7 million sample represents 4.59 per cent of the total number of pages on Facebook, which included 10 billion fans, 303 million 'likes', 57 million posts and 94 million comments overall. Facebook Timeline For Fan Pages: 21 Key Points For Marketers. If you have not yet converted your Facebook fan page over to the new Timeline design, your page will automatically convert on March 30th, 2012 which is coming up fast.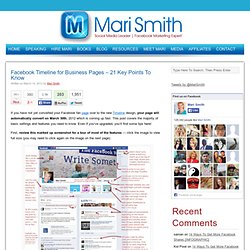 This post covers the majority of basic settings and features you need to know. Even if you've upgraded, you'll find some tips here! First, review this marked up screenshot for a tour of most of the features — click the image to view full size (you may need to click again on the image on the next page): Facebook Timeline for Pages - Guide (click to see full size) Facebook Best Days and Times to Post Infographic. 26 Facebook Fan Page Examples in Detail. Since the conclusion of our previous series "26 Social Media Marketing Examples in Detail" and with the start of the new year, I have been inspired yet again to evaluate what other brands are doing in the space.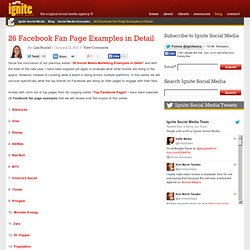 However, instead of covering what a brand is doing across multiple platforms, in this series we will uncover specifically what the top brands on Facebook are doing on their pages to engage with their fans. Armed with Jim's list of top pages from his ongoing series "Top Facebook Pages" I have hand selected 26 Facebook fan page examples that we will review over the course of this series. 1. Sample Contest Rules for Sweepstakes, Giveaways & Online Contests. Summary Online video contests can be an amazing way of leveraging user-generated content to generate brand awareness, buzz, and website traffic. Online video contests are gaining traction with major brands - including 1-800-Flowers, Converse, Red Bull, Nike, Diesel Jeans, Mountain Dew, Coors, Sony BMG and, others. Prizes are usually offered to encourage participation. Digital Marketing Strategies / How to Conquer the Facebook [Infographic] - Tips & EdgeRank explained. Rethinking Fan Gating Strategies for Facebook's New Timeline for Pages.
This is a oft repeated question across the web since the February 29 announcement and launch by Facebook of Timeline for Pages. At first glance it appears so since the Timeline page with the large cover image is the mandatory default page and the former "Default Landing Page" drop down menu is gone on Timeline Pages. Clearly, Facebook wants to drive traffic to the Timeline page and make the Timeline for Pages the centerpiece. However, upon a further in-depth look, fan-gating is NOT dead, just different, and strategy must change accordingly.
Tab apps have a unique url and if this unique url is used in promotions on the web, you can direct users directly to the tab app with the fan gating Like Gate active on it. Facebook's Two New Promos: Reach Generator, Logouts. Want to promote a post from your page and pay on an ongoing basis instead of paying per click or view? You'll be able to do that with Reach Generator, which Facebook guarantees to show to 75 percent of a page's fans over the course of the month. That contrasts with 16 percent of a page's fans that see posts that don't have any ads on Facebook. Facebook announced another premium promotional tool today: a "logout experience" page that Facebook will show people immediately after they sign off on a computer. Facebook Timeline for Business: Get Your Cover Photo Ready | Flyte New Media. Confused about the big changes Facebook just rolled out for your business page?
Relax. Here's how to move to the Timeline painlessly. ATTENTION: Join us on 5/30/2013 for a FREE live webinar on Turning Likes Into Sales. Facebook just announced some of the biggest changes for your business pages ever, and you've only got until the end of this month before you're dragged—perhaps kicking and screaming—into the next phase of Facebook's evolution: Timelines for Brands. Don't Enable Timeline on Your Facebook Page! Here's Why. February 29, 2012 Facebook has just started letting pages convert to the new timeline format. In case you've missed the details here they are: We thought it would be a good chance to tell you how this will affect your Woobox tabs. Timeline for Brands: How to Prepare for Your Company's New Facebook Page. Welcome to fMC. How To Pimp Your Company's Facebook Timeline. Graphic Design Resources for Facebook Timeline Cover Image.
14 Ways New Facebook Betrays Small Business | facebook. The ultimate guide to Facebook fan engagement. Facebook Brand Timelines: 6 Big Changes Every Marketer Needs to Understand. Facebook Timeline for Fan Pages – Frequently Asked Questions. Facebook's New, Entirely Social Ads Will Recreate Marketing. Facebook Pages.
GET READY: Facebook Is Rolling Out The Timeline For Fan Pages. Industry Reacts To Facebook Marketing Conference News. Scoop: Facebook To Speed Up Biz Analytics Tool Insights To Report In Real-Time. Beth McCabe - Facebook Timeline for Brands. The Early Bird's Guide To Timeline On Facebook Pages. Everything You Need to Know About New Facebook Page Updates | Photography Marketing Tips Free Blog Theme. 10 Powerful Tips to Increase Fan Engagement on Facebook. How Facebook's Page Timeline transforms Marketing into Social Behavior.
How to Run a Successful Social Media Contest. The Public Can See Facebook Timeline Page Insights. Rise above the noise with Facebook Groups. How To Create a Custom Cover Image For Timeline on Facebook | Impressions Marketing Studio. Facebook Cheat Sheet: Sizes and Dimensions. 75 of the Best B2B Facebook Marketing Tips. Facebook and the Transformation of Corporate Content.
---