Jquerry
Exemple n°I-5-2-2 « Tutoriel jQuery sur le SdZ. 26 jQuery Plugins for Superb Navigation. Join Web Design Fan Club to gain access to premium tutorials, free Wordpress themes, high-quality resources and fantastic deals.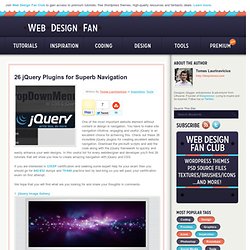 Learn more. Web Design Blog | Web Design Fan | Resources for Web Designers and Graphic Designers 26 jQuery Plugins for Superb Navigation Written ByTomas LaurinaviciusinInspiration, Tools. Custom Scrollbars in WebKit. Way back in the day, you could customize scrollbars in IE (5.5) with non-standard CSS properties like scrollbar-base-color which you would use on the element that scrolls (like the <body>) and do totally rad things.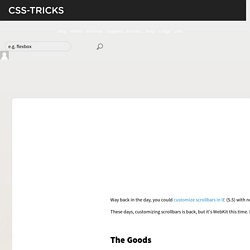 IE dropped that. These days, customizing scrollbars is back, but it's WebKit this time. SlickQuiz jQuery Plugin – now on github! Sweet!!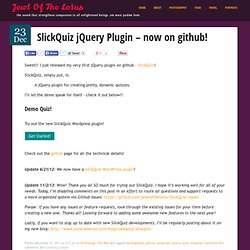 I just released my very first jQuery plugin on github – SlickQuiz! SlickQuiz, simply put, is: A jQuery plugin for creating pretty, dynamic quizzes.
Facebook. Miiks.com. Thumbnail Proximity Effect with jQuery and CSS3. Var $list = $('#pe-thumbs'), listW = $list.width(), listL = $list.offset().left, $elems = $list.find('img'), // the description containers.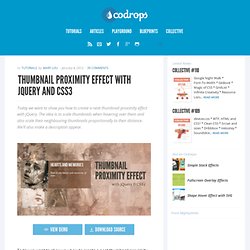 CSS3 Lightbox. Today we want to show you how to create a neat lightbox effect using only CSS.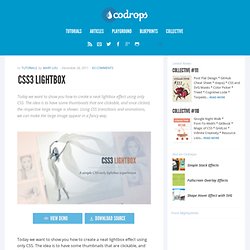 The idea is to have some thumbnails that are clickable, and once clicked, the respective large image is shown. Using CSS transitions and animations, we can make the large image appear in a fancy way. View demo Download source With the help of the pseudo-class :target, we will be able to show the lightbox images and navigate through them. The beautiful images are by Joanna Kustra and they are licensed under the Attribution-NonCommercial 3.0 Unported Creative Commons License. Fullscreen Background Image Slideshow with CSS3. Happy new year, everybody!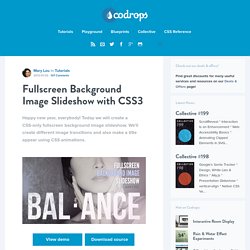 Today we will create a CSS-only fullscreen background image slideshow. We'll create different image transitions and also make a title appear using CSS animations. View demo Download source Happy new year, everybody! Archives.
---