Exemples usage iPods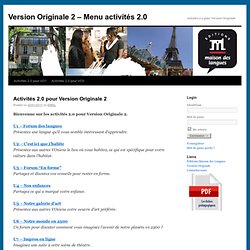 Version Originale 2 – Menu activités 2.0 | Activités 2.0 pour Version Originale
Bienvenue sur les activités 2.0 pour Version Originale 2. U1 – Forum des langues Présentez une langue qu'il vous semble intéressant d'apprendre. U2 – C'est ici que j'habitePrésentez aux autres VOsiens le lieu où vous habitez, ce qui est spécifique pour votre culture dans l'habitat. U3 – Forum "En forme"Partagez et discutez vos conseils pour rester en forme.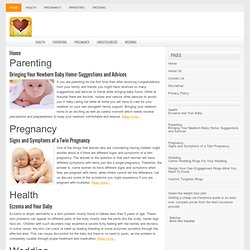 Bringing Your Newborn Baby Home: Suggestions and Advices If you are parenting for the first time then after receiving congratulations from your family and friends you might have received so many suggestions and advices to follow while bringing baby home. While at hospital there are doctors, nurses and various other persons to assist you in baby caring but while at home you will have to care for your newborn on your own alongwith family support. Bringing your newborn home is an exciting as well as careful moment which needs several precautions and preparedness to keep your newborn comfortable and relaxed.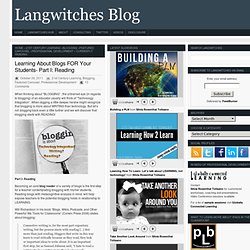 Learning About Blogs FOR Your Students- Part I: Reading 
When thinking about "BLOGGING" , the untrained eye (in regards to blogging) of an educator usually will think of "Technology Integration". When digging a little deeper he/she might recognize that blogging is more about WRITING than technology. But let's roll blogging back even a little further and we will discover that blogging starts with READING! Part I- Reading
A couple weeks ago our Language B department contacted me to train them on how to use Garage Band for their oral exams. I had only minimal experience from last year, so I contacted Christina (our curriculum coordinator) for the details. After a brief chat and checking out her blog post from her experience a couple years ago, I was ready. The mini-training for our teachers was successful however they were a little nervous about remembering the exact right steps on the day of (they didn't want their students to do amazing work to then realize that it didn't record). In order to make it the simplest possible for the teachers, I created a tutorial with screen shots and a checklist they could use for each student. I got good feedback from it and thought I'd share it for any other DP teachers who need to submit oral exams to the IB.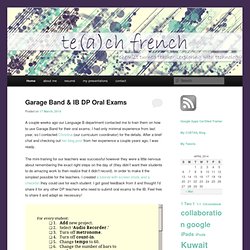 te(a)ch french | a technology in the classroom diary