Exemples usage iPods
Version Originale 2 – Menu activités 2.0 | Activités 2.0 pour Version Originale. Bienvenue sur les activités 2.0 pour Version Originale 2.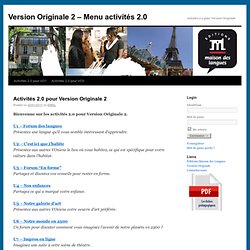 U1 – Forum des langues Présentez une langue qu'il vous semble intéressant d'apprendre. U2 – C'est ici que j'habitePrésentez aux autres VOsiens le lieu où vous habitez, ce qui est spécifique pour votre culture dans l'habitat. U3 – Forum "En forme"Partagez et discutez vos conseils pour rester en forme. Ressources et réseaux sociaux - Franc-parler.org. Learning About Blogs FOR Your Students- Part I: Reading  When thinking about "BLOGGING" , the untrained eye (in regards to blogging) of an educator usually will think of "Technology Integration".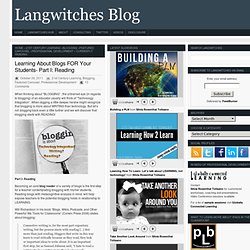 When digging a little deeper he/she might recognize that blogging is more about WRITING than technology. But let's roll blogging back even a little further and we will discover that blogging starts with READING! Part I- Reading. Te(a)ch french | a technology in the classroom diary.
---