Software quiz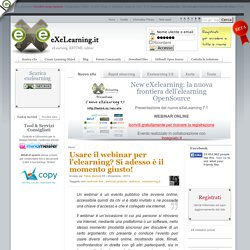 Un webinar è un evento pubblico che avviene online, accessibile quindi da chi vi è stato invitato o ne possiede una chiave d'accesso e che è collegato via internet.Il webinar è un'occasione in cui più persone si ritrovano via internet, mediante una piattaforma o un software, nello stesso momento (modalità sincrona) per discutere di un certo argomento: chi presenta o conduce l'evento può usare diversi strumenti online, mostrando slide, filmati, confrontandosi in diretta con gli altri partecipanti, sia in forma scritta (tramite una chat) sia a voce (come se fosse una telefonata). Può bastare? Si e no! Molti pensano che per realizzare un Webinar la prima cosa da fare sia procurarsi una piattaforma, in realtà la prima cosa da fare è capire cosa faremo durante il webinar, come lo condurremmo, cosa ci aspettiamo che facciano i nostri partecipanti, come vorremmo interagire con loro....
Downloading and installation of JClic JClic is a Java application distributed through the WebStart technology. The first time you click on the links of this page the programme files are downloaded, and will remain installed in the computer.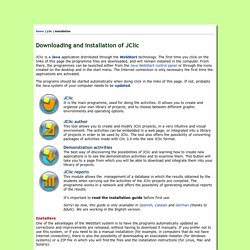 News - 12/06/2013 Dr. Stan Bogdanov has published Hacking Hot Potatoes: The Cookbook, available in paperback, PDF and ePub format. Check it out!A change to the user agent string in Firefox 17 results in Hot Potatoes and Quandary exercises showing an error message when loading in the browser. Version 6.3.0.5 (Windows) of Hot Potatoes, 6.1.0.6 (Java for Mac) of Hot Potatoes and version 2.4.2.1 of Quandary (Windows) have updated source files which fix the problem, but you will need to rebuild your exercise HTML pages to solve it.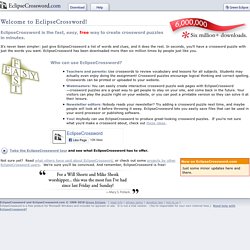 EclipseCrossword is the fast, easy, free way to create crossword puzzles in minutes. It's never been simpler—just give EclipseCrossword a list of words and clues, and it does the rest. In seconds, you'll have a crossword puzzle with just the words you want. EclipseCrossword has been downloaded more than five million times by people just like you. Take the EclipseCrossword tour and see what EclipseCrossword has to offer.