Dinner
Oatmeal Cream Pie Cookies - HippieDogs Favorite Recipes. These are heavenly............. 1 1/4 cups butter, softened1 cup packed brown sugar1/2 cup sugar1 large egg2 tsp. pure vanilla extract1 1/2 cups flour1 tsp. baking soda1/2 tsp. salt1/4 tsp. ground cinnamon3 cups uncooked oats (quick or old fashioned) Combine flour, soda, salt and cinnamon.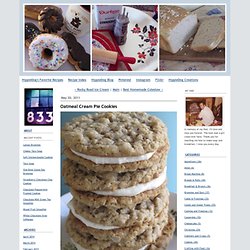 Set aside. Cream butter and sugars until well combined. Raspberry Sherbet. Raspberry Sherbet Do you call it sherbert or sherbet?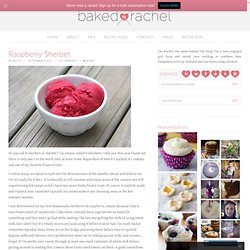 I've always called it sherbert. I only just this year found out there is only one r in the word. Odd, at least to me. English Muffin Pizzas. English Muffin Pizzas If you're looking for a luxurious, decadent and totally time consuming recipe… this absolutely isn't it.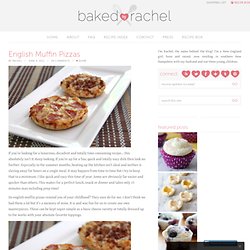 Keep looking. If you're up for a fun, quick and totally easy dish then look no further. Dining@Large: Top Ten Great Grilled Cheese Sandwiches - Baltimore restaurants: The dish on the restaurant scene, memorable meals, dining trends and more. When I said if I got enough suggestions under my post on elite grilled cheese sandwiches I would make a Top Ten list out of them, I never thought it would actually happen.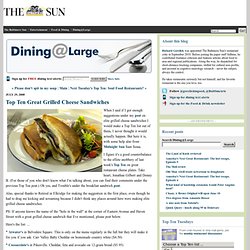 But here it is, with some help also from Midnight Sun Sam Sessa. I figure it's a good counterbalance to the effete snobbery of last week's Top Ten on great restaurant cheese plates. Take heart, Jonathan Gilbert and Donny B. (For those of you who don't know what I'm talking about, you can find their comments under the previous Top Ten post.) Oh yes, and Trouble's under the breakfast sandwich post. Pithy and Cleaver » C's for Caprese; it's good enough for me: Grilled Caprese Sandwich.
C's for Caprese; it's good enough for me: Grilled Caprese Sandwich After all the madness you've been seeing around here, I'm sure you can get behind me when I say that sometimes I just want simplicity: a crispy slice of toast, a perfect apple, an exquisite salad, simply dressed.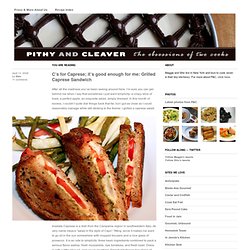 In this month of excess, I couldn't quite dial things back that far, but I got as close as I could reasonably manage while still sticking to the theme: I grilled a caprese salad. Insalata Caprese is a dish from the Campania region in southwestern Italy–its very name means "salad in the style of Capri;" fitting, since it makes me want to go sit in the sun somewhere with cropped trousers and a nice glass of prosecco. It is an ode to simplicity: three basic ingredients combined to pack a serious flavor wallop: fresh mozzarella, ripe tomatoes, and fresh basil. Lemon Sugar Cookies. Lemon Sugar Cookies Easy and colorful lemon sugar cookies, perfect for Spring and Easter celebrations.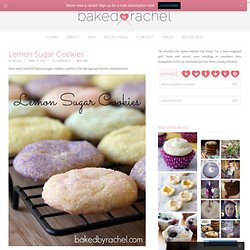 Over the last handful of weeks I've been debating what food items really shout spring. Sure there's asparagus and other veggies. Nutella Sandwich Cookies // From Emma. Hello there A Beautiful Mess readers, I'm Emma, Elsie's sister and the gal behind Food Coma.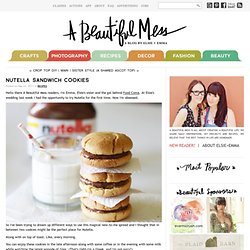 At Elsie's wedding last week I had the opportunity to try Nutella for the first time. Now I'm obsessed. So I've been trying to dream up different ways to use this magical new-to-me spread and I thought that in between two cookies might be the perfect place for Nutella. Cakespy: Behemoth Crumb Cake. Jessie Oleson (aka Cakespy) drops by every Monday to share a delicious dessert recipe.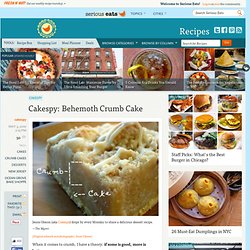 —The Mgmt. [Original artwork and photographs: Jessie Oleson] When it comes to crumb, I have a theory: if some is good, more is better. This theory was proven when I discovered something called the Colossal Crumb Cake at New Jersey's Ocean Grove Bake Shoppe. Apple Crumb Pie. Apple Crumb Pie The other week I spotted a recipe that immediately called to me.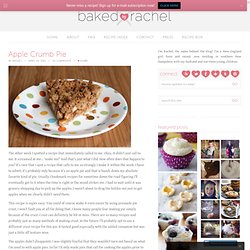 Okay, it didn't just call to me. It screamed at me… 'make me!' And that's just what I did. How often does that happen to you? Apple Pecan Cheesecake. Apple Pecan Cheesecake I've been doing a lot of complaining lately over the amount of pumpkin recipes I've been seeing pop up all over the food blogosphere already.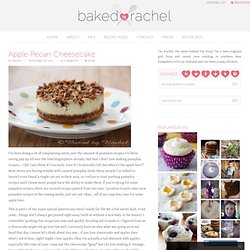 Not that I don't love making pumpkin recipes… I do! I just think it's too early. Sure it's technically Fall, but where's the apple love?! Most stores are having trouble with canned pumpkin stock. Bacon Wrapped Eggs - StumbleUpon. Receta de Pan o panque de nueces..rapido y rico de hacer. Les dejo esta receta de pan lo he hecho y queda muy sabroso... 3 tazas de harina 1 1/2 cuchadita de royal.
---