BAGS
Diy wednesdays: woodgrain oilcloth lunchbag. Recently, we've been making an effort to a) pack ourselves delicious lunches, and b) rid our lives of wasteful, disposable plastic bags. we find it's much easier to accomplish these things when we've got a cute and useful alternative. in honor of this week's wonderful guest bloggers, we thought it would be both fun and oh-so-appropriate to whip up this faux bois oilcloth lunchbag. brown-baggin' it has never been so fun!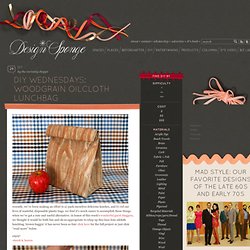 Click here for the full project or just click "read more" below. enjoy! Diy projects: kate's handy lunch bag. This week's resolution is definitely one i have every year: "cook more and dine out less." i spend quite a bit of money on lunch at work, mainly because i can't get my act together to prepare something (the closest i got was bringing an entire loaf of bread and a jar of peanut butter-forgot the knife though). so i thought maybe if i prettied up my lunch accessories it would help inspire me. this tote is just a canvas bag slightly doctored so that it opens to become a place setting, complete with snuggled utensils!
I added button closures on the sides so it's easy to open and close, and like all canvas bags it is machine washable. for all you lucky freelancers out there, maybe your kids or office-bound friends could use a present. happy crafting! – kate. Diy wednesdays: fabric envelopes. We're always making all sorts of stuff out of fabric, but can never bring ourselves to toss any scraps. this project is an easy and smart way to repurpose even the tiniest leftovers. by using one of our favorite sewing materials—fusible webbing—you can whip up a whole set of these no-sew envelopes in a flash. they're great places to store favorite documents, photos, or business cards, and can even be used as a special gift wrap. have fun!
Derek & lauren. Kate's notebook lunchbag. Oh i love this time of year. this month's theme is definitely going to be back to school, because who can help but be at least a little excited about the start of fall and a new year for students everywhere. send your favorite student to school (or work) with this notebook lunchbag!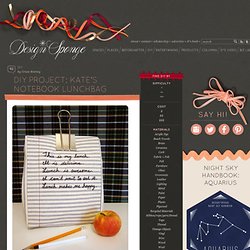 This is completed in a jiffy and is very inexpensive. much like that pristine first page of a new notebook, the hardest part is deciding what to write on it. have fun! -kate. Halligan's denim cut-offs wine bag. When the time comes for your jeans to be reincarnated into your new favorite shorts, the top gets a new life but what about that sturdy bottom fabric going to waste?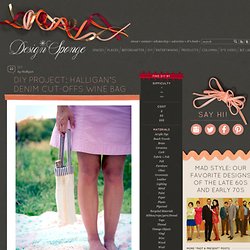 I have been saving the bottoms of cut off jeans for two years now, knowing that someday I would have a bright idea of how to put them to use. Denim crafts can go wrong in so many ways but my goal in this project was to cure denim crafts from their not so hip past using a little bleach and stitchery! -halligan CLICK HERE for the full how-to after the jump!
Materials: Sewing 101: zippered case. It's back-to-school time, and it's hard not to have school supplies on the brain even if school days are nowhere in sight for some of us!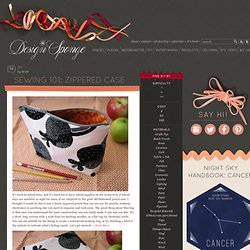 Inspired by the good old-fashioned pencil case, I thought it would be fun to sew a lined, zippered pouch that you can use for pencils, makeup, electronics or anything else you need to organize and tuck away. The great thing about this bag is that once you understand the basic construction, you can easily make it any size you like. Try a short, long version with a wide base for knitting needles, or a flat bag for electronic cords. You can use oilcloth for the lining to create a waterproof makeup bag, or try stitching a label to the outside to indicate what's hiding inside.
Leather envelope phone case. As you may know, I have a weakness for tech accessories — especially ones that you can DIY — so it should come as no surprise that when Aimee of SwellMayde offered to share this tutorial, I immediately said yes.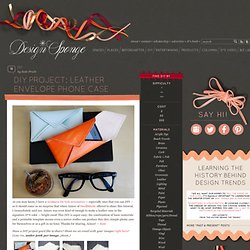 Aimee was even kind of enough to make a leather case in the signature D*S color — bright coral! This DIY is super easy; the combination of basic materials and a printable template means even a novice crafter can produce this chic, simple phone case for themselves or as a gift in no time. Thanks for sharing, Aimee! — Kate Have a DIY project you'd like to share? Sewing 101: branch handle tote. Add a little autumnal flair to your fall wardrobe with this rustic tree branch tote!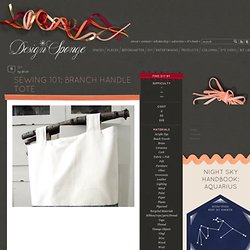 This sturdy piece is great for carting daily necessities on your commute or for more outdoorsy tasks like packing a picnic or carrying camping supplies. The bag itself features a basic construction that can be adapted and used with any type of handle, so if the branches aren't quite your thing, it's easy to make fabric straps instead. Look for nice, straight branches that have fallen from trees in your local park or woods or, if you can't find any, check at a floral supply shop. Let's get sewing! Leather lunch tote. I don't bring my lunch to work as often as I should.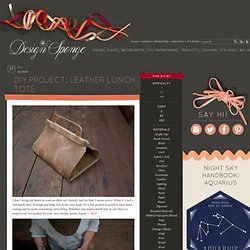 And by that, I mean never. What if I had a cool lunch tote? It might not help, but at the very least, it's a fun project to practice your hand sewing and to make something interesting. Upholstery basics: poolside roll up. It's been heating up around Austin — 90, 95, 99 . . . 100+!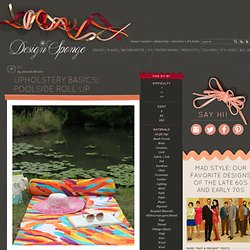 The hotter it gets, the more I want to dive in, so this month on Upholstery Basics, I thought we'd whip up a poolside roll up for the upcoming months of sunbathing, daydreaming and catching up on Us Weekly (I'm not ashamed to admit it!). The best part is, it's made of beach towels! — Amanda. Mesh screen beach bag. Summer is here, and I am so excited to start filling up my free time with warm weather activities. When it comes to beaches, pools, picnics and the like, I am definitely a planner — I like to bring everything I could possibly want along with me so I'll never be caught without water, sunscreen, a book, a sandwich, a spare pair of shoes or an extra towel. I'm basically a traveling general store in the summer, but I love it! When this fun project appeared in our inbox from Parisian crafter and blogger Pascale Mestdagh, I knew I had my first summer DIY on my hands; this mesh beach tote is perfect for carrying all my summer stuff. This summery beach bag DIY makes clever use of window screen mesh, which is a cheap, easy-to-use material that can be manipulated like any other fabric.
Sewing 101: Yoga Bag. In keeping with January's theme of fresh starts and healthy resolutions, what better way to get motivated to exercise than with some new exercise accessories? I find that I have a better chance of sticking with new habits if I make them as convenient as possible, so having a handy way to tote my yoga mat makes it just a little easier to get to class.
This DIY yoga bag is super easy to make (it's really just a big rectangle with handles), and I promise that even a beginner can stitch up this project in no time. Let's get started! Purse Week: U Shaped Purse Handle Tutorial. Today I'm sharing a fun purse tutorial as part of A Lemon Squeezy Home's Purse Week! Hello and welcome to any new readers heading over from Christie's great blog. Some of you might remember the bag I entered into the contest last year. This year, Christie invited me to guest blog and I'm excited to participate and show you guys what I came up with. I'll be showing you how to add u shaped handles to just about any bag you plan on making as well as showing you how to make the bag in the photos above and directly below. 12 gifts of christmas blog hop: organizer wallet tutorial and a giveaway. Hello! Welcome to day 12 of the 12 Gifts of Christmas Blog Hop hosted by the awesome Jennifer of Ellison Lane Quilts.
Have you been following along since day 1?? If not, there's a list of links to all the tutorials at the bottom of this post so go check them out! Hip pouch sew-along, day 1 of 3. Welcome to the Hip Pouch Sew-Along! So happy you can join us! Just a couple of notes before we get started: Please read my initial notes about this project here. Read through all directions for each day before jumping in. Renske's minimalist tote bag.
---