Textures/Patterns
The Inspiration Gallery - Wallpaper Patterns and Backgrounds. Download Free Repeat Patterns. Free Stock Background Images ~ Backgrounds Etc. Ava7 patterns /// 1632 free seamless background patterns. DinPattern – Free seamless patterns.
Patterns. Stripemania - Striped background generator. Free & ace repeating patterns from awesome people. Top 10 Free Resources for Background Patterns and Textures for Web Designers | Speckyboy Design Magazine. Quite often we stumble on to a blog that looks bland, in dire need of some color, a little bit of character, these sites maybe aren't very familiar with blog design, let alone CSS.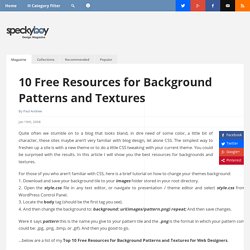 The simplest way to freshen up a site is with a new theme or to do a little CSS tweaking with your current theme. You could be surprised with the results. In this article I will show you the best resources for backgrounds and textures. For those of you who aren't familiar with CSS, here is a brief tutorial on how to change your themes background: 1.
Background patterns and tiled background patterns. Repeating background patterns and images, patterns such as these can be used for a host of things such as a web page backgrounds, or adding that extra detail to a containing block, adjust the visibility and you've got a great new look for some thing that would normally look quite plain.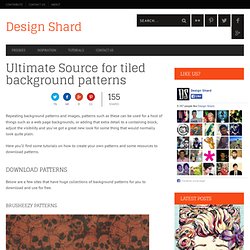 Here you'll find some tutorials on how to create your own patterns and some resources to download patterns. Download Patterns Below are a few sites that have huge collections of background patterns for you to download and use for free. Brusheezy Patterns. Free 3ds Textures. Amazing Textures - High resolution textures for 3D modelling. AmazingTextures.com is one of the biggest and most popular dedicated online texture libraries in the world.
Established in 2004, we have thousands of professionals using our texture library every day. We are constantly adding to the library, creating new textures that will save you time and bring your 3D scenes to life. Most of our textures are tiling, and all of them are 100% original - you won't find our textures anywhere else. Download our free samples to check out the quality of our textures, or register for your free account to download up to 20mb of textures every day - for free! For just $30 per year you can access the full library of textures and download up to 50mb per day, or you can upgrade to a PRO subscription and pay a small annual fee to have access to all the textures and up to 200mb per day. Free Stock Textures - High Resolution Free Photos.
Free Textures, Seamless Textures | Texturise | Free high resolution textures, seamless textures and backgrounds for graphic designers, web designers and digital artists. High Resolution Textures | Free Textures, Game Textures, 3D Textures, Design Resources and More. Grunge Textures - Free Stock Photos, Textures and Backgrounds. FREE TEXTURES for digital artists: 2Textured - Home. High resolution texture library - High resolution texture library. Free Textures from TextureKing. Free High Resolution Textures - Lost and Taken. [CG Textures] - Textures for 3D, graphic design and Photoshop!
Seamless patterns - Patterrific. Free Background Patterns. Seamless tileable backgrounds. Citrus Moon Patterns: Archives. Citrus Moon Patterns New designs almost every day for tiling backgrounds.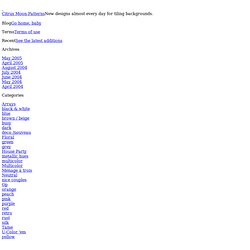 Blog Go home, baby Terms Terms of use. Kaliber10000 { The Pixel Patterns Collection } 10,000s Cool FREE Seamless Patterns for Blogger and Twitter Backgrounds, Blog and Website Wallpapers. Free repeat patterns, design resources and inspiration from Patternhead. Patterns /// 1653 free seamless background patterns. Free Backgrounds and Patterns. Absolute Background Textures Archive.
---