FEMDOM
Danger-theatre.gothicbondage.net/Femdom+-+The+Mistress+Manual.pdf. The Ins And Outs Of Prostate Milking Or Prostate Massage. Servitude (BDSM) In domestic servitude roles, the submissive can receive pleasure and satisfaction from performing personal services for their dominant, such as serving as a butler, waitress, chauffeur, maid or houseboy.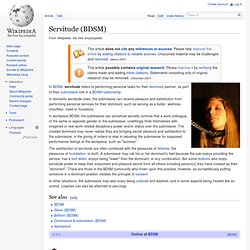 In workplace BDSM, the submissive can somehow secretly contrive that a work colleague, of the same or opposite gender to the submissive, unwittingly finds themselves with imagined or real work-related disciplinary power and/or status over the submissive. The created dominant may never realise they are bringing secret pleasure and satisfaction to the submissive, in the giving of orders or else in rebuking the submissive for supposed performance failings at the workplace, such as "laziness".
Category:BDSM terminology. Male submission. A submissive man bound to a bedframe Variations of submissive expression[edit] The particular activities considered submissive for men vary widely depending on local and cultural custom as well as the context for a particular encounter.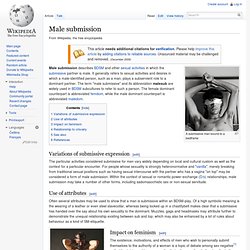 Ageplay. Two adult women costumed in sexualized clothing and accessories associated with children, including hair bows and dolls (woman on left.)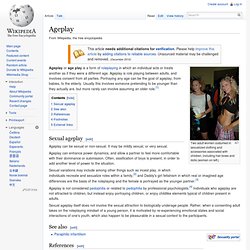 Ageplay or age play is a form of roleplaying in which an individual acts or treats another as if they were a different age. Ageplay is role playing between adults, and involves consent from all parties. Portraying any age can be the goal of ageplay, from babies, to the elderly. Usually this involves someone pretending to be younger than they actually are, but more rarely can involve assuming an older role.[1] Sexual ageplay[edit] Erotic humiliation. Public humiliation of a woman Terminology and overview[edit] Means of humiliation[edit] Many scenarios may give rise to sexual humiliation.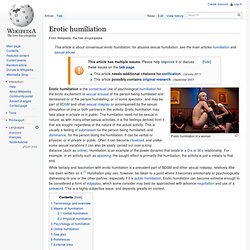 Glossary of BDSM. Female dominance. Associated activities[edit] Generally, activities consist of anything from role reversal to more extreme acts of BDSM such as torture.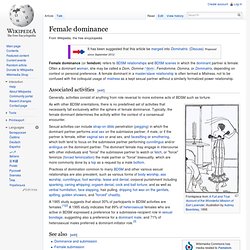 As with other BDSM orientations, there is no predefined set of activities that necessarily fall exclusively within the sphere of female dominance. Typically, the female dominant determines the activity within the context of a consensual encounter. See also[edit]
---