Thesis
interfacing zva/zvb/zvt with awr software for filter design and ...
I like how you mispronounce words sometimes, how you fumble and stammer and stutter looking for the right ones to say and the right ways to say them. I appreciate that you find language challenging, because it is, because everything manmade is challenging. Including man, including you.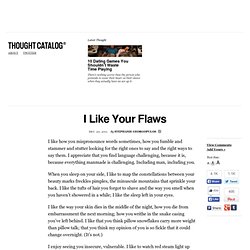 I Like Your Flaws & Thought Catalog
Scirus - for scientific information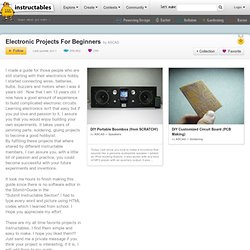 Electronic Projects For Beginners
I made a guide for those people who are still starting with their electronics hobby. I started connecting wires, batteries, bulbs, buzzers and motors when I was 4 years old . Now that I am 13 years old, I now have a good amount of experience to build complicated electronic circuits. Learning electronics isn't that easy but if you put love and passion to it, I assure you that you would enjoy building your own experiments. It takes years of jamming parts, soldering, gluing projects to become a good hobbyist.
Microwave Wireless Systems
The combination of electric and magnetic fields at right angles produces radio waves. These waves occur at different frequencies, and the range of useful frequencies is called the electromagnetic spectrum. Here is a look at the state of the wireless spectrum and the issues related to it. Table Of Contents Spectrum Regulation All electronic communications requires some transmission medium to carry the information to be communicated, like coax and fiber-optic cables.
Understanding Solutions For The Crowded Electromagnetic Frequency Spectrum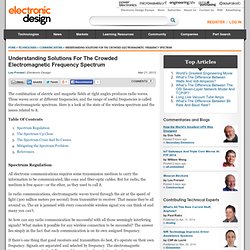 1. Marconi and the First Wireless Transmissions Radio Frequency (RF) and wireless have been around for over a century with Alexander Popov and Sir Oliver Lodge laying the groundwork for Guglielmo Marconi's wireless radio developments in the early 20th century. In December 1901, Marconi performed his most prominent experiment, where he successfully transmitted Morse code from Cornwall, England, to St John's, Canada.
Introduction to RF & Wireless Communications Systems - Developer Zone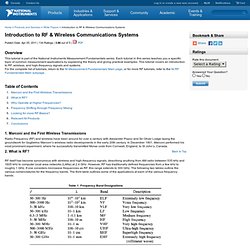 151.100.120.244/personale/pisa/CIRCUITI_MICROONDE/VARIE/LIBRI/Kikkert_RF_Electronics_Course/10-RF_Electronics_Kikkert_Ch7_RFFiltersPart2.pdf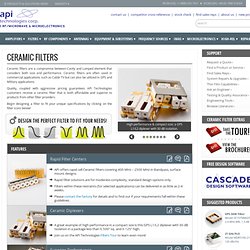 Ceramic filters are a compromise between Cavity and Lumped element that considers both size and performance. Ceramic filters are often used in commercial applications such as Cable TV but can also be utilized in GPS and Military applications. Quality, coupled with aggressive pricing guarantees API Technologies customers receive a ceramic filter that is both affordable and superior to products from other filter providers. Begin designing a filter to fit your unique specifications by clicking on the filter icons below! High performance & compact size: a GPSL1/L2 diplexer with 30 dB isolation.
Ceramic Filters | Spectrum Microwave by API Technologies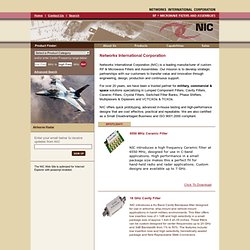 Networks International Corporation (NIC) is a leading manufacturer of custom RF & Microwave Filters and Assemblies. Our mission is to develop strategic partnerships with our customers to transfer value and innovation through engineering, design, production and continuous support. For over 20 years, we have been a trusted partner for military, commercial & space solutions specializing in Lumped Component Filters, Cavity Filters, Ceramic Filters, Crystal Filters, Switched Filter Banks, Phase Shifters, Mutliplexers & Diplexers and VCTCXOs & TCXOs. NIC offers quick prototyping, advanced in-house testing and high-performance designs that are cost effective, practical and repeatable.
Networks International Corporation - NIC – Filters, RF, IF, Microwave, Roofing, Front-end, Side-band, Linear phase, Bandpass, Lowpass, Highpass, Notch, Band-reject, High power, Lumped element, Lumped component, LC, Crystal, Crystal, Monolithic, VCTCXO's,
www.spectrummicrowave.com/pdf/rf_microwave_catalog.pdf
www.highfrequencyelectronics.com/Archives/Mar08/0308_Shivhare.pdf
www.ieee-uffc.org/ultrasonics/teaching/u9110155.pdf
vuir.vu.edu.au/600/1/03chapters4-6.pdf
www.kennethkuhn.com/students/ee431/frequency_filters.pdf
RF Cafe - Filter Design BooksMicrowave Resonators and Filters for Wireless Communication: Theory, Design, and Application (Springer Series in Advanced Microelectronics, 4) ...www.rfcafe.com/business/bookstore/filters.htm Wireless Communication TheoryWeb Search Results For Wireless Communication Theory From Supply Crawler Web Searchwww.supplycrawler.com/web/wireless-communication-theory.html More prettylib-kirjastojärjestelmäNimeke: Microwave resonators and filters for wireless communication : theory, design and application. Kielet: Englanti.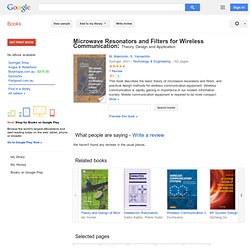 Microwave Resonators and Filters for Wireless Communication: Theory, Design ... - Mitsuo Makimoto, Sadahiko Yamashita
www.ursi.org/proceedings/procGA08/papers/D05p5.pdf
Theory and Design of Microwave Filters - I. C. Hunter, Institution of Electrical Engineers
There have been significant advances in the synthesis and physical realization of microwave filter networks over the last three decades. This book provides a coherent and readable description of system requirements and constraints for microwave filters, fundamental considerations in the theory and design of microwave filters, up-to-date modern synthesis techniques with examples and technology considerations in the choice of hardware.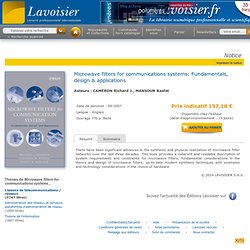 Microwave filters for communications systems: Fundamentals, design & applications CAMERON Richard J., MANSOUR Raafat
www.epcos.com/inf/30/db/emc_sr04/CommLines__B84312__ISDN.pdf
Microwave Circuits - Miniaturized Metamaterial Filters - Photo Gallery
Fittings and components for compressed air - Aignep s.p.a.
Design and Realizations of Miniaturized Fractal RF and Microwave Filters - Pierre Jarry, Jacques Beneat
An in-depth survey of the design and REALIZATIONS of miniaturized fractal microwave and RF filters Engineers are continually searching for design methods that can satisfy the ever-increasing demand for miniaturization, accuracy, reliability, and fast development time. Design and Realizations of Miniaturized Fractal RF and Microwave Filters provides RF and microwave engineers and researchers, advanced graduate students, and wireless and telecommunication engineers with the knowledge and skills to design and realize miniaturized fractal microwave and RF filters. This book is an essential resource for the realization of portable and cellular phones, WiFi, 3G and 4G, and satellite networks.
ScholarBank@NUS: Terms of Use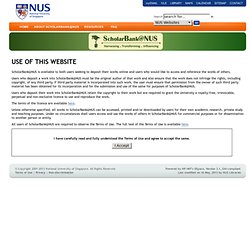 ScholarBank@NUS is available to both users seeking to deposit their works online and users who would like to access and reference the works of others. Users who deposit a work into ScholarBank@NUS must be the original author of that work and also ensure that the work does not infringe the rights, including copyright, of any third party. If third party material is incorporated into such work, the user must ensure that permission from the owner of such third party material has been obtained for its incorporation and for the submission and use of the same for purposes of ScholarBank@NUS.
www.microwavefilter.com/rfmicrowave/RF-PDF/capabilitiescatalog.pdf
About ProQuest Dissertations & Theses With over 2.3 million records, the ProQuest Dissertations & Theses (PQDT) database is the most comprehensive collection of dissertations and theses in the world. It is the database of record for graduate research. The database includes citations of graduate works ranging from the first U.S. dissertation, accepted in 1861, to those accepted as recently as last semester.
Microwave resonator filters for advanced wireless systems
Miniaturized bandpass filter with high selectivity and wide stopband using dual-layer structure. IEEE MTTS Int Microw Symp :1 (2011)
Design and Realizations of Miniaturized Fractal Rf and Microwave Filters - Books
Miniaturized filters are well suited for the increasing number of compact and low power applications. Presenting studies of the performance of fractal resonators and sensitivity analyses of suspended substrate realizations, provides RF and microwave engineers and researchers, advanced graduate students, and wireless and telecommunication engineers with the knowledge and skills to design and realize miniaturized fractal microwave and RF filters. This definitive source provides timely insight on fractal resonators for compact and low power microwave and RF. graduated from the University of Limoges. As a professor at University of Brest, he directed the Laboratory of Electronics and Telecommunication Systems (LEST), affiliated with the French National Center for Scientific Research (CNRS). He later joined the University of Bordeaux and the CNRS laboratory IMS.
An in-depth survey of the design and REALIZATIONS of miniaturized fractal microwave and RF filters Engineers are continually searching for design methods that can satisfy the ever-increasing demand for miniaturization, accuracy, reliability, and fast development time. Design and Realizations of Miniaturized Fractal RF and Microwave Filters provides RF and microwave engineers and researchers, advanced graduate students, and wireless and telecommunication engineers with the knowledge and skills to design and realize miniaturized fractal microwave and RF filters. This book is an essential resource for the realization of portable and cellular phones, WiFi, 3G and 4G, and satellite networks. The text focuses on the synthesis and fabrication of miniaturized fractal filters with symmetrical and asymmetrical frequency characteristics in the C, X and Ku bands, though applications to other frequency bands are considered. Readers will find helpful guidance on:
Design and Realizations of Miniaturized Fractal RF and Microwave Filters - Pierre Jarry, Jacques Beneat
Design and realizations of miniaturized fractal RF and microwave filters | SciTech Book News
EPCOS Singapore Internet