TOEFL
Magali in USA I am currently doing an internship in Structured Finance in the US while studying for a Master degree in Management. I will use my iPod Shuffle to listen to music in the subway and when I go to the gym. I was pretty confident about the TOEFL test before taking it because I had numerous mock tests, so I guess I was kind of prepared.
Examen Gratuito de TOEFL Practice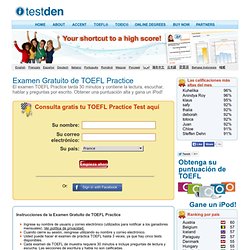 TOEFL Practice Online
http://www.ets.org/Media/Tests/TOEFL/pdf/14235_TOEFL_testmap.pdf
TOEFL: Internet-based Test: Identification Requirements
All test takers are responsible for bringing valid and acceptable identification each time they report to a test center. It is your responsibility to ensure that your ID documents are up-to-date and available on the day of the test. Your ID requirements depend on your country of citizenship and where you plan to test. Please read the specific section for acceptable primary and supplemental ID documents and allowed exceptions.
http://www.ets.org/Media/Tests/TOEFL/pdf/4677_TOEFL_Reg_Guide.pdf
http://hasp.axesnet.com/contenido/documentos/HandoutTOEFL2011.pdf
If you're not sure whether the TOEFL iBT ® test is offered in your location, check your location before you register. Testing in China (except Hong Kong and Macau): Register at http://toefl.etest.net.cn/ or see http://www.neea.edu.cn/ . Save US$35 on a future TOEFL iBT Test When you register for a TOEFL iBT test, you can also order the TOEFL Value Pack Premium , which includes test preparation materials, eight additional score reports and a $35 discount off a future TOEFL iBT registration for only US$199 — a savings of 35%!
TOEFL: Internet-based Test: Registration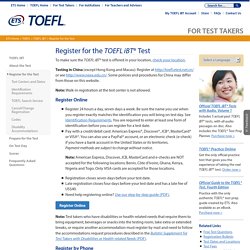 Free TOEFL Practice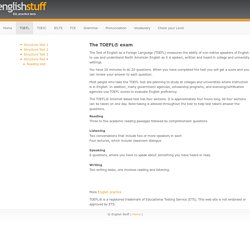 The Test of English as a Foreign Language (TOEFL) measures the ability of non-native speakers of English to use and understand North American English as it is spoken, written and heard in college and university settings. You have 20 minutes to do 20 questions. When you have completed the test you will get a score and you can review your answer to each question. Most people who take the TOEFL test are planning to study at colleges and universities where instruction is in English. In addition, many government agencies, scholarship programs, and licensing/certification agencies use TOEFL scores to evaluate English proficiency.