Awesome!
1. A group of flamingos is called a flamboyance. 2. If you fake laugh long enough you'll start to really laugh, really, really hard. 3.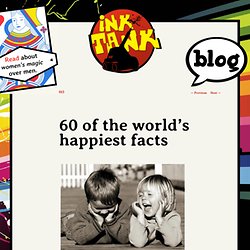 60 of the world's happiest facts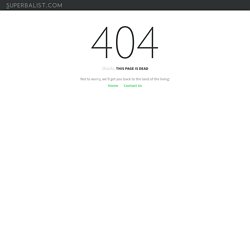 Woolly Warmer Must-Haves for Autumn This curated range of beautiful beanies and snug snoods are cold-season staples and flaunt-worthy accessories to complement your layered autumn apparel. After all, wrapping up and keeping warm doesn't mean you have to compromise on style.
Beanies & Snoods - Woolly Warmer Must-Haves for Autumn
What The Fuck Should I Listen to Now?
Video that will change your life. I have no words left.
7 Film Posters You Want to Print and Hang on a Wall | The Baroness' Tea Club
15 Guaranteed Things That Will Happen To You In Your 20s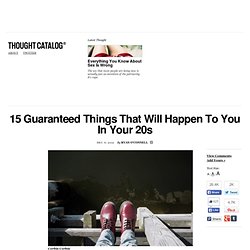 1. Your social circle will narrow. In college, you'll have lots of acquaintances and party friends but that will dissipate over time. Eventually, you'll find yourself unable to spark up new friendships simply because you don't have the time or desire.
LPAC, a new super PAC created by influential lesbians, plans to raise at least $1 million this cycle to help elect pro-equality candidates and amplify women's voices in the political conversation. Last fall, a group of high-powered women, some of whom had never met, gathered in New York City to discuss a question that has long bedeviled regulars on the fund-raising circuit: How can lesbians participate in the political process more meaningfully and be more present and visible? "Personally, as a woman who has been engaged as a donor, I'm often in the minority when I'm in the room," said Sarah Schmidt, a Chicago-based consultant and philanthropist. "And that gets old. I think, 'Are my interests really being represented here?'" Following the initial meeting, attendees reached out to their networks and received an enthusiastic response.
First Lesbian Super PAC Launches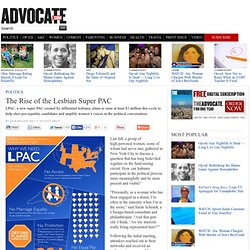 Smart Girls Season 1: The Feminist
The Head and The Heart - Gone
Tavi Gevinson - "Still Figuring It Out"
15 of the coolest hidden Google tricks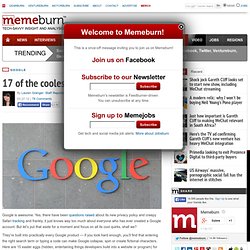 Google is awesome. Yes, there have been questions raised about its new privacy policy and creepy Safari tracking and frankly, it just knows way too much about everyone who has ever created a Google account. But let's put that aside for a moment and focus on all its cool quirks, shall we? They're built into practically every Google product — if you look hard enough, you'll find that entering the right search term or typing a code can make Google collapse, spin or create fictional characters. Here are 15 easter eggs (hidden, entertaining things developers build into a website or program) for you to discover the next time you're Googling.
May Waltz tab by Brooke Fraser
How to Build a Bed With Drawers
Our Story and Team
KeepVid: Download and save any video from Youtube, Dailymotion, Metacafe, iFilm and more!
Superior
TWO DOOR CINEMA CLUB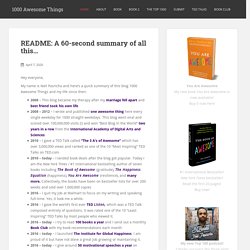 Once upon a time my friend Chad went to college. Now, Chad likes to tell people what made him decide to go to school and the reasons why he traded in a job at Best Buy for a few hard years of hitting the books. See, on a whim one weekend Chad packed his trunk and cruised down the highway to visit our friend Mike who was away at school.
1000 Awesome Things | A time-ticking countdown of 1000 awesome things by Neil Pasricha