Embalsama.
Ritos funerarios. cuerpos incorruptos
El cuidado de sus muertos ha sido preocupación del hombre desde los tiempos más remotos.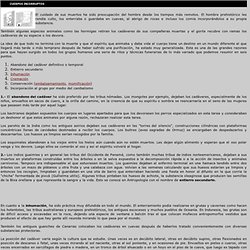 Vaso canopo (canope o canópico), es el recipiente , empleado en el Antiguo Egipto , donde se depositaban las vísceras de los difuntos , lavadas y embalsamadas, para mantener a salvo la imagen unitaria del cuerpo.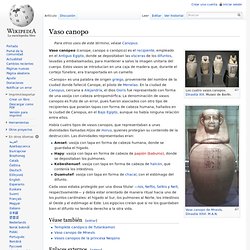 Vaso canopo
REQUISITOS: Sexo: Femenino y/o Masculino Escolaridad: Preparatoria terminada /CAPACITADO COMO TECNICO EMBALSAMADOR Conocimientos en ténicas de embalsamamiento Reconstrucción, preparación estética, sutura y adaptación física Precisión en el manejo de instrumentación
Oferta de trabajo de Embalsamador, Nuevo Leon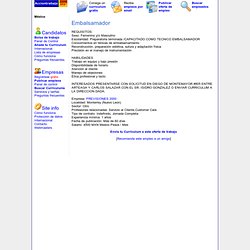 Tratado de las heridas de armas de fuego - Henri-François Le Dran
Expert Witness | Forensic Science Experts | The Forensic Panel
Hacer de tus cenizas una joya, un disco vintage de vinil o la base de un arrecife son solo tres de cinco opciones para restar a la última morada la monotonía que usualmente la caracteriza.
¿Qué hacer con tu cuerpo después de morir? 5 opciones ecológicas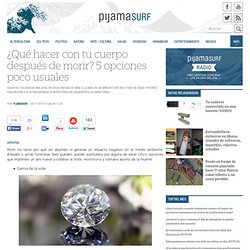 The Champion Company-Home
FAQ
anthropometry - The Skeptics Dictionary - Skepdic.com
El futuro del embalsamamiento
Indice-Enciclopedia
You know how it goes: Right before Horatio Caine puts on his sunglasses and throws off a corny one-liner as the The Who screams, the forensics team is looking at a blood splatter on the wall and determining that it was a gunshot wound from close range by a six-foot tall, left handed shooter who wore sandals and had a limp.
videos
El embalsamamiento es una práctica, generalmente usando sustancias químicas, en especial resinas o bálsamos, con el objeto de preservar de la putrefacción la integridad de los cadáveres. Las referencias mas antiguas de la practica se remontan al antiguo Egipto pero se ha descrito que la preservación de los cadáveres usando bálsamos y procesos físico-químicos, también se acostumbraba entre las culturas sudamericanas, particularmente en el Perú y entre los incas, aunque mediante técnicas diferentes a las egipcias.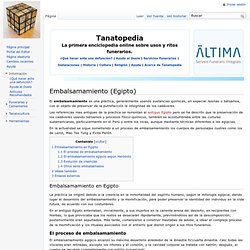 Embalsamamiento (Egipto) - Tanatopedia
The more I looked at people, the more I hated them
Ritos funerarios. Embalsamar en la actualidad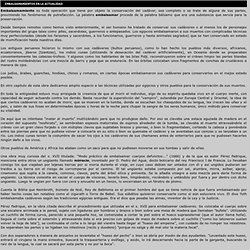 Embalsamamiento es toda operación que tiene por objeto la conservación del cadáver, sea completo o se trate de alguna de sus partes, previniendo los fenómenos de putrefacción. La palabra embalsamar procede de la palabra bálsamo que era una substancia que servía para la preservación.
En esta sección comenzaremos por enumerar cada uno de los utensilios mas importantes para hacer una correcta tanatoestetica
Tanatoestetica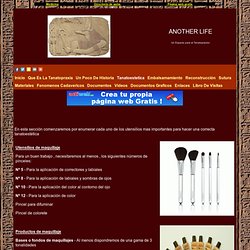 Grupo Creser
Teorias
Visible Proofs: Forensic Views of the Body: Exhibition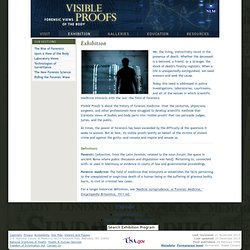 We, the living, instinctively recoil in the presence of death. Whether the deceased is a beloved, a friend, or a stranger, the shock of death's finality registers.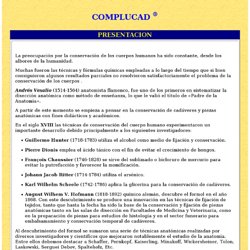 La preocupación por la conservación de los cuerpos humanos ha sido constante, desde los albores de la humanidad.
r) INFORMACION GENERAL
Aula abierta 2
Con la aparición de Complucad en 1997, ciento veintinueve años después del descubrimiento del formol, concluye toda una época en la que, si bien se resolvían, aunque muy precariamente, las conservaciones de cadáveres, su empleo planteó problemas muy serios a usuarios y manipuladores.
A Bloody Mess