Reference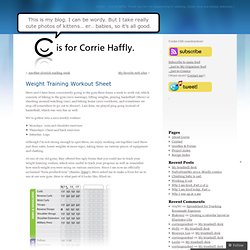 Steve and I have been consistently going to the gym three times a week to work out, which consists of biking to the gym (nice warmup), lifting weights, playing basketball (Steve) or shooting around/watching (me), and biking home (nice cooldown, and sometimes we stop off somewhere to go out to dinner). Last time, we played ping pong instead of basketball, which was very fun as well. We've gotten into a nice weekly routine: Mondays: Arm and shoulder exercisesThursdays: Chest and back exercisesSaturday: Legs
Weight Training Workout Sheet « Corrie Haffly
Creating a Fault-Tolerant Environment in Windows Server 2003 > Optimizing Disk Management for Fault Tolerance
There are many ways to add fault tolerance to network services and resources running on Windows Server 2003 servers, and all without the hassle of third-party software. Find out how to use them in this chapter from Microsoft Windows Server 2003 Insider Solutions. In This Chapter Optimizing Disk Management for Fault Tolerance Maximizing Redundancy and Flexibility with Distributed File System Simplifying Fault Tolerance with Volume Shadow Copy Optimizing Disk Utilization with Remote Storage Optimizing Clusters to Simplify Administrative Overhead Leveraging Network Load Balancing for Improved Availability Realizing Rapid Recovery Using Automated System Recovery (ASR)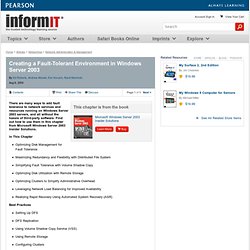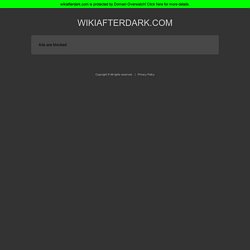 WikiAfterDark - WikiAfterDark
*Not applicable to ICANN fees, taxes, shipping and handling, sale priced domains and transfers, bulk domains and transfers, premium domains, Sunrise/Landrush domain registrations and pre-registrations, memberships or maintenance plans, additional disk space and bandwidth renewals, additional email addresses, additional AdSpace advertising funds, Managed Hosting, custom page layouts, brand identity services, Go Daddy branded merchandise or gift cards. Discount reflected in your shopping cart - cannot be used in conjunction with any other offer, discount or promotion, or in connection with special partnership discount programs. After the initial purchase term, discounted products purchased with special offer discounts will renew at the then-current renewal list price.
Mobile Websites - Cantoni.mobi
Support for Ruby version 1.9.3 will end on February 23, 2015 Today we are announcing our plans for the future of Ruby version 1.9.3. Continue Reading... Posted by hsbt on 10 Jan 2014 Ruby 2.1.0 is released We are pleased to announce the release of Ruby 2.1.0.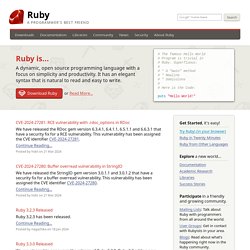 YAP Club
Unlike the serif font family, these hand drawn fonts looked less serious but they tend to give and convey strong human touch wherever they are applied. Hand-drawn fonts are hard to stand on it's own, but they are utmost perfect for these following situations: Hand drawn websitesIf you are inspired to give your new web design a sketchy or hand-drawn look and feel, these fonts are without a doubt the perfect math to the layout. Click here for more examples of Hand-drawn style websites. via bootbGuides and instructions Whether its a storyboard, an online guide & tutorial or merely an attempt to help user understand an illustration better, arrow, pointer and text guide gets the job done seamlessly. In terms of text, typography that mimics human writing tend to make reading and understanding things easier.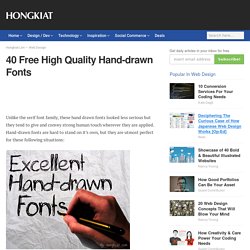 Article #354 • written by Brendan Mackie The men from London arrived just in time to see Mary Toft give birth to her fifteenth rabbit. It was the winter of 1726, and Nathaniel St. André and Samuel Molyneux arrived in the market town of Godalming in Surrey to meet Mary Toft, a short, stout peasant of "stupid and sullen temper" (per St.