Thinking Futures Business
How to Use Google+ Hangouts for Your Business
Are you using the Google+ video hangout feature? Are you looking for some creative ideas to use hangouts? Keep reading to discover how your business can connect in a personal way with your customers using this face-to-face video conferencing tool.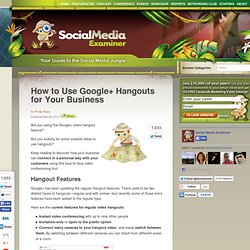 If you've seen Eminem's movie 8 Mile, you surely remember the scene of an industrial basement packed with hip-hop fans assembled for the battle between rival rappers. Will they cheer you or boo you off the stage? The refrain repeats, "You've got one shot." It's the pivotal moment in which you must persuade them to join your movement or slouch off stage in humiliation.
How To Prepare When You Only Get One Shot At Persuasion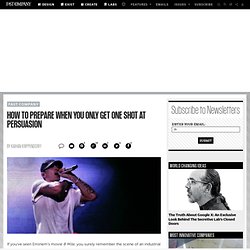 October 2008: Feature The Futurist Rising At its core, engaging with a futurist is an attempt by business to discover new choices for the future.
Management Today
Last Updated Oct 28, 2011 5:56 PM EDT No skill is more important in selling than knowing how to close the deal. I've written on this subject extensively, but have not yet set down the most important rules for closing deals.
The 6 Essential Rules for Closing Deals | BNET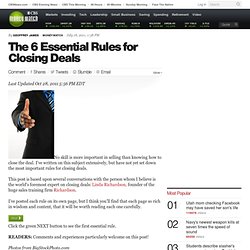 by Adam Rosenberg on Feb 25, 2013 Since my last post regarding Facebook's now infamous 20 Percent Rule (infamous meaning of course ' MORE than famous '), there has been plenty of uproar over how Facebook has gone about enforcing the new rule. Through all the grid tools, measurements, tweaks, and rejected posts, we've learned very little about how to consistently know whether or not an image violates this rule before actually publishing it. This is what we do know: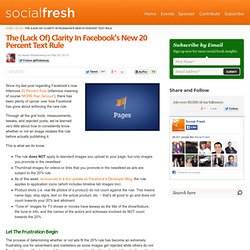 Social Fresh | The Crowdsourced Facebook Marketing Book