Thinking Futures Business
How to Use Google+ Hangouts for Your Business
Are you using the Google+ video hangout feature? Are you looking for some creative ideas to use hangouts? Keep reading to discover how your business can connect in a personal way with your customers using this face-to-face video conferencing tool.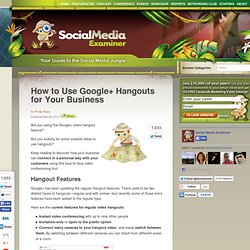 If you've seen Eminem's movie 8 Mile , you surely remember the scene of an industrial basement packed with hip-hop fans assembled for the battle between rival rappers. Will they cheer you or boo you off the stage? The refrain repeats, "You've got one shot."
How To Prepare When You Only Get One Shot At Persuasion
October 2008: Feature The Futurist Rising At its core, engaging with a futurist is an attempt by business to discover new choices for the future.
Management Today
No skill is more important in selling than knowing how to close the deal. I've written on this subject extensively, but have not yet set down the most important rules for closing deals. This post is based upon several conversations with the person whom I believe is the world's foremost expert on closing deals: Linda Richardson, founder of the huge sales training firm Richardson .
The 6 Essential Rules for Closing Deals | BNET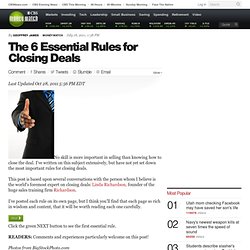 This is a crowdsourced book on Facebook Marketing curated by Social Fresh. If you need an introduction or a refresher on Facebook marketing without scouring the web for hours for the best stuff, we have you covered. This is part of our free social media training series of resources. We have created several other training resources on Twitter, blogging, Wikipedia and more. Dive into the best resources on Facebook marketing below. Sign up now for more social fresh insights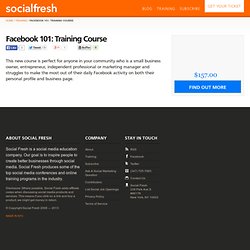 Social Fresh | The Crowdsourced Facebook Marketing Book