Strategic Planning
Why Strategic Planning Usually Fails. Logically, rationally, most strategic plans make sense.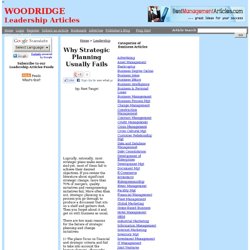 And yet, most of them fail to achieve their desired objectives. If you review the literature about significant strategic change, more than 70% of mergers, quality initiatives and reengineering initiatives fail. More often than not, strategic planning is a process you go through to produce a document that sits on a shelf and gathers dust. Then you forget about it and get on with business as usual. There are two main reasons for the failure of strategic planning and change initiatives:
Most Popular Articles, Papers of the Decade. HBS Working Knowledge readers want it all, judging by our all-time most popular articles.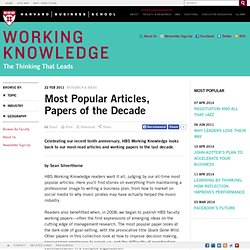 Here you'll find stories on everything from maintaining a professional image to writing a business plan, from how to market on social media to why music pirates may have actually helped the music industry. Readers also benefitted when, in 2008, we began to publish HBS faculty working papers—often the first expressions of emerging ideas on the cutting edge of management research. The most popular paper looks at the dark side of goal-setting, with the provocative title Goals Gone Wild. Other papers in this collection look at how to improve decision making, encouraging employees to speak up, and the difficulty of coordinating communication in a complex organization. Enjoy! Strategic Planning for Strategic Planning. 8 Mistakes to Avoid In IT Strategic Planning - CIO.com - Business Technology Leadership. CIO — Forrester VP and research director Alex Cullen has seen all kinds of IT plans, the very best and the very worst.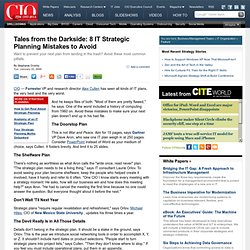 MORE ON Strategic Planning And he keeps files of both. "Most of them are pretty flawed," he says. ABC News: Planning for Your Company's Future. Dear WOUNDED: Our company does a crummy job of strategic planning.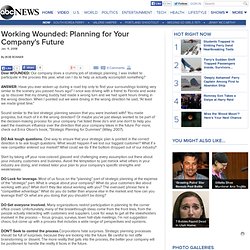 I was invited to participate in the process this year, what can I do to help us actually accomplish something? ANSWER: Have you ever woken up during a road trip only to find your surroundings looking very similar to the scenery you passed hours ago? 3 steps to creating participative strategy processes in organizations - Trends in the Living Networks. Some of my most interesting work in in helping clients create effective processes for participative strategy.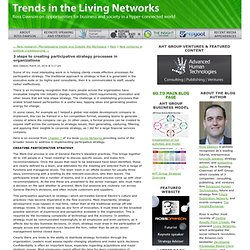 The traditional approach to strategy is that it is generated in the executive suite or by highly-paid consultants, then it is communicated to staff, usually rather ineffectively. There is an increasing recognition that many people across the organization have invaluable insights into industry change, competition, client requirements, innovation and other issues that will help shape strategy. The challenge is in establishing processes that enable broad-based participation in a useful way, tapping ideas and generating positive energy for change. In some cases, for example as I helped a global real-estate development company to implement, this can be framed in a fun competition format, assisting teams to generate visions of where the company can go.
Strategic Planning: Moving from Point A to Point B Faster. Advancing Health Worldwide: A Strategic Plan - UCSF. Corporate Planning & Global Industry Segmentation Group News. The one-page strategic plan. To help you create a results-oriented, one page strategic plan that lives more in your handbag or back pocket than it does on your shelf, I've created this one page strategic plan template.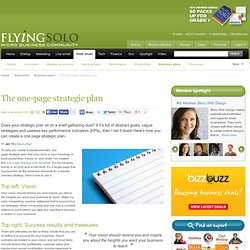 It's not complex, trendy or an inch-and-a-half thick. It's a single page that incorporates all the essential elements for a results-oriented strategy. Here's how to use it. Strategic Alignment Tool. Broadly Participative Planning. In the first part of our report on Academic Impressions' November 2010 survey of presidents, chief financial officers, and academic leaders, we noted that the foremost challenge cited by institutional leaders related to strategic planning and resource allocation is integrating the planning and budgeting processes.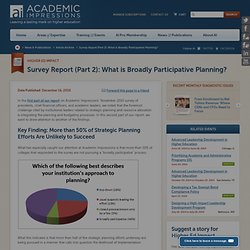 In this second part of our report, we want to draw attention to another of the findings. Key Finding: More than 50% of Strategic Planning Efforts Are Unlikely to Succeed What has especially caught our attention at Academic Impressions is that more than 50% of colleges that responded to the survey are not pursuing a "broadly participative" process. What this indicates is that more than half of the strategic planning efforts underway are being pursued in a manner that calls into question the likelihood of implementation.
Management planning and the future. Managers who think about the future - which should, of course, mean all managers - are accustomed to approaching the task with logical, careful analysis of what (or so they think) is most likely to happen.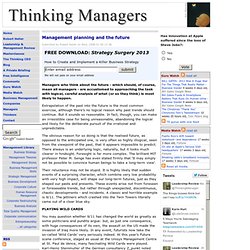 Extrapolation of the past into the future is the most common exercise, although there's no logical reason why past trends should continue. But it sounds so reasonable.
---