Strategic Planning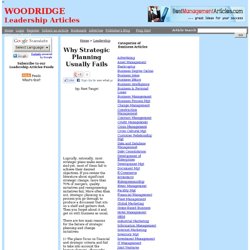 Logically, rationally, most strategic plans make sense. And yet, most of them fail to achieve their desired objectives.
Why Strategic Planning Usually Fails
Most Popular Articles, Papers of the Decade
HBS Working Knowledge readers want it all, judging by our all-time most popular articles. Here you'll find stories on everything from maintaining a professional image to writing a business plan, from how to market on social media to why music pirates may have actually helped the music industry.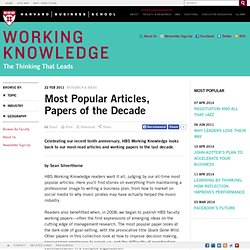 Strategic Planning for Strategic Planning
CIO — Forrester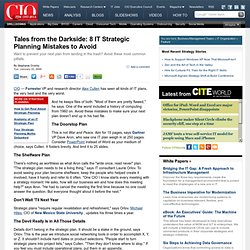 8 Mistakes to Avoid In IT Strategic Planning - CIO.com - Business Technology Leadership
http://www.furninfo.com/absolutenm/templates/NewsFeed.asp?articleid=8957
ABC News: Planning for Your Company's Future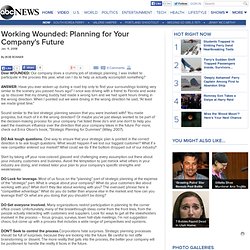 By BOB ROSNER Jan. 11, 2008 Dear WOUNDED: Our company does a crummy job of strategic planning.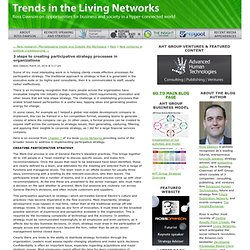 3 steps to creating participative strategy processes in organizations - Trends in the Living Networks
Some of my most interesting work in in helping clients create effective processes for participative strategy. The traditional approach to strategy is that it is generated in the executive suite or by highly-paid consultants, then it is communicated to staff, usually rather ineffectively.
Strategic Planning: Moving from Point A to Point B Faster
Advancing Health Worldwide: A Strategic Plan - UCSF
Corporate Planning & Global Industry Segmentation Group News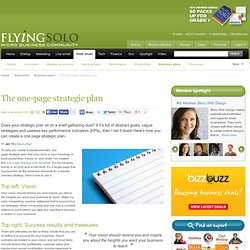 To help you create a results-oriented, one page strategic plan that lives more in your handbag or back pocket than it does on your shelf, I've created this one page strategic plan template.
The one-page strategic plan
Strategic Alignment Tool
Broadly Participative Planning
In the first part of our report on Academic Impressions' November 2010 survey of presidents, chief financial officers, and academic leaders, we noted that the foremost challenge cited by institutional leaders related to strategic planning and resource allocation is integrating the planning and budgeting processes. In this second part of our report, we want to draw attention to another of the findings.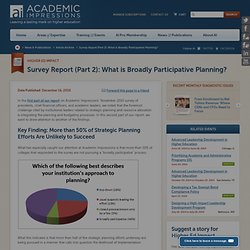 Managers who think about the future - which should, of course, mean all managers - are accustomed to approaching the task with logical, careful analysis of what (or so they think) is most likely to happen. Extrapolation of the past into the future is the most common exercise, although there's no logical reason why past trends should continue. But it sounds so reasonable.
Management planning and the future