Generations
This is part of a Pew Research Center series of reports exploring the behaviors, values and opinions of the teens and twenty-somethings that make up the Millennial Generation Executive Summary Generations, like people, have personalities, and Millennials — the American teens and twenty-somethings who are making the passage into adulthood at the start of a new millennium — have begun to forge theirs: confident, self-expressive, liberal, upbeat and open to change. They are more ethnically and racially diverse than older adults. They're less religious, less likely to have served in the military, and are on track to become the most educated generation in American history. Their entry into careers and first jobs has been badly set back by the Great Recession, but they are more upbeat than their elders about their own economic futures as well as about the overall state of the nation.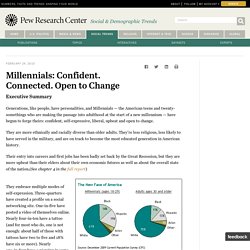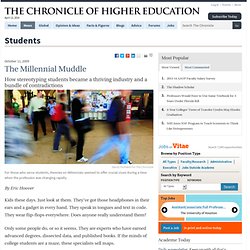 By Eric Hoover Kids these days. Just look at them. They've got those headphones in their ears and a gadget in every hand. They speak in tongues and text in code.
The Millennial Muddle: How Stereotyping Students Became an Industry - Student Affairs
Can I have your half-attention, please?
By Karen Pinchin | February 6th, 2009 | 2:03 pm I'm sitting in the back row of a darkened lecture hall at the University of British Columbia. Nearly half of the 200 students have their laptops open, giving off a piercing blue-white glow that reminds me of driving at night. A girl directly in front of me is toggling between two chat windows, a website of song lyrics, email, her Facebook profile, and, every now and then, her lecture notes.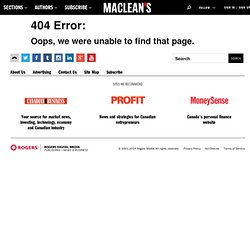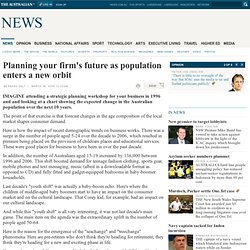 Planning your firm's future | The Australian
IMAGINE attending a strategic planning workshop for your business in 1996 and and looking at a chart showing the expected change in the Australian population over the next 10 years. The point of that exercise is that forecast changes in the age composition of the local market shapes consumer demand. Here is how the impact of recent demographic trends on business works.
EDUCERI › Centre for Educational Research and Innovation (CERI) - The New Millenium Learners Blog Media millenium babies The controversial television channel BabyFirst TV for babies between 6 months and 3 years which started in the US in 2004 has recently been launched in France. Their website claims the following: "It's Not Traditional TV - It's a Brand New Educational Tool: BabyFirst transforms traditional TV into an interactive and educational tool that relies on the television as a medium to deliver high-quality programming and an engaging experience for both baby and parents. BabyFirst can enrich the connection between parents and baby and give them new opportunities for learning and playing together." BabyFirstTV is not the first of its kind neither is it alone in an ever burgeoning market of multimedia for babies, with the first TV show started for babies"Teletubbies" in Britain a decade ago, and Baby Einstein, which sells DVDs for children as young as 1 month.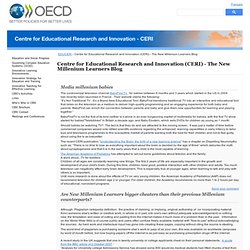 Centre for Educational Research and Innovation (CERI) - The New Millenium Learners Blog
FUTURE GENERATIONS THINKING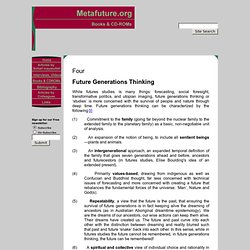 Four Future Generations Thinking While futures studies is many things: forecasting, social foresight, transformative politics, and utopian imaging, future generations thinking or 'studies' is more concerned with the survival of people and nature through deep time. Future generations thinking can be characterized by the following:[i]
Growing numbers of consumers can no longer escape an awareness of the damage done by their consumption: to the planet, society, or themselves. But a mixture of indulgence, addiction and conditioning mean that most can't substantially change their consumption habits. The result? A never-ending guilt spiral.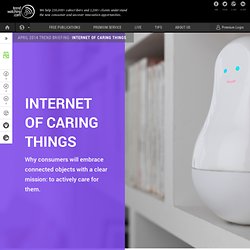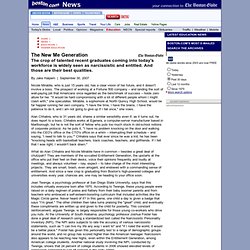 Nicole Mirabile, who is just 15 years old, has a clear vision of her future, and it doesn't involve a boss. The prospect of working at a Fortune 500 company – and landing the sort of well-paying job that Americans once regarded as the benchmark of success – holds zero allure for her. "It would be hard compromising with a lot of different people whom I might clash with," she speculates. Mirabile, a sophomore at North Quincy High School, would be far happier running her own company. "I have the time, I have the brains, I have the patience to do it, and I am not going to give up if I fail once," she vows.
The New Me Generation