Elearning
Bringing Online Education To Mongolia, In Wireless Backpacks. As a turbulent snowstorm whips across the vast, desolate Mongolian grasslands, a group of schoolchildren huddle over laptops, their eyes transfixed as the sagacious Sal Khan works through Newtonian physics.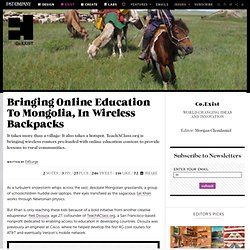 But Khan is only reaching these kids because of a bold initiative from another creative edupreneur: Neil Dsouza, age 27, cofounder of TeachAClass.org, a San Francisco-based nonprofit dedicated to enabling access to education in developing countries. Dsouza was previously an engineer at Cisco, where he helped develop the first 4G core routers for AT&T and eventually Verizon's mobile network. Plenty of people have tried to tackle education in remote areas. Going the Distance: Online Education in the United States, 2011 | The Sloan Consortium® "The rate of growth in online enrollments is ten times that of the rate in all higher education" said study co-author I Elaine Allen, Co-Director of the Babson Survey Research Group and Professor of Statistics & Entrepreneurship at Babson College.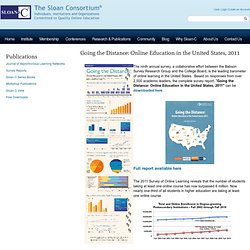 "While growth rates have declined somewhat from previous years, we see no evidence that a dramatic slowdown in online enrollments is on the horizon. " "There is a wide variety in rate of growth of online enrollments among different colleges and universities, and also among different programs within the same institution. For example, fully online health sciences programs show higher growth than online programs in other disciplines. " Key report findings include: Online college enrollment growing ten times faster than student population: study. More than six million college and university students took at least one online course during the fall 2010 term, an increase of 560,000 students over the previous year.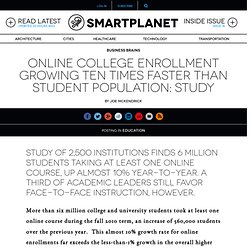 This almost 10% growth rate for online enrollments far exceeds the less-than-1% growth in the overall higher education student population nationwide. These are some of the top-line findings from the recently released 2011 Survey of Online Learning, a collaborative effort between the Babson Survey Research Group and the College Board. The survey, based on responses from over 2,500 academic leaders, reveals that nearly one-third of all students in higher education are taking at least one online course. 10 Tips to Help You Get Started. I get lots of questions from those who are just getting started with rapid elearning.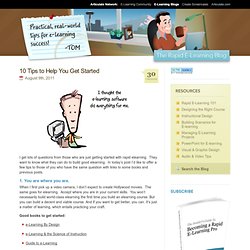 They want to know what they can do to build good elearning. In today's post I'd like to offer a few tips to those of you who have the same question with links to some books and previous posts. 1. You are where you are. The Chronicle of Higher Education - The Digital Campus, May 13 2011 - Page B1. Eleven More Incredible iPad Resources Waiting To Raise Your iPad App…titude. Greetings from sunny Tempe, Arizona!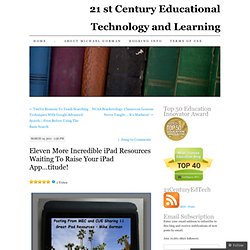 Looking forward to a great week of presenting and learning from others at both MEC in Tempe, AZ and CUE in Palm Springs, CA! If you happen to be in attendance, please stop by one of my sessions and say hi! I have a great posting that I know you will enjoy with regards to the iPad. I received so much feedback on my past iPad posts that I had to bring you eleven more amazing sites to explore. USC and 2tor Take Master's Program onto Apple Devices. Mobile Computing | News USC and 2tor Take Master's Program onto Apple Devices By Dian Schaffhauser04/14/11 The University of Southern California Rossier School of Education is providing a native application for Apple's iOS platform that allows online students to do their work on an iPhone or iPad.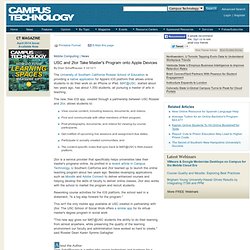 MAT@USC, started about two years ago, has about 1,550 students, all pursuing a master of arts in teaching. CourseSmart Launches E-Textbook App for Android. Mobile Computing | News CourseSmart Launches E-Textbook App for Android CourseSmart has released a new mobile electronic textbook app for Android OS-based smart phones and tablets, CourseSmart for Android 1.0.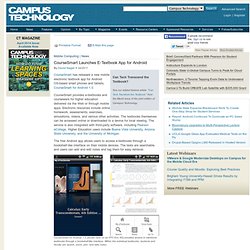 Ramping Up E-Portfolios at U Cincinnati. Assessment | Feature Ramping Up E-Portfolios at U Cincinnati Even with backers among the faculty, e-portfolio initiatives can be slow to take hold across university and college campuses.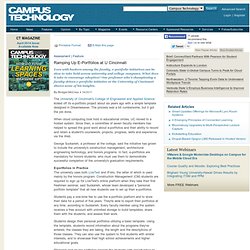 What does it take to encourage adoption? Learning in a Mobile Age (John Traxler) International Journal of Mobile and Blended Learning, 1(1), 1-12, January-March 2009 Copyright © 2009, IGI Global.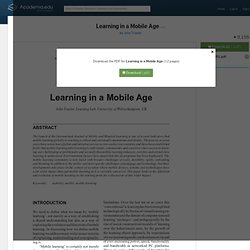 Copying or distributing in print or electronic forms without written permission of IGI Globalis prohibited. We have to recognise that attempts at identifying and dening mobile learning grow out of difference, out of attempts by emergentcommunities to separate themselves from someolder and more established communities andmove on from perceived inadequate practices. Conole: Presentation - Exploring the potential of new open, social and participatory media.
In this presentation I will look at new open, social and participatory media and consider their key characteristics.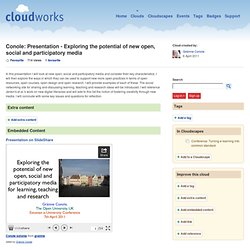 I will then explore the ways in which they can be used to support new more open practices in terms of open resources, open courses, open design and open research. I will provide examples of each of these. Salman Khan: Let's use video to reinvent education. 'Embedded Librarian' on Twitter Served as Information Concierge for Class - Wired Campus. What if a reference librarian was assigned to a college course, to be on hand to suggest books, online links, or other resources based on class discussion? A media-studies course at Baylor University tried the idea last semester, with an "embedded librarian" following the class discussion via Twitter. At the start of each class session, the professor, Gardner Campbell, asked the 11 students to open their laptops, fire up Twitter, and say hello to their librarian, who was following the discussion from her office. During the hourlong class, the librarian, Ellen Hampton Filgo, would do what she refers to as "library jazz," looking at the questions and comments posed by students, responding with suggestions of links or books, and anticipating what else might be helpful that students might not have known to ask.
At Texas' Abilene Christian, Digital Age Under Way — Higher Education. "The entering freshman class in 2011 will have several interesting traits," Abilene Christian University officials noted in a 2006 report, "not the least of which is that they were born the same year the Internet became mainstream. " Indeed, 2011 will be an interesting year for Texas higher education. At Texas' public institutions, it will assuredly be marked by budget cuts, even as they are asked to graduate more students.
It is also the year of the $10,000 — books included — bachelor's degree, less than half the cost of the current statewide average. At least, that's what Gov.
Cities
eFront: Free e-Learning books. Since I am a great fan of open source software (Open Source Authoring Tools for e-Learning, Free and Open Source Web Conferencing Tools for e-Learning) and active member of online communities I created the following list with free e-Learning books. 41 Free e-Learning Books – (Update 10/11/2011)=> If you have read any of the following books I will highly appreciate if you share your opinion with the e-Learning community.
=> If you know a free e-Learning book that is not included in the list please I will highly appreciate if you write a comment with a link to that book. ————————————————————————————————————– 75 Tips to Reduce eLearning Costs – eLearning Guild (Update 10/11/2011 suggested by Christopher Pappas) In this complimentary eBook, eLearning Guild members reveal imaginative ways to cut eLearning costs, and share insights on how to optimize your resources to get the job done more efficiently and effectively, without sacrificing quality. Texas Students Could Be Required to Seek Off-Campus Learning Options - Wired Campus.
A Texas higher-education panel is recommending that students be required to complete at least 10 percent of their degrees outside the classroom, through options like online courses. The proposal is one of several online-learning ideas in a new draft report prepared in response to Gov. Rick Perry's call for higher-education cost-savings recommendations. The report also recommends that the Texas Higher Education Coordinating Board be given authority to create a new institution to offer associate's programs online. Distance Education's Rate of Growth Doubles at Community College - Wired Campus. Distance education is growing quickly at community colleges, according to the results of a study published by the Instructional Technology Council. For the 2008-9 academic year, enrollment in distance learning at community colleges grew 22 percent over the 2007-8 academic year, up from a growth rate of 11 percent in the previous year.
The Instructional Technology Council, which is affiliated with the American Association of Community Colleges, conducted its annual survey by e-mail and received responses from 226 community colleges. The 22 percent growth from 2007-8 to 2008-9 is somewhat higher than the 17-percent growth that the Sloan Consortium noted for all distance education from fall 2007 to fall 2008 in a recent report. Overall enrollment in higher education grew less than 2 percent during that time.
Some possible futures of e-learning: Lessons and Enablers » SlideShare.
---