Elearning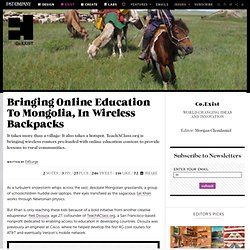 Bringing Online Education To Mongolia, In Wireless Backpacks
As a turbulent snowstorm whips across the vast, desolate Mongolian grasslands, a group of schoolchildren huddle over laptops, their eyes transfixed as the sagacious Sal Khan works through Newtonian physics. But Khan is only reaching these kids because of a bold initiative from another creative edupreneur: Neil Dsouza, age 27, cofounder of TeachAClass.org, a San Francisco-based nonprofit dedicated to enabling access to education in developing countries. Dsouza was previously an engineer at Cisco, where he helped develop the first 4G core routers for AT&T and eventually Verizon's mobile network. Plenty of people have tried to tackle education in remote areas.
"The rate of growth in online enrollments is ten times that of the rate in all higher education" said study co-author I Elaine Allen, Co-Director of the Babson Survey Research Group and Professor of Statistics & Entrepreneurship at Babson College.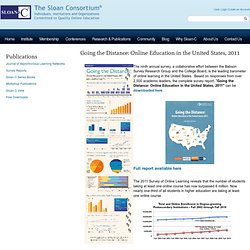 Going the Distance: Online Education in the United States, 2011 | The Sloan Consortium®
Will black carbon cause the death of space tourism before it has taken off? One way of marketing space tourism is the proud declaration that it can be more eco-friendly than your typical flight from London to New York. Virgin Galactic uses this byline when touting its SpaceShip2, and XCOR Aerospace currently sells tickets for sub-orbital flights for $95,000 a piece. Space tourism is expected to be become an industry worth roughly $650 million per year with 13,000 potential customers, according to research firm Futron. Private firms are looking more closely at how space tourism could be the next trend for adventurous travelers with money to burn, and if successful, launches could rise from 70 a year to over 1,000.
Online college enrollment growing ten times faster than student population: study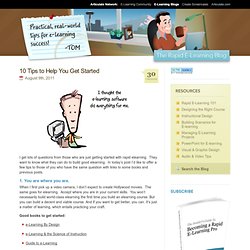 I get lots of questions from those who are just getting started with rapid elearning.
10 Tips to Help You Get Started
The Chronicle of Higher Education - The Digital Campus, May 13 2011 - Page B1
Eleven More Incredible iPad Resources Waiting To Raise Your iPad App…titude
i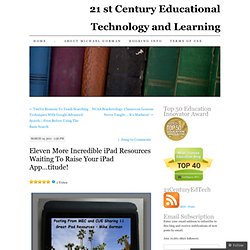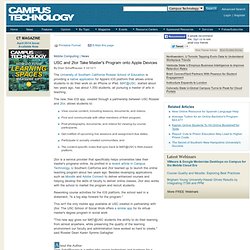 Mobile Computing | News
USC and 2tor Take Master's Program onto Apple Devices
Mobile Computing | News CourseSmart Launches E-Textbook App for Android CourseSmart has released a new mobile electronic textbook app for Android OS-based smart phones and tablets, CourseSmart for Android 1.0.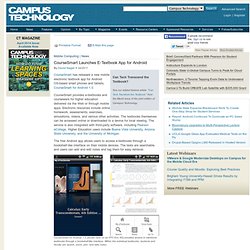 CourseSmart Launches E-Textbook App for Android
Ramping Up E-Portfolios at U Cincinnati
Assessment | Feature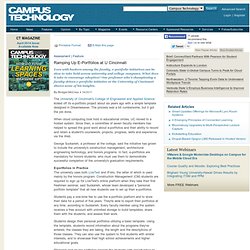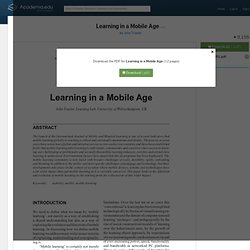 International Journal of Mobile and Blended Learning, 1(1), 1-12, January-March 2009 Copyright © 2009, IGI Global. Copying or distributing in print or electronic forms without written permission of IGI Globalis prohibited. We have to recognise that attempts at identifying and dening mobile learning grow out of difference, out of attempts by emergentcommunities to separate themselves from someolder and more established communities andmove on from perceived inadequate practices.
Learning in a Mobile Age (John Traxler) - Academia.edu
In this presentation I will look at new open, social and participatory media and consider their key characteristics. I will then explore the ways in which they can be used to support new more open practices in terms of open resources, open courses, open design and open research. I will provide examples of each of these.
Conole: Presentation - Exploring the potential of new open, social and participatory media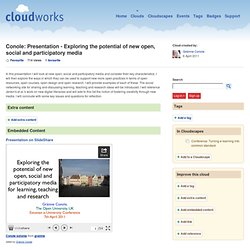 What if a reference librarian was assigned to a college course, to be on hand to suggest books, online links, or other resources based on class discussion?
'Embedded Librarian' on Twitter Served as Information Concierge for Class - Wired Campus
At Texas' Abilene Christian, Digital Age Under Way — Higher Education
"The entering freshman class in 2011 will have several interesting traits," Abilene Christian University officials noted in a 2006 report, "not the least of which is that they were born the same year the Internet became mainstream." Indeed, 2011 will be an interesting year for Texas higher education. At Texas' public institutions, it will assuredly be marked by budget cuts, even as they are asked to graduate more students. It is also the year of the $10,000 — books included — bachelor's degree, less than half the cost of the current statewide average. At least, that's what Gov.
Since I am a great fan of open source software (Open Source Authoring Tools for e-Learning, Free and Open Source Web Conferencing Tools for e-Learning) and active member of online communities I created the following list with free e-Learning books. 41 Free e-Learning Books – (Update 10/11/2011)=> If you have read any of the following books I will highly appreciate if you share your opinion with the e-Learning community.
A Texas higher-education panel is recommending that students be required to complete at least 10 percent of their degrees outside the classroom, through options like online courses.
Texas Students Could Be Required to Seek Off-Campus Learning Options - Wired Campus
Distance education is growing quickly at community colleges, according to the results of a study published by the Instructional Technology Council. For the 2008-9 academic year, enrollment in distance learning at community colleges grew 22 percent over the 2007-8 academic year, up from a growth rate of 11 percent in the previous year.
Distance Education's Rate of Growth Doubles at Community College - Wired Campus
Some possible futures of e-learning: Lessons and Enablers » SlideShare