Customer service
Service 2020 | BUSINESS RESEARCH. Service 2020 Service 2020: Megatrends for the decade ahead is a BDO report written by the Economist Intelligence Unit.
From The Economist Intelligence Unit Read more Service 2020. Build a Better Customer Experience (& Build More Business) Design isn't just for products---it should be a careful consideration in the overall customer experience.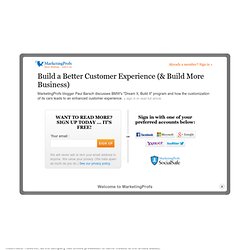 Case in point, with its "Dream it. Build it. Caring About Your Customer Service Screw-Ups. Posted On: Posted In: Customer Service, Hilton Comments: 45 Responses People seem to think Customer Service and Marketing are separate departments.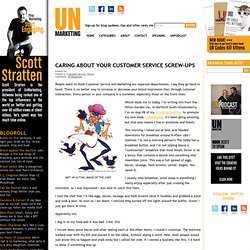 I say they go hand in hand. There is no better way to increase or decrease your brand impression than through customer interaction. Every person in your company is a marketer, especially those on the front-lines. Strategy - The Power of Customer Feedback. First, a plea: please don't keep your marketing insight languishing in a silo, away from your core business processes.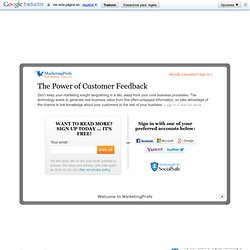 The technology exists to generate real business value from this often-untapped information, so take advantage of the opportunity to link this valuable asset—knowledge about customers—to the rest of your business. By fully embracing your customer-feedback program, you can achieve transparency into customer attitudes and learn important truths about today's buying behavior and the evolving attitudes that will determine future buying behavior.
Www.cipfa.org.uk/download/FSP_Vol1.pdf. Hi-tech efficiency key to future service delivery. HERE is an example of how an average Australian may have contact with government 10 years from now.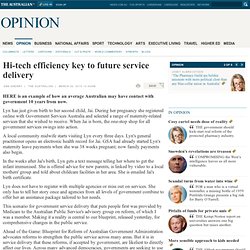 Lyn has just given birth to her second child, Jai. During her pregnancy she registered online with Government Services Australia and selected a range of maternity-related services that she wished to receive. Changethis.com/manifesto/81.06.SocialSharing/pdf/81.06.SocialSharing. Www.brampton.ca/en/City-Hall/Accessibility/Documents/Inclusive Customer Service Resource Manual for Vendors.pdf. At Your Service: Course Overview.
Service delivery model future. WebImagesMore… Sign in Advanced Scholar Search Scholar.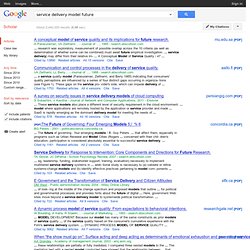 Who's responsible for service design? How many people should be answering the phone at Zappos on a Saturday?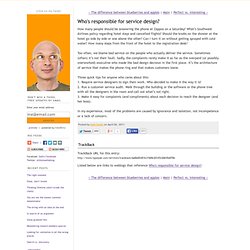 What's Southwest Airlines policy regarding hotel stays and cancelled flights? Should the knobs on the shower at the hotel go side by side or one above the other? Can I turn it on without getting sprayed with cold water? How many steps from the front of the hotel to the registration desk? Too often, we blame bad service on the people who actually deliver the service.
Five ways to engage with your customers. The president of Harley-Davidson got it right when he said "The more you engage with customers the clearer things become and the easier it is to determine what you should be doing".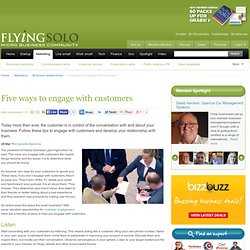 It's become very easy for your customers to ignore you. These days, if you don't engage with customers, they'll by-pass you. They'll turn off the TV, delete your email and fast-forward your podcast. Strategy - How to Engage, Attract, and Understand Customers. Are You Turning Customers Into Evangelists?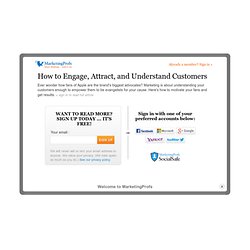 How can you encourage your customers to participate and contribute more to your company's marketing and product development? How can you provide a place for your customers to talk with each other and share ideas, enthusiasm, and challenges in the market? Marketing is about understanding your customers with such depth and clarity that you can empower and encourage them to be evangelists for your cause or company.
When you walk into an Apple store, it is often hard to tell who's doing the sales and marketing and who are the bigger fans of the product: the customers or the staff? Why You Aren't Happy, and How to Make Things Better | BNET. Last Updated Mar 23, 2011 5:56 PM EDT Perhaps it's no surprise to you that survey after survey finds many people are dissatisfied with their jobs.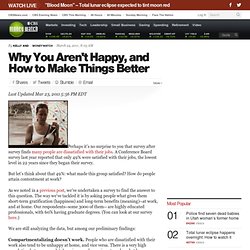 A Conference Board survey last year reported that only 49% were satisfied with their jobs, the lowest level in 22 years since they began their survey. But let's think about that 49%: what made this group satisfied? How do people attain contentment at work? As we noted in a previous post, we've undertaken a survey to find the answer to this question. Augmented Reality – the future of customer service? The customer service world around us is changing with the social web, new technologies, and especially mobile apps. The question is how much this is effecting our perspective of the real offline world around us. A new technology is evolving that is beginning to connect the offline and the virtual world from a customer perspective as it will offer some new form of customer service.
The term is Augmented Reality (AR). It is a technology that brings your visual experience and information from the web or networks together, and by doing this enriches daily situations with relevant data from the web – and in more and more cases the information provided will come from the user. Creating the Future of Customer Relationships | Advanced Human Technologies. Ross Dawson Introduction In the heyday of the dot-com era, many believed that the old laws of business and relationships had been revoked. In their highly influential book Blown to Bits, Evans and Wurster proclaimed that there was no longer a trade-off between "richness" and "reach," and that henceforth companies could reach as many customers as they wished without sacrificing richness of interaction.
The Future of Customer Service. Customer service through social media is a pretty hot topic at the moment. More companies are investing in this, and more people expect to have their problems solved through Twitter or Facebook. We've already seen a glimpse of what customer service will look in the future, when Gatorade shared their Mission Control Centre earlier this year. The centre allows staff to track real-time mentions of their brand and monitor current trends in sports conversations, and those that are relevant to their brand. It's exactly what I've been imagining for quite a while now, and it's fantastic to see it being done.
---