CPA Presentation
In Search of Future-Focused Learning Technologies (EDUCAUSE Review. Jonathon Richter (jrichter@uoregon.edu) is Research Associate, Center for Advanced Technology in Education, and Director of the Center for Learning in Virtual Environments, at the University of Oregon.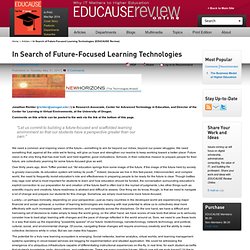 Comments on this article can be posted to the web via the link at the bottom of this page. "Let us commit to building a future-focused and scaffolded learning environment so that our students have a perspective greater than our own. " We need a common and inspiring vision of the future—something to aim for beyond our riches, beyond our power struggles. Lecture Capture: Lights! Camera! Action! Lecture Capture | Feature Lecture Capture: Lights!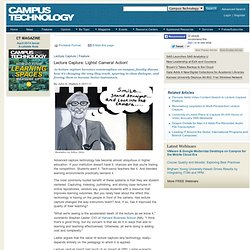 Camera! Action! The Rise of Teaching Machines - The Digital Campus. By Josh Fischman At Arizona State University, a high-tech teaching tool with roots in the pre-Internet 1950s has created a bit of a buzz.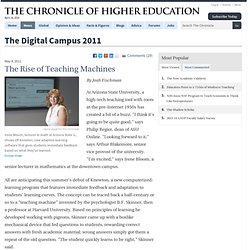 "I think it's going to be quite good," says Philip Regier, dean of ASU Online. "Looking forward to it," says Arthur Blakemore, senior vice provost of the university. "I'm excited," says Irene Bloom, a senior lecturer in mathematics at the downtown campus. All are anticipating this summer's debut of Knewton, a new computerized-learning program that features immediate feedback and adaptation to students' learning curves. News: Rejecting Double Blind. The American Economic Association announced last week that it is ending "double blind" peer review, the traditional system in the social sciences in which authors of submitted articles are not known to reviewers, nor are reviewers known to authors.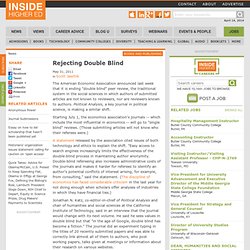 Political Analysis, a key journal in political science, is making a similar shift. Starting July 1, the economics association's journals -- which include the most influential in economics -- will go to "single blind" reviews. (Those submitting articles will not know who their referees were.) A statement released by the association cited issues of both technology and ethics to explain the shift. The ideal university. In the wake of AC Grayling's setting up of the New College of the Humanities the Guardian newspaper has asked for submissions from readers for their vision of the ideal university in under 250 words.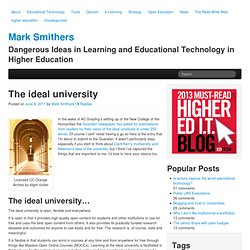 Of course I cant' resist having a go so here is the entry that I'm about to submit to the Guardian. It wasn't particularly easy, especially if you start to think about Clark Kerr's multiversity and Newman's idea of the university, but I think I've captured the things that are important to me. I'd love to here your visions too. Is Higher Education Ready for "The Education Bubble"? Institutional Reform | Viewpoint Is Higher Education Ready for 'The Education Bubble?'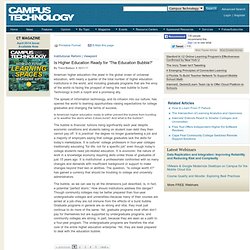 By Trent Batson06/01/11 American higher education--the jewel in the global crown of universal education, with nearly a quarter of the total number of higher education institutions in the world, and including graduate programs that are the envy of the world--is facing the prospect of being the next bubble to burst. Technology is both a culprit and a promising ally. The spread of information technology, and its infusion into our culture, has opened the world to learning opportunities--raising expectations for college graduates and changing the terms of success. Is College (Finally) Ready For Its Innovation Revolution? - Derek Thompson - Business. "The price of college is going to fall, and the Internet is going to cause that fall.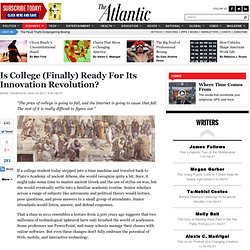 The rest of it is really difficult to figure out. " If a college student today stepped into a time machine and traveled back to Plato's Academy of ancient Athens, she would recognize quite a bit. Sure, it might take some time to master ancient Greek and the use of stylus on wax, but she would eventually settle into a familiar academic routine. Senior scholars across a range of subjects like astronomy and political theory would lecture, pose questions, and press answers to a small group of attendants. The Copyright Rebellion - Technology. The digital age was supposed to put information at our fingertips.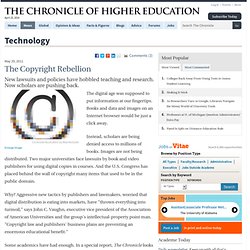 Books and data and images on an Internet browser would be just a click away. Instead, scholars are being denied access to millions of books. Images are not being distributed. Two major universities face lawsuits by book and video publishers for using digital copies in courses. And the U.S. Index. Online Learning Portals: Customizing Colleges Right Out of Higher Education? - Faculty. May 29, 2011 Lance Murphey for The Chronicle At the U. of Memphis University College, Joe Rowell applied for academic credits with a portfolio based on his experience in starting and running a software company.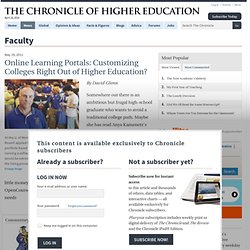 Home. At LearningCounts you can build a portfolio demonstrating your knowledge and expertise (learned outside the classroom) to earn college credit.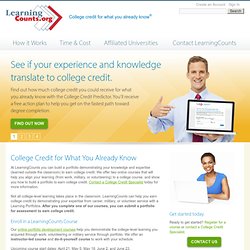 We offer two online courses that will help you align your learning (from work, military, or volunteering) to a college course, and show you how to build a portfolio to earn college credit. Contact a College Credit Specialist today for more information. Not all college-level learning takes place in the classroom. LearningCounts can help you earn college credit by demonstrating your expertise from career, military, or volunteer service with a Learning Portfolios. Is Higher Education Ready for "The Education Bubble"? Institutional Reform | Viewpoint Page 3 of 5 Is Higher Education Ready for 'The Education Bubble?' Such an undertaking, to reveal the secrets of our enterprise learning theory, obviously cannot be undertaken by existing faculty development staff (except in rare cases), but is more appropriately managed in each discipline in coordination with disciplinary associations and accrediting bodies.
But this effort must also result from a presidential-level decree: "The learning theory that fit so well in our culture and with the dominant technology pre-1995 (print-based and paper-based technologies), now is not working very well for any of us, so we have to change. Will the Internet Destroy Academic Freedom? - Wired Campus. The cherished principle of academic freedom may be Googled to death, according a new article in the journal called—appropriately—the Journal of Academic Freedom.
Philo A. Hutcheson, associate professor of educational-policy studies at Georgia State University, writes that academics used to be seen as society's experts, but the Internet makes everybody think they are experts because knowledge is at their fingertips. And if society no longer believes professors have special expertise, it may no longer grant them the ability to pursue controversial ideas that grow from it.
Changing the Way We Teach. Trendspotter | Feature Changing the Way We Teach Put authentic learning first--the technology will follow. By Mary Grush05/01/11 Campus Technology: You've said that when you first began teaching in higher education, it was nothing like you expected. Why? AcademicPub Opens Custom Textbook-Building to Faculty. E-Textbooks | News AcademicPub Opens Custom Textbook-Building to Faculty By Dian Schaffhauser04/26/11 A company with technology for creating digital-to-print books is getting into the textbook market.
AcademicPub, a division of SharedBook, has introduced a service that enables instructors to create digital and print texts by compiling materials from multiple sources: copyrighted works, faculty-created material, and resources the company has in its own library. Twitter Meets the Breakfast Club - The Digital Campus. By David Silver "Be careful," I used to warn my students back in the mid-1990s as I taught them how to make what we then called "home pages. " "When you put something on the World Wide Web, you're making it public. And that means future employers may find it. " For the next 15 years, I repeated my warning as I taught students how to build Web sites, craft blogs, use Flickr, and create content on a small but growing site called Facebook. About three years ago, all of that changed.
---