DIY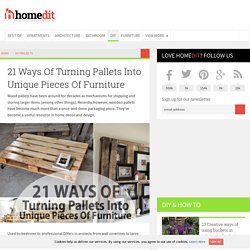 Do you have some pallets or pieces of them that you don't need anymore? Don't just throw them away. There are lots of ways you can use them and turn them unto something original, original and very useful. Here are some examples that might help you.
DIY Waterphone | Durk Kooistra
[Update] Richard Waters, the inventor of the Waterphone was kind enough to point out the construction and sound of a real waterphone is very different (and a lot more work). Please visit Richards website here. Today I got an email about my EM411 article on making a DIY waterphone. I did not even remember posting it and was somewhat dumbfounded to find out the search query "DIY waterphone" on google delivers the article on the very top of the results. Maybe it's because off em411′s SEO or because it's a really cheap and easy to do project. Original article: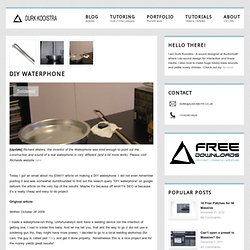 Thursday, October 11th, 2012 I love dolls' houses and have since I was a little girl. It's a love that must have been passed down to me from my mum. She also loves them and a few years ago for Christmas me and my brother bought her one. I've loved researching different materials to build it with, visiting fairs to buy supplies and spending time working on it.
Belle Bébés - A hobbit's hideaway & a mouse's house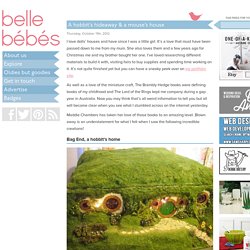 Doilies are dainty. Candles are romantic. Burlap is rustic. Here I've combined all of them to make these pretty luminaries that would be great for a romantic Valentine's Day meal or even as a wedding reception accent. Play around with different ribbons, buttons, twine and burlap while experimenting with various doily designs as well. I found my doilies at the thrift store for about $0.35 each.
Burlap & Doily Luminaries: Rustic meets Romance
Posted by: Cathy on Aug 04, 2012 Tagged in: Untagged Paper Flower Tutorial Doesn't this look divine? When I first saw these, I thought they would be really difficult to do because they look quite intricate but actualy, they're easy!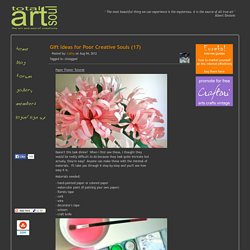 Thursday, June 14, 2012 4:30 am, Posted by Chris Groves | Internet 20 Awesome Do It Yourself Projects Topics: At Home Project Ideas , Creative DIY Home Projects , Do It Yourself Projects for 2012 , Fun How To Projects , What to Do with Extra Stuff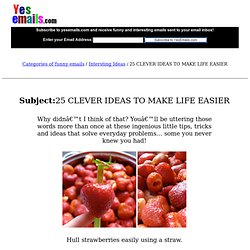 Why didn't I think of that? You'll be uttering those words more than once at these ingenious little tips, tricks and ideas that solve everyday problems... some you never knew you had! Hull strawberries easily using a straw. Rubbing a walnut over scratches in your furniture will disguise dings and scrapes. Remove crayon masterpieces from your TV or computer screen with WD40.
they are all over pinterest.... (i still am not signed up for pinterest because i don't have time for one more thing but browsing is fun!) so we made one. i took a box of 64 crayons and took out the blacks and browns. i used another small box and doubled up on the good colors i liked and hot glued them to the top of our canvas. then we turned our blow dryer to hot on high.