Art
Cataclysm - a post-human art book (relaunch) by Ben Farrow. Who are you and why did you do this?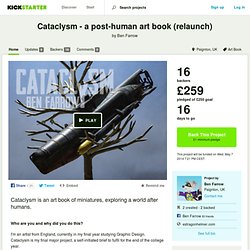 I'm an artist from England, currently in my final year studying Graphic Design. Cataclysm is my final major project, a self-initiated brief to fulfil for the end of the college year. I've never created miniatures this ambitious before, as until now it's only been a hobby of mine. I'm more often an anthropomorphic artist, a graphic designer, and a photographer. Update! Milo Moire Attends Art Basel Naked. Several weeks ago, Swiss performance artist Milo Moire arrived at Art Basel in Switzerland completely naked, except for her shoes, a pair of glasses and the words "pants," "bra" and "jacket" written on her body.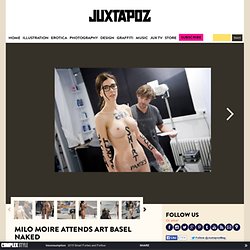 She wasn't allowed into the event as a result. When interviewed, Moire responded that "the art market needs the peculiarity of art...without this quality, even the prestigious Art Basel only sells illusions. " All images were taken from Google Image search. Parrots speak extinct South American language - ParrotChronicles.com Feature Story. THE UNMISTAKABLE SCREECH of a parrot splits the silence.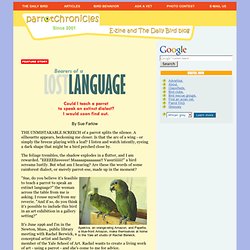 A silhouette appears, beckoning me closer. Is that the arc of a wing - or simply the breeze playing with a leaf? Motion Silhouette: An Interactive Shadow Picture Book. Motion Silhouette is an interactive Japanese children's book by Megumi Kajiwara and Tathuhiko Nijima that includes pop-up silhouettes in-between pages.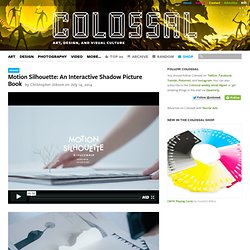 As a light source is directed toward either side, a different moving image is projected on the page to help tell the story. Fun! Situationist International. The Situationist International (SI) was an international organization of social revolutionaries, the exclusive membership of which was made up of avant-garde artists, intellectuals, and political theorists, active from its formation in 1957 to its dissolution in 1972.[1]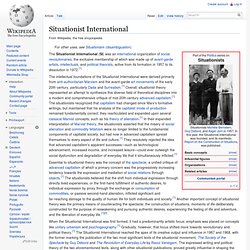 A Media System That Gives Physical Life to Digital Media. In the digital age, the tactile joy of flipping through a stack of CDs or records has been replaced with the thoroughly unsatisfying actions of scrolling through files on a screen.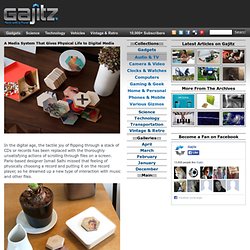 Paris-based designer Ismail Salhi missed that feeling of physically choosing a record and putting it on the record player, so he dreamed up a new type of interaction with music and other files. The system is called Qleek. Qleek.me. A Media System That Gives Physical Life to Digital Media. Amazing Artist Goes Dumpster Diving, Builds Homes for the Homeless. Here you see Artis Gregory Kloehn going dumpster diving.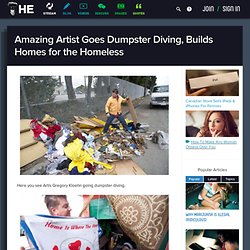 Instead of selling his art and trying to get rich, he feeds the ones who have no material possessions to give in return. This is how the starts to build homes for the homeless—cute little ones that drastically improve living standards. Portals: A Networked Mixed-Reality Playground. Portals is a prototype of a tangible and networked system/interface for interacting with a virtual world.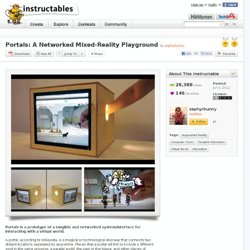 A portal, according to Wikipedia, is a magical or technological doorway that connects two distant locations separated by spacetime. Places that a portal will link to include a different spot in... Things Cut in Half (HalfPics) Creepy Black Balloon Will Follow You, Repeat Your Convos. How terrifying would it be to turn around and see a levitating black balloon following your every move and repeating the last conversation you just had?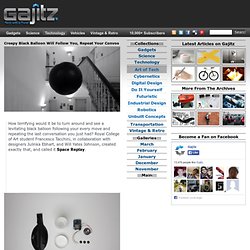 Royal College of Art student Francesco Tacchini, in collaboration with designers Julinka Ebhart, and Will Yates Johnson, created exactly that, and called it Space Replay. The hovering balloon is stuffed with a battery-powered Arduino, an Adafruit Wave Shield hacked to record and playback, and a speaker. The components were sealed within a plastic cone to both amplify the sound and protect the balloon from the wires and other pointy objects.
A small amount of helium was added to let the balloon hover, but no so much that it would soar above people's heads. The Adafruit Wave Shield records ambient sounds and plays them back with a short delay, turning a sort of phonic mirror on the people in the space around it. The great sleeping bear bag by eiko ishizawa. Apr 21, 2014 the great sleeping bear bag by eiko ishizawa the great sleeping bear bag by eiko ishizawa bruno the brown bear had his home in the italian alps, but it was inevitable that he would roam around, eventually making his way over to bavaria – the first bear sighting, in what is now germany, in approximately 170 years. unfortunately, while doing so he survived on sheep and hunters. posing him as a threat, the government saw him killed in 2006 despite much opposition from animal lovers. details of the bear head moved by the tragic story, eiko ishizawa decided to 'recreate' the incident in a way. the netherlands-based artist has employed this notion of camping gear, transforming the sleeping bag to take on the appearance of a bear, formulating association between one's love of the wilderness, and the fear of the unknown in the great outdoors.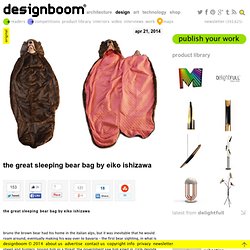 Animal Coffin | Core77 2013 Design Awards. 1. The Nutshell: In plain language, tell us what your project is, what it does, and what it's comprised of. Animal coffin is a biodegradable coffin made from recycled waste materials with flower- and tree seeds embedded. A tree will grow where the beloved animal is buried, thus providing a long-lasting memorial. By giving waste material a second life Animal Coffin both provides an alternative for waste handling, conserves new resources and provides the opportunity to bid farewell of a beloved pet. Animal Coffin is made from the materials coffee grounds, potato starch, flour, human hair and cardboard. No Strings Attached by Emon Hassan Narratively. Other Natural History :: Natural History Prints :: Antique Prints and Antique Maps from Vintage-Views.com. Natural history prints. Iori Tomita. 3rd Eye / TAKEHITO ETANI. Exhibitions, performances, presentation 2005: Exhibition OKVF/ÖSTERSUNDS KONSTVIDEOFESTIVAL 05, Östersund, Sweden 2004: Presentation Patricia Carpenter's Cognitive psychology class, Carnegie Mellon University, Pittsburgh PA.
Instead of Shooting People, this Guy Plays Grand Theft Auto as a War Photographer. Jan 18, 2014 Talk about choosing your own adventure! Reddit user cy_sperling decided to participate in Grand Theft Auto V's online multiplayer mode as a war photographer/photojournalist. To avoid being targeted as an enemy and notify other online players of his 'reporting', his custom character wears a black jacket with 'MEDIA' printed across the back. How to Make a Crystal Garden: 7 Steps. Free Vintage Posters, Vintage Travel Posters, Wall Art, Printables. The Gentlemen of Bakongo And Their Cult Of Elegance. Ever heard of a religion of clothing? Well let us introduce you to Le Sap - The society for people of elegance and ambiance in the Congo and the inspiration of Italian photographer Daniele Tamagni's book: The Gentlemen of Bakongo - The Importance of Being Elegant... A gentleman of Bakongo "It is our way of life and not just the dressing," he continues. " It is how we express our individuality and our character.
Along with our families, Le Sap, is our reason for being." Cavory is part of a group of 'sapeurs' who emanate from, Brazzaville, the capital of The Republic of The Congo (AKA The French Congo or Congo- Brazzaville) and are the subject of a new, mainly photographic tome, The Gentlemen of Bakongo – The Importance of Being Elegant, by Italian snapper Daniele Tamagni. Artist JeeYoung Lee Converts Her Tiny Studio Into Absurdly Elaborate Non-Digital Dreamscapes.
Resurrection Nightscape It's always amazing to witness at artist who embraces one of their greatest limitations, turning it instead into one of their greatest advantages. For Korean artist JeeYoung Lee the question was how to utilize her small studio space in Seoul measuring 11.8′ x 13.5′ x 7.8′ (3.6m x 4.1m x 2.4m) that was proportionally miniscule to the scale of her boundless imagination. Instead of finding a new location or reverting to digital trickery, Lee challenged herself to build some of the most elaborate sets imaginable for the sake of taking a single photograph. Edible Chocolate Art Supplies by Nendo. Untitled. De Urban Campsite, een reizende camping waar kamperen en kunst samenkomen. Warsaw art museum buys Zbigniew Libera's 'Lego' concentration camp. Glowing Plants: Natural Lighting with no Electricity by Antony Evans. Dutch Profiles | ARTtube. New Dutch Digital Design > DutchDFA. 12 Creative Architectural Art Installations & Building Modifications.
Chindōgu.
Pacific Light: Macro Footage of Ink, Oil and Soap Shot by Ruslan Khasanov. Translucent Hermit Shell Crabs Adorned with Architectural Cityscapes by Aki Inomata. My Miniature Mouse Tree House. 10Steps.SG - Best Photoshop Tutorials for Beginners. OaKoAk. A Dream of Glowing Trees Is Assailed for Gene-Tinkering. The Business Networking Platform for the Built Environment. Toon forum - Jobs Sketchup. MyInkBlog - a resource for all things design. Yuichi Nishihata's Sensual Photos of Fruit. MyVillages.org. Materials.
---