Art
Animal Coffin | Core77 2013 Design Awards
1. The Nutshell: In plain language, tell us what your project is, what it does, and what it's comprised of. Animal coffin is a biodegradable coffin made from recycled waste materials with flower- and tree seeds embedded. A tree will grow where the beloved animal is buried, thus providing a long-lasting memorial. By giving waste material a second life Animal Coffin both provides an alternative for waste handling, conserves new resources and provides the opportunity to bid farewell of a beloved pet. Animal Coffin is made from the materials coffee grounds, potato starch, flour, human hair and cardboard.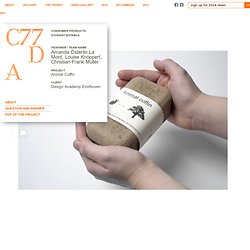 Chill out with some relaxing gifs
browse your computer drag and drop here Ctrl + V paste from your clipboard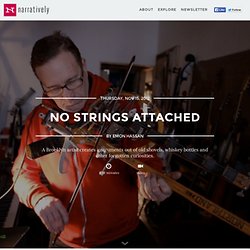 by Emon Hassan A Brooklyn artist creates instruments out of old shovels, whiskey bottles and other forgotten curiosities. Freeze frame from "No Strings Attached"
No Strings Attached by Emon Hassan Narratively
Other Natural History :: Natural History Prints :: Antique Prints and Antique Maps from Vintage-Views.com
natural history prints
albums browse your computer drag and drop here
Iori Tomita
Exhibitions, performances, presentation 2005: Exhibition OKVF/ÖSTERSUNDS KONSTVIDEOFESTIVAL 05, Östersund, Sweden 2004: Presentation Patricia Carpenter's Cognitive psychology class, Carnegie Mellon University, Pittsburgh PA
3rd Eye / TAKEHITO ETANI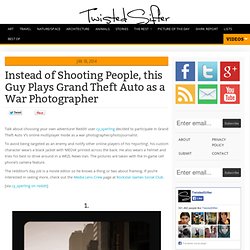 Jan 18, 2014 Talk about choosing your own adventure! Reddit user cy_sperling decided to participate in Grand Theft Auto V's online multiplayer mode as a war photographer/photojournalist. To avoid being targeted as an enemy and notify other online players of his 'reporting', his custom character wears a black jacket with 'MEDIA' printed across the back.
Instead of Shooting People, this Guy Plays Grand Theft Auto as a War Photographer
How to Make a Crystal Garden: 7 Steps
Free Vintage Posters, Vintage Travel Posters, Wall Art, Printables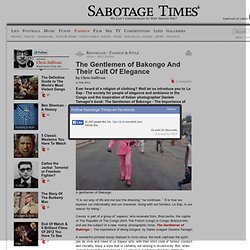 The Gentlemen of Bakongo And Their Cult Of Elegance
Ever heard of a religion of clothing? Well let us introduce you to Le Sap - The society for people of elegance and ambiance in the Congo and the inspiration of Italian photographer Daniele Tamagni's book: The Gentlemen of Bakongo - The Importance of Being Elegant... A gentleman of Bakongo "It is our way of life and not just the dressing," he continues. " It is how we express our individuality and our character. Along with our families, Le Sap, is our reason for being." Cavory is part of a group of 'sapeurs' who emanate from, Brazzaville, the capital of The Republic of The Congo (AKA The French Congo or Congo- Brazzaville) and are the subject of a new, mainly photographic tome, The Gentlemen of Bakongo – The Importance of Being Elegant, by Italian snapper Daniele Tamagni.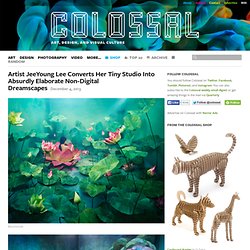 Resurrection Nightscape It's always amazing to witness at artist who embraces one of their greatest limitations, turning it instead into one of their greatest advantages. For Korean artist JeeYoung Lee the question was how to utilize her small studio space in Seoul measuring 11.8′ x 13.5′ x 7.8′ (3.6m x 4.1m x 2.4m) that was proportionally miniscule to the scale of her boundless imagination. Instead of finding a new location or reverting to digital trickery, Lee challenged herself to build some of the most elaborate sets imaginable for the sake of taking a single photograph.
Artist JeeYoung Lee Converts Her Tiny Studio Into Absurdly Elaborate Non-Digital Dreamscapes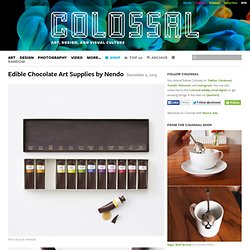 Photo by Ayao Yamazaki If you ever had an overwhelming desire to eat paste or paint chips as a child, this might be for you. Created by design firm Nendo (previously) for the Seibu Department Store in Japan these 12-piece paint sets are completely edible, paint tubes and all. Instead of paint, each tube contains a different flavored caramel or syrup matching the color of its label from green tea to strawberry to honey. Nendo previously designed a set of edible chocolate pencils back in 2007.
Edible Chocolate Art Supplies by Nendo
unnamed pearl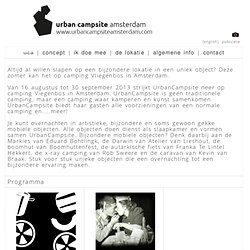 Altijd al willen slapen op een bijzondere lokatie in een uniek object? Deze zomer kan het op camping Vliegenbos in Amsterdam. Van 16 augustus tot 30 september 2013 strijkt UrbanCampsite neer op camping Viegenbos in Amsterdam.
De Urban Campsite, een reizende camping waar kamperen en kunst samenkomen.
Some controversial artworks never completely lose the taint of the taboo despite changing times and evolving tastes. When Polish artist Zbigniew Libera created a faux Lego concentration camp toy set in 1996, he drew widespread criticism from people who believed he was making light of the Holocaust. Since then, his death-camp toys have been shown in museums and galleries around the world, including New York's Jewish Museum in the 2002 exhibition "Mirroring Evil." This week, the Museum of Modern Art in Warsaw, Poland, announced on its website that it has acquired Libera's concentration camp creations.
Warsaw art museum buys Zbigniew Libera's 'Lego' concentration camp
Thank you to all of our backers for making the Glowing Plant Kickstarter campaign the success that it was. We are deeply appreciative of the trust and support you have shown us. You helped us put Synthetic Biology on the crowdfunding map, now it's up to us to create and deliver the Glowing Plant. You can keep following us through our official blog, with regular updates and discussion on our Facebook and Twitter pages.
Glowing Plants: Natural Lighting with no Electricity by Antony Evans
Dutch Profiles are short documentaries about architects, graphic, product and fashion designers in the Netherlands. Containing interviews with both well-known and upcoming Dutch designers, Dutch Profiles focus on their conceptual approach, their work process, and the context of their projects. The series includes movies featuring Rem Koolhaas, MVRDV, Herman Hertzberger, Wim Crouwel, Jurgen Bey, Irma Boom, Hella Jongerius, Daan Roosegaarde, Jan Taminiau, Iris van Herpen and Alexander van Slobbe. From 2009 till early 2013, a total of 96 profiles were produced by Submarine for the DutchDFA programme, with an editorial board consisting of Jose Teunissen, Gert Staal, Huib Haye van der Werf and Christine de Baan. The videos are available worldwide in low-res via www.dutchprofiles.com, www.arttube.nl, and on the designated YouTube channel (www.youtube.com/user/DutchProfiles).
Dutch Profiles | ARTtube
New Dutch Digital Design > DutchDFA
23 September 2010 Press release: Three premieres in Paris, Utrecht and Enschede. Studio Roosegaarde has 3 exciting interactive premieres this week.
Some fantastic building decoration/modification here... http://weburbanist.com/2009/07/28/12-creative-architectural-art-installations-building-modifications/ When does a building transform from a shell into a work of art within itself? Can artists improve even beautiful architectural wonders, turning them into something more creative and meaningful? Some architectural art installations are done out of necessity because the work is simply too large to be contained. Others use the building to make a political statement, to give value to an abandoned space or simply for the pure joy of it.
12 Creative Architectural Art Installations & Building Modifications
Chindōgu
Pacific Light: Macro Footage of Ink, Oil and Soap Shot by Ruslan Khasanov
Translucent Hermit Shell Crabs Adorned with Architectural Cityscapes by Aki Inomata
My Miniature Mouse Tree House
10Steps.SG - Best Photoshop Tutorials for Beginners
OaKoAk
A Dream of Glowing Trees Is Assailed for Gene-Tinkering
The Business Networking Platform for the Built Environment
Toon forum - Jobs Sketchup
MyInkBlog - a resource for all things design.
Yuichi Nishihata's Sensual Photos of Fruit
MyVillages.org
Materials