Media Center
LM Gestion : LM Remote KeyMap : Customize or disable the MCE Remote green button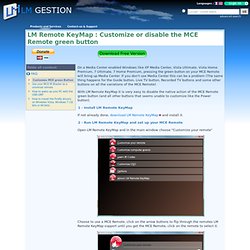 On a Media Center enabled Windows like XP Media Center, Vista Ultimate, Vista Home Premium, 7 Ultimate, 7 Home Premium, pressing the green button on your MCE Remote will bring up Media Center.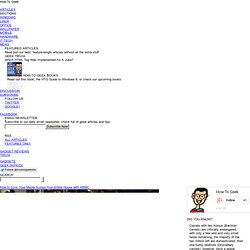 XBMC is an awesome media center solution but when you're using it all over your house your library updates and watched-media lists get out of sync.
How to Sync Your Media Across Your Entire House with XBMC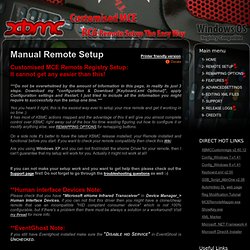 On a side note It's better to have the latest XBMC release installed, your Remote installed and functional before you start. If you want to check your remote compatiblity then check this Wiki Are you using Windows XP and you can not find/install the ehome Driver for your remote, then I can't guarantee that my setup will work for you.
Custom Registry settings 4 MCE Remotes
At some point during your foray into XBMC, you will likely come up against a problem that isn't made 100% clear from errors in the GUI. This is where the log file comes into play.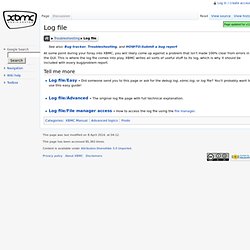 Log file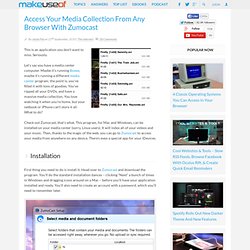 Let's say you have a media center computer.
Access Your Media Collection From Any Browser With Zumocast
SMB
Windows File Sharing, (also known as Common Internet File System [CIFS] or Server Message Block [SMB]), is probably the most common of all of the options for sharing media between your computer or a NAS (Network Attached Storage) device and XBMC. On Mac OS X it's called Windows Sharing.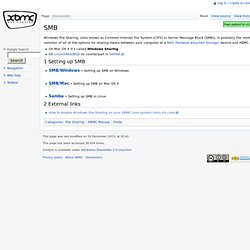 Unofficial add-on repositories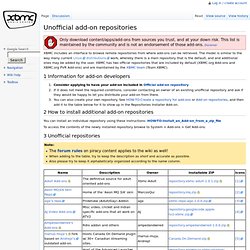 XBMC includes an interface to browse remote repositories from where add-ons can be retrieved.
HOW-TO share folders over SMB using Windows 7
Introduction As has been documented elsewhere, XBMC's scrapers and library work best when full access to video and audio files is provided to them via an SMB share. However, MS is making it more and more difficult to share using SMB in Windows.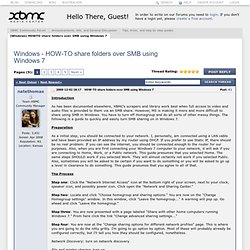 Adding videos to the library/Naming files/Movies
Important: THIS IS THE MOST IMPORTANT STEP TO A SUCCESSFUL LIBRARY SCAN! In order for the media scrapers to pick up the correct information your file names must follow a certain format: 1 Naming conventions In order to be scanned correctly, movie file names should only have the title and the year (optional) followed by the file extension. Media source flags can also be added via file names to indicate source/quality of the movie (see link for more info). To improve matching add the year within parenthesis to the end of the file or foldername, depending on your scanning method and folder structure (before the extension, if filename), this naming standard seems to yield the best results.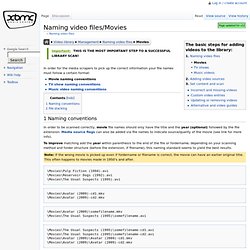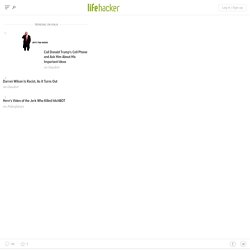 Windows/Mac/Linux: If you just saw an awesome movie in the theaters and want it on your computer as soon as possible, free app CouchPotato will look for it on Usenet and automatically download it as soon as a copy is available online.
How to Automatically Download Movies as Soon as They're Released with CouchPotato
Video content is readily available online for you to download, but the download process isn't always as simple and automated clicking a button on a TiVO or DVR. Fortunately, with a little set up and some help from a few great tools and BitTorrent or Usenet, you can turn your computer into a TiVo-like downloader.
@jimv2000: I left it a bit ambiguous with "material", but I agree, some of the paid subscription music and movie services are really improving to the point that piracy is more of a hassle than it is worth. I do have a Zune Pass subscription, it's a great service. I'm hoping internet speeds can increase drastically all around, that way Netflix can start offering more HD + high quality surround sound for streaming.
Control Your Desktop PC with a Remote Using LIRC
SExpand Walking to your computer to change a song or to skip to the next PowerPoint slide isn't ideal. Instead, use LIRC to control any application on your Linux or Windows PC with any infrared remote.
I really want to love XBMC, and maybe you guys can help me out.