Media Center
LM Gestion : LM Remote KeyMap : Customize or disable the MCE Remote green button. On a Media Center enabled Windows like XP Media Center, Vista Ultimate, Vista Home Premium, 7 Ultimate, 7 Home Premium, pressing the green button on your MCE Remote will bring up Media Center.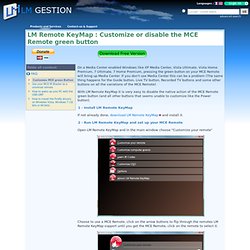 If you don't use Media Center this can be a problem (The same thing happens for the Guide button, Live TV button, Recorded TV buttons and some other buttons on all the variations of the MCE Remote) With LM Remote KeyMap it is very easy to disable the native action of the MCE Remote green button (and all other buttons that seems unable to customize like the Power button). 1 - Install LM Remote KeyMap. How to Sync Your Media Across Your Entire House with XBMC. XBMC is an awesome media center solution but when you're using it all over your house your library updates and watched-media lists get out of sync.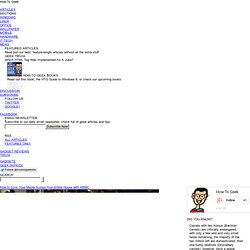 Read on as we show how to keep all your media centers on the same page. Note: This how-to guide was originally published in September of 2011 and detailed how to set up whole-house media syncing for XBMC "Dharma" 10.0. We've updated the guide for the newer, more user-friendly MySQL integration included in XBMC "Eden" 11.0. Custom Registry settings 4 MCE Remotes. On a side note It's better to have the latest XBMC release installed, your Remote installed and functional before you start.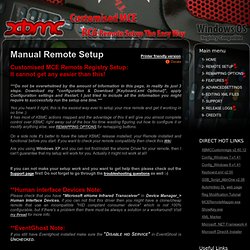 If you want to check your remote compatiblity then check this Wiki Are you using Windows XP and you can not find/install the ehome Driver for your remote, then I can't guarantee that my setup will work for you. Log file. At some point during your foray into XBMC, you will likely come up against a problem that isn't made 100% clear from errors in the GUI.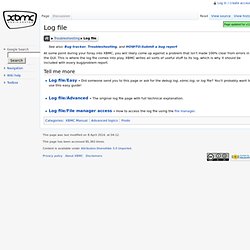 This is where the log file comes into play. XBMC writes all sorts of useful stuff to its log, which is why it should be included with every bug/problem report. Log file/Easy - Did someone send you to this page or ask for the debug log, xbmc.log, or log file? You'll probably want to use this easy guide! Log file/Advanced - The original log file page with full technical explanation. Access Your Media Collection From Any Browser With Zumocast. Let's say you have a media center computer.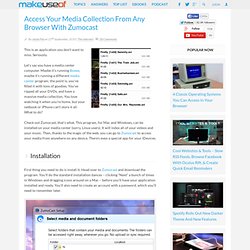 Maybe it's running Boxee, maybe it's running a different media center program; the point is, you've filled it with tons of goodies. You've ripped all your DVDs, and have a massive media collection. You love watching it when you're home, but your netbook or iPhone can't store it all. What to do? SMB. Windows File Sharing, (also known as Common Internet File System [CIFS] or Server Message Block [SMB]), is probably the most common of all of the options for sharing media between your computer or a NAS (Network Attached Storage) device and XBMC.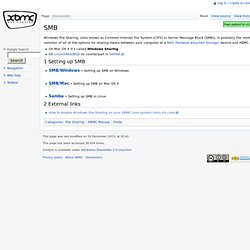 On Mac OS X it's called Windows Sharing. On Linux/UNIX/BSD its counterpart is SAMBA. 1 Setting up SMB SMB/Windows - Setting up SMB on Windows SMB/Mac - Setting up SMB on Mac OS X Samba - Setting up SMB in Linux 2 External links. Unofficial add-on repositories. XBMC includes an interface to browse remote repositories from where add-ons can be retrieved.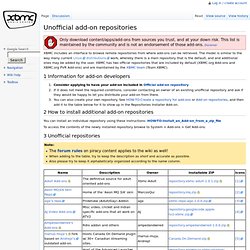 The model is similar to the way many current Linux distributions work, whereby there is a main repository that is the default, and and additional ones may be added by the user. XBMC has two official repositories that are included by default (XBMC.org Add-ons and XBMC.org PVR Add-ons) and are maintained by the XBMC team (Team XBMC). 1 Information for add-on developers.
HOW-TO share folders over SMB using Windows 7. Introduction As has been documented elsewhere, XBMC's scrapers and library work best when full access to video and audio files is provided to them via an SMB share.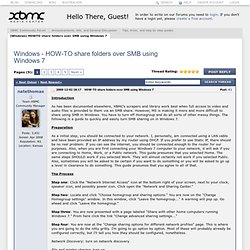 However, MS is making it more and more difficult to share using SMB in Windows. Adding videos to the library/Naming files/Movies. Important: THIS IS THE MOST IMPORTANT STEP TO A SUCCESSFUL LIBRARY SCAN!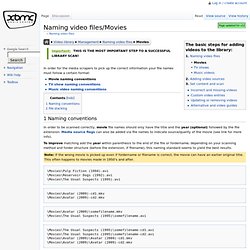 In order for the media scrapers to pick up the correct information your file names must follow a certain format: 1 Naming conventions In order to be scanned correctly, movie file names should only have the title and the year (optional) followed by the file extension. Media source flags can also be added via file names to indicate source/quality of the movie (see link for more info). To improve matching add the year within parenthesis to the end of the file or foldername, depending on your scanning method and folder structure (before the extension, if filename), this naming standard seems to yield the best results. How to Automatically Download Movies as Soon as They're Released with CouchPotato. This doesn't prevent you from purchasing the disc, it just makes it more automatic to get the stuff on/before the official release date.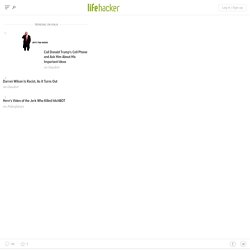 While the horse has been dead for years, and there are various battery weapons strewn about the carcass, I will take this opportunity to wave the stick again: I've tried Hulu+, Netflix, and Amazon - none of them have full catalogs, all of them are a bitch to navigate on a set top box, and none of them work together with a local library on any consumer device that can be set up from a 5 button remote.
Many set top boxes require hacking and workarounds (Boxee, ATV, Roku) that are at least as challenging as setting the 3-4 programs to get Movies and TV off of usenet. My family of 3 spends about $2000/yr buying/licensing content for personal use, and have for a decade or more. How to Automatically Download TV Shows as Soon as They've Aired (or Turn Your PC into a TiVo) Is there anyway you can explain further on what to do, this has gotten me intrigued.
Sure. I'm on a private tracker that can give me specific RSS feeds based on what I want. I have it outputting the most recent SD TV shows. I don't know if other sites do this or not, but it's probably similar. uTorrent has a setting that allows it to automatically download torrents based on an RSS feed. I give it the RSS USL my site gives me and it displays the top however many Torrents, which can be downloaded through the feed or the automatic RSS Downloader. How to Get Started with Usenet in Three Simple Steps. @oat: My biggest issue with using usenet has been the constant need for more drive space.
I have almost 5TB filled up right now, and this is just with items specifically culled and considered "best in genre" @oat: doesn't mb/s = mbps? Control Your Desktop PC with a Remote Using LIRC. @shavenwarthog: I'm sorry, I wasn't clear. WinLIRC is limited to serial devices only. I'll fix that. Create a Kickass, Seamless, Play-Everything Media Center: The Complete Guide.
I have to admit, this has been a problem for me in the past as well. I don't know if there is an official download package to add Netflix (I can't find one at least), but what I end up doing is just run Windows Media Center for a while and then run windows update. I hate myself for having to be so vague on the details, but it seems like Microsoft really doesn't have a solid way to make this show up if it is not. The XBox 360 controller setup is actually pretty slick. I buy games through steam that have controller support and just throw them up into a Games section on the WMC interface itself. Here is what I do (it's complicated, unfortunately, which is why XBMC would simplify everything):
---