'Hawks
The Third Man In | Home of TTMI~Radio, Chicago Blackhawks news & analysis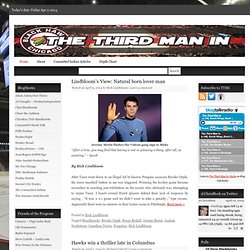 By Chris Block MORIN's OPPORTUNITY Don't wait for the IceHogs' leading goal scorer to be back in Rockford, at least for the time being. Jeremy Morin was told he is up with the Blackhawks for the remainder of the season. So, unless there is some major change in direction, don't expect him to be back in Rockford before then, if ever. I suppose there is a chance he'd return to Rockford in the event the IceHogs team makes the playoffs and the Blackhawks are healthy enough to the point Morin slides down the depth chart far enough.
chicagotribune.com
Fifth Feather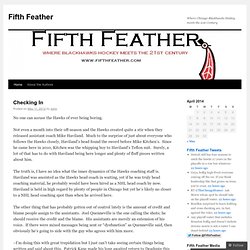 In the final three games of the series, the Blackhawks defense allowed 58 shots on goal. If we take it back to the overtime period of Game 3, they only allowed 60 shots. Corey Crawford stopped 52 of those shots. On the other side, Mike Smith faced 113 shots in that same stretch and stopped109. In other news, the Blackhawks went 1-3 in those final four games. I said at the beginning of the series that the one matchup where the Hawks couldn't be significantly outplayed was in goal and sadly, that's exactly what happened.
Second City Hockey - For Chicago Blackhawks Fans
Justin Holl Puts Minnesota In NCAA Championship Game Blackhawks prospect Justin Holl scored a short-handed game-winning goal with 0.6 seconds remaining in regulation to put Minnesota in the NCAA championship game on Thursday night. It was Holl's first goal of his senior season, and the Golden Gophers escaped with a 2-1 win over North Dakota. Earlier in the night, Union defeated Boston College 5-4 in another wild game.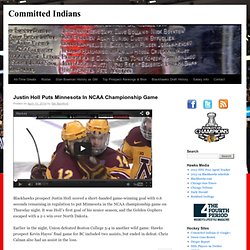 Commited Indian