Più piccolo è più veloce!
How to Start Your Information Diet
How to Start Your Information Diet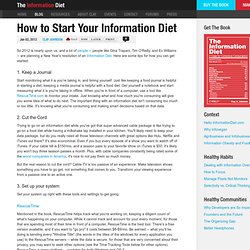 #StopSOPA
diventa "tua" ecco le nuove funzioni social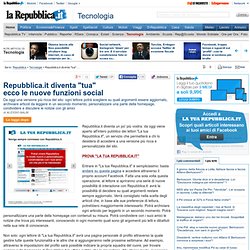 Da oggi una versione più ricca del sito: ogni lettore potrà scegliere su quali argomenti essere aggiornato, archiviare articoli da leggere in un secondo momento, personalizzare una parte della homepage, condividere e discutere le notizie con gli amici di ALESSIO BALBI
PierLuca Santoro
La società è un insieme di minoranze. Gruppi divisi in isole – culturali, ideologiche, pratiche – che non si parlano o parlano poco tra loro. Forse l'accelerazione è avvenuta attorno all'inizio degli anni Ottanta.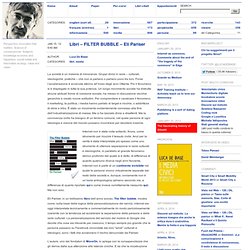 Libri - FILTER BUBBLE - Eli Pariser
The Filter Bubble: What the Internet Is Hiding from You (9781594203008): Eli Pariser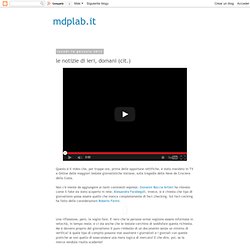 Questo è il video che, per troppe ore, prima delle opportune rettifiche, è stato mandato in TV e Online dalle maggiori testate giornalistiche italiane, sulla tragedia della Nave da Crociera della Costa. Non c'è niente da aggiungere ai tanti commenti espressi. Giovanni Boccia Artieri ha rilevato come il fake sia stato scoperto in rete; Alessandra Farabegoli, invece, si è chiesta che tipo di giornalismo possa essere quello che manca completamente di fact checking.
le notizie di ieri, domani (cit.)
LA CROCIERA, UN MODELLO DI TURISMO DA RIPENSARE
The Impracticality of a Cheeseburger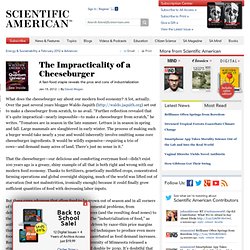 Energy & Sustainability::Advances::January 15, 2012::Email::Print
Capitalismo parassitario
La degenerazione del capitalismo ha portato (quasi per necessità) alla commercializzazione del percorso verso la felicità e degli istinti, degli impulsi. Questo ha generato l'"individualizzazione" e, con la contestuale esasperata competitività, l'inevitabile venir meno della solidarietà e della fiducia verso la propria rete sociale.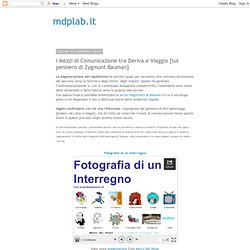 i Mezzi di Comunicazione tra Deriva e Viaggio [sul pensiero di Zygmunt Bauman]
Vivere da web celebrity
Gina Trapani ha un blog molto letto, Smarterwere, in cui parla della realtà tecnologica del web e della nostra vita sociale in Rete, ha sviluppato alcune applicazioni che la monitorano, scritto un libro, Lifehacker, per insegnarci a lavorare in modo più veloce e più smart con le tecnologie e possiede un profilo su Twitter che ha superato i 200 mila followers.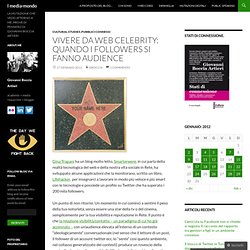 "Bloggers are famous enough to have stalkers, but not famous enough to have bodyguards." —Danny O'Brien
The Flip Side of a Big Audience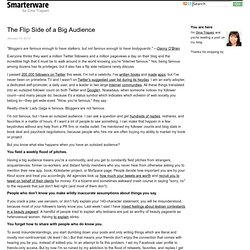 Social Media Accounts and Conversations on the Rise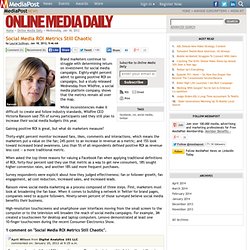 Brand marketers continue to struggle with determining return on investment for social media campaigns. Eighty-eight percent admit to gaining positive ROI on campaigns, but a study released Wednesday from Wildfire, a social media platform company, shows that the metrics remain all over the map. While inconsistencies make it difficult to create and follow industry standards, Wildfire CEO Victoria Ransom said 75% of survey participants said they still plan to increase their social media budgets this year.
Publications Social Media ROI Metrics Still Chaotic 01/18
Posted in Tech blog on January 17th, 2012 by Pingdom So what happened with the Internet in 2011? How many email accounts were there in the world in 2011?
Facebook, sempre meno "Mi piace" le apps sceglieranno i propri verbi
Il sito fondato da Mark Zuckerberg lancia 60 nuove applicazioni per i suoi utenti e apre ai programmatori la possibilità di introdurre nuove azioni, come "ha comprato" o "sta cucinando". Probabilmente è l'ultimo grande annuncio prima della quotazione in borsa di ALESSIO SGHERZA PALO ALTO - Il pollice alzato accanto a "Mi piace" conterà sempre di meno su Facebook.
Politico and Facebook team up to use data for political journalism
The Innovation Obsession
La civiltà dell'empatia
La corsa verso la coscienza globale nel mondo in crisi By Jeremy Rifkin