Diseño materiales multimedia
Copy and paste the code below: [url=https://www.flickr.com/photos/demandaj/6462748651/][img]https://farm8.staticflickr.com/7169/6462748651_4e19339912_t.jpg[/img][/url] [url=https://www.flickr.com/photos/demandaj/6462748651/]Illuminate[/url] by [url=https://www.flickr.com/people/demandaj/]demandaj[/url], on Flickr [url=https://www.flickr.com/photos/demandaj/6462748651/][img]https://farm8.staticflickr.com/7169/6462748651_4e19339912_s.jpg[/img][/url] [url=https://www.flickr.com/photos/demandaj/6462748651/]Illuminate[/url] by [url=https://www.flickr.com/people/demandaj/]demandaj[/url], on Flickr [url=https://www.flickr.com/photos/demandaj/6462748651/][img]https://farm8.staticflickr.com/7169/6462748651_4e19339912_q.jpg[/img][/url] [url=https://www.flickr.com/photos/demandaj/6462748651/]Illuminate[/url] by [url=https://www.flickr.com/people/demandaj/]demandaj[/url], on Flickr
Illuminate | Flickr: Intercambio de fotos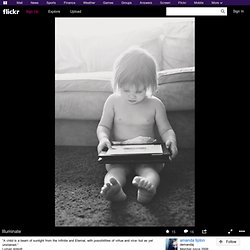 Smile | Flickr: Intercambio de fotos
Hey, wait a minute! We noticed that you may be using an unsupported browser. All the basics will still work, but to get the most out of Flickr please upgrade to the latest version of Chrome , Safari , Firefox , or Internet Explorer . <div class="info"><span class="msg-icon"></span><p> To take full advantage of Flickr, you should use a JavaScript-enabled browser and <a href="http://www.macromedia.com/shockwave/download/download.cgi?
Metodologia Investigacion created by mcrojas based on Marketing Solutions
This is the online version of The Instructional Use of Learning Objects, a new book that tries to go beyond the technological hype and connect learning objects to instruction and learning. You can read the full text of the book here for free. The chapters presented here are © their respective authors and are licensed under the Open Publication License, meaning that you are free to copy and redistribute them in any electronic or non-commercial print form. For-profit print rights are held by AIT/AECT. The book was edited by David Wiley, and printed versions of the book are published by the Association for Instructional Technology and the Association for Educational Communications and Technology. If you find the online book useful, please consider purchasing a printed copy.
The Instructional Use of Learning Objects -- Online Version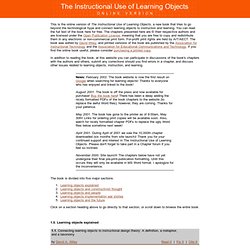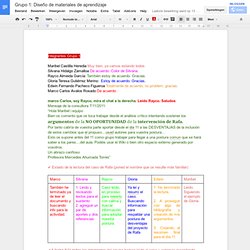 Grupo 1: Diseño de materiales de aprendizaje - Google Docs
Bien os comento que os toca trabajar desde el análisis crítico intentando sostener los argumentos de la NO OPORTUNIDAD de la intervención de Rafa. Por tanto cabría de vuestra parte aportar desde el dia 11 a las DESVENTAJAS de la inclusión de estos cambios que el propuso....usad autores para vuestra postura... Esto os supone antes del 11 como grupo trabajar para llegar a una postura comun que se hará
CoP: Best Practices
by Etienne Wenger [Published in the "Systems Thinker," June 1998] You are a claims processor working for a large insurance company.
intermates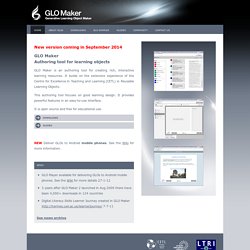 GLO Maker
GLO Maker is an authoring tool for creating rich, interactive learning resources. It builds on the extensive experience of the Centre for Excellence in Teaching and Learning (CETL) in Reusable Learning Objects. This authoring tool focuses on good learning design. It provides powerful features in an easy-to-use interface. It is open source and free for educational use. NEW Deliver GLOs to Android mobile phones.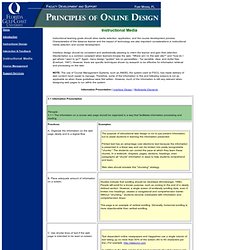 Instructional Media: Presentation
Text dependent online newspapers and magazines use a single column of text taking up no more than 50% of the screen (40 to 60 characters per line.) For example: http://www.cnn.com In addition to the 50% column "rule," text segments should be broken into smaller blocks. There should be less text than in print counterparts.
www.oikodomos.org/private/downloads/deliverables/PR_EP1_001.pdf
Creative Lounge | Media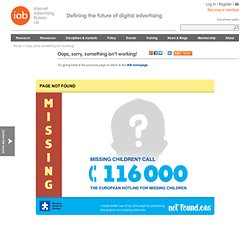 The IAB aims to make the content and services on this website helpful and relevant to you. To do this we collect information about your activity on the site - for example when you register for events or share content. We also collect standard information to analyse site activity. You have control over how your information is collected and used - read more. Find out more about why you're seeing this message here. Don't show me this message again
Creative showcase awards
Teach Elements: Project-Based Approaches
Save Time and Money with Targeted Training Select from an extensive library of the finest training providers and courses in the world, all recognized leaders in their fields. Purchase just the training your staff needs, no long term contracts or arbitrary subscriptions to training you don't need. Brand and Assign
Learning Management System (LMS) Software for eLearning and Training - Coggno.com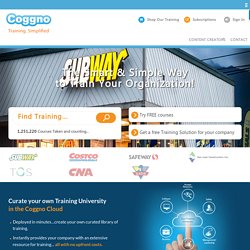 Contact us - Easily create training sites
Alphastudy Alphastudy had its humble beginnings in a bedroom on Sydney's suburbs. Within 6 months, we were running from a large data centre with major clients in the US, Japan and Australia.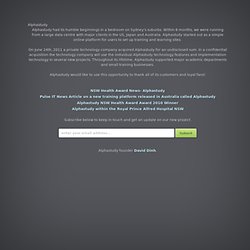 Rapid learning (or Rapid eLearning Development) has traditionally referred to a methodology to build e-learning courses rapidly.[1] Typically the author will create slides in PowerPoint, record narration on top of the slides, and then use software to add tests, or even collaboration activities between the slides. The whole package is then sent, most often as an Adobe Flash file, to a learning management system or website. E-learning has grown rapidly since the 1990s but developers and organizations were confronted by the complexity of authoring processes. The difficulty and expense of building online courses from scratch led to the idea of recycling existing resources like Powerpoint presentations, and transforming them into e-learning courses. The term "rapid learning" is also sometimes used as a synonym for "short-form" or "bite-size" learning. In this usage, it refers not to how rapidly a module can be created by an e-learning developer, but how rapidly it can be viewed by a learner.
Rapid learning
CD Rayuela
Rayuela. Pasatiempos del Aula de Lengua
Willkommen in der Schellingstrasse 60
La Tecnología Educativa puede aplicarse para desarrollar recursos didácticos multimedia que, utilizados por los profesores en su quehacer diario, facilitan el aprendizaje de sus alumnos al incorporar elementos: de tipo texto, hipertexto, audiovisuales (gráficos, sonido, video, animaciones) y que resultan muy útiles en los contextos educativos. En CIAD contamos con la infraestructura y el personal capacitado para ofrecer este servicio que complementa los programas de Formación de Recursos Humanos del Centro. Responsable: Ing. Karla Robles
Tecnologí­a Educativa - Material Didáctico Multimedia
www.gabinetecomunicacionyeducacion.com/files/adjuntos/Metodología de elaboración de materiales didácticos multimedia accesibles.pdf
Inicio
In contexts in which we are, in which the "Information and Communication Technology' (ICT), become an element of development and empowerment of our schools and training institutions. Pixel-Bit, Journal of Media and Education, aims to provide a platform for the exchange of ideas, experiences and research on the application of ICT, regardless of the format in which they are submitted and training contexts in which they develop, whether these formal, non-formal or informal, and educational level. Pixel-Bit, Journal of Media and Education, aims to be a channel of distribution and exchange of ideas and information between researchers in different countries and communities concerned about the introduction, improvement and understanding of ICT in training processes.
Design:Audience Analysis
Los recursos educativos multimedia, son materiales que integran diversos elementos textuales (secuenciales e hipertextuales) y audiovisuales (gráficos, sonido, vídeo, animaciones...) y que pueden resultar útiles en los contextos educativos. Distinguimos tres grandes grupos: Los buenos materiales multimedia formativos son eficaces, facilitan el logro de sus objetivos, y ello es debido, supuesto un buen uso por parte de los estudiantes y profesores, a una serie de características que atienden a diversos aspectos funcionales, técnicos y pedagógicos, y que se comentan a continuación:
ENTORNOS FORMATIVOS MULTIMEDIA: ELEMENTOS, TIPOLOGÍAS, CRITERIOS DE CALIDAD