Literatura
Latim. Romantismo. A AUTOBIOGRAFIA DE KASPAR HAUSER. 2007: Brave New World? A world of genetically modified babies, boundless consumption, casual sex and drugs ...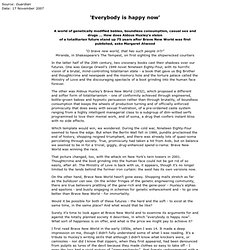 How does Aldous Huxley's vision of a totalitarian future stand up 75 years after Brave New World was first published, asks Margaret Atwood "O brave new world, that has such people in't! " Novum Organum du Collège de 'Pataphysique. À un moment ou l'autre de sa vie, même s'il n'en a pas conscience ou s'il ne se les formule pas clairement, le vrai pataphysicien est confronté dans le plus intime de son être avec les deux propositions suivantes : Proposition A Le vrai pataphysicien ne prend rien au sérieux, sauf la 'Pataphysique ... qui consiste à ne rien prendre au sérieux.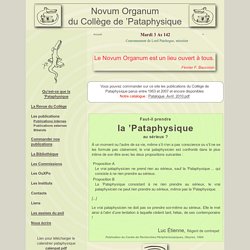 Proposition B La 'Pataphysique consistant à ne rien prendre au sérieux, le vrai pataphysicien ne peut rien prendre au sérieux, même pas la 'Pataphysique. Le vrai pataphysicien ne doit pas se prendre soi-même au sérieux. Casuistry. Aristotle's characterization of rhetoric as a counterpart of both dialectic and ethics took on renewed importance with the publication of Albert Jonsen and Stephen Toulmin's The Abuse of Casuistry (Berkeley, 1988).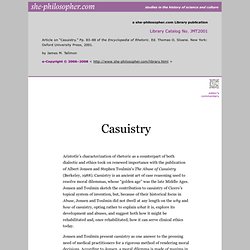 Casuistry is an ancient art of case reasoning used to resolve moral dilemmas, whose "golden age" was the late Middle Ages. Jonsen and Toulmin sketch the contribution to casuistry of Cicero's topical system of invention, but, because of their historical focus in Abuse, Jonsen and Toulmin did not dwell at any length on the why and how of casuistry, opting rather to explain what it is, explore its development and abuses, and suggest both how it might be rehabilitated and, once rehabilitated, how it can serve clinical ethics today. Jonsen and Toulmin present casuistry as one answer to the pressing need of medical practitioners for a rigorous method of rendering moral decisions. According to Jonsen, a moral dilemma is made of maxims in conflict. Ray Bradbury: Fahrenheit 451 Misinterpreted - News - LA Weeklypage 1 - LA Weekly. WHEN THE PULITZER PRIZES were handed out in May during a luncheon at Columbia University, two special citations were given.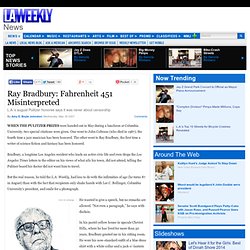 One went to John Coltrane (who died in 1967), the fourth time a jazz musician has been honored. The other went to Ray Bradbury, the first time a writer of science fiction and fantasy has been honored. A condessa Vésper. Retrato da periferia ganha espaço na Festa Literária Internacional. Retrato da periferia ganha espaço na Festa Literária Internacional Entre o elenco de escritores nacionais e internacionais escolhidos para participar das 19 mesas que compuseram a Festa Literária Internacional de Parati (Flip), que aconteceu entre os dias 7 e 11 de julho, destaca-se um jovem nome da literatura nacional.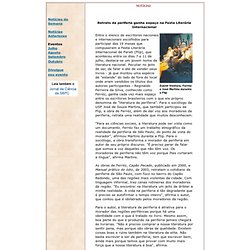 Peculiar no jeito de ser, de falar e até de vender seus livros - já que montou uma espécie de "estande" do lado de fora do local onde eram vendidos os títulos dos autores participantes - Reginaldo Ferreira da Silva, conhecido como Ferréz, ganha cada vez mais espaço entre os escritores brasileiros com o que ele próprio denomina de "literatura de periferia". SUBURBANO CONVICTO. F. Engels (1884): El origen de la familia, la propiedad privada y el estado. A militância comunista do escritor Graciliano Ramos. Graciliano Ramos já foi considerado por muitos especialistas como um dos maiores escritores brasileiros.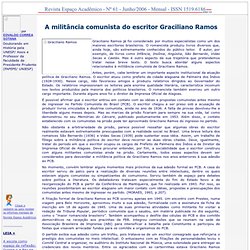 O romancista produziu livros diversos que, ainda hoje, são extremamente conhecidos do público leitor. É autor, por exemplo, de livros como Infância, Insônia, Angústia, São Bernardo, Vidas Secas e Caetés. Mas é outro aspecto da sua trajetória que pretendemos tratar nesse breve texto. O texto busca abordar alguns aspectos relacionados à militância comunista de Graciliano Ramos. Antes, porém, cabe lembrar um importante aspecto institucional da atuação política de Graciliano Ramos. Graciliano Ramos, sem caixa dois. Site oficial de Graciliano Ramos. Liber Liber. Cadernos Pagu - As cores e os gêneros da revolução.
---