Filosofia
For:@twitter. Aristóteles. E-Texts. Introductory Articles: Introduction to The Epicurus Reader An introduction of Epicureanism by D.S.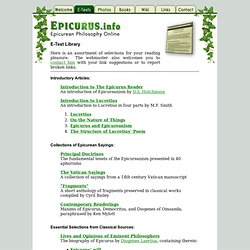 Hutchinson Introduction to Lucretius An introduction to Lucretius in four parts by M.F. Smith Collections of Epicurean Sayings: Essential Selections from Classical Sources: Carnaval/Cannibal | Baudrillard | Revista FAMECOS: mí­dia, cultura e tecnologia. Carnaval/Cannibal Jean Baudrillard Resumo RESUMÉ Dans ce sens, on peut même dire que l'hégémonie met fin à la domination(La domination se caractérise par la relation maître / esclave - qui est encore une relation duelle, avec un potentiel d'aliénation, de rapports de force et de conflits).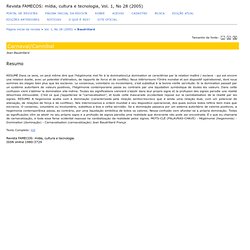 Os intelectuais e o poder. Michel Foucault: Um maoísta me dizia: "Eu compreendo porque Sartre está conosco, porque e em que sentido ele faz política; você, eu compreendo um pouco: você sempre colocou o problema da reclusão.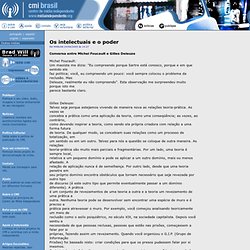 Mas Deleuze, realmente eu não compreendo". Esta observação me surpreendeu muito porque isto me parece bastante claro. Gilles Deleuze: Talvez seja porque estejamos vivendo de maneira nova as relações teoria-prática. As vezes se concebia a prática como uma aplicação da teoria, como uma conseqüência; as vezes, ao contrário, como devendo inspirar a teoria, como sendo ela própria criadora com relação a uma forma futura de teoria. Francis Bacon: Novum Organum.
Filosofos y Ensayistas Hispánicos. PhilosophyOnline. Internet Encyclopedia of Philosophy.
---