Blogging
How to get your first 500 blog visitors. A blogger friend of mine told me that his wish is to have 500 unique readers per day on his personal site within the next six months.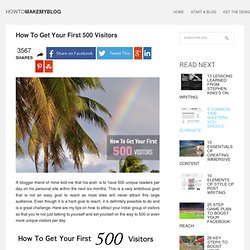 This is a very ambitious goal that is not an easy goal to reach as most sites will never attract this large audience. Even though it is a hard goal to reach, it is definitely possible to do and is a great challenge. Here are my tips on how to attract your initial group of visitors so that you're not just talking to yourself and set yourself on the way to 500 or even more unique visitors per day. The tips are split in on-site tips (things you should do on your site) and off-site tips (things you should do outside the site). How to Blog: Blogging Tips for Beginners. How to Craft a Blog Post – 10 Crucial Points to Pause. 4 Post Headlines that are Guaranteed to Get Readers Excited.
How to Write Irresistible Blog Intros. 7 Powerful Ways to End Your Next Blog Post. How to Install Google Analytics in WordPress. Search Engine Optimization for Blogs – SEO. Ari Paparo Dot Com: Big List of Blog Search Engines. My new theory on blogging is that whenever I can't find a particular piece of information on Google I should just create it myself.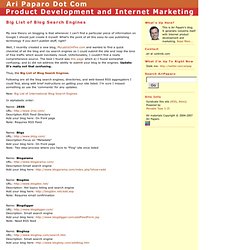 What's the point of all this easy-to-use publishing technology if you don't publish stuff, right? Well, I recently created a new blog, MyLabIsOnFire.com and wanted to find a quick checklist of all the blog and rss search engines so I could submit the site and reap the tons of free traffic which would inevitably result. Unfortunately, I couldn't find a really comprehensive source. The best I found was this page which a) I found somewhat confusing; and b) did not address the ability to submit your blog to the engines.
Introduction to Blogging. Introduction to Blogging Languages: English • Español • Nederlands • 日本語 • 한국어 • ไทย • 中文(简体) • 中文(繁體) • (Add your language) What is a "blog"?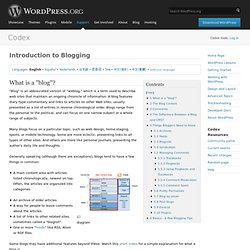 "Blog" is an abbreviated version of "weblog," which is a term used to describe web sites that maintain an ongoing chronicle of information. 10 Essential First Steps When Starting A Wordpress Blog. Having created quite a few blogs, I'd like to think that I have a good system down for those essential first steps, and I hope it can be of use to you too.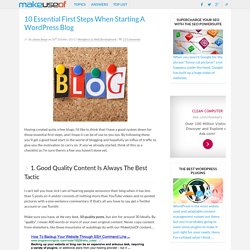 By following these you'll get a good head start in the world of blogging and hopefully an influx of traffic to give you the motivation to carry on. If you've already started, think of this as a checklist as I'm sure there's a few you haven't done yet.
---