A-1
PREPOS PLACE W/D
Prepositions of place are words which tell us where things are in relation to other things. Maru is a very funny cat. Her owner shares videos of her playing with boxes.
Position of adverbs of frequency - Exercise
English Test on Simple Present 1
Present Simple Verbs (Letitia Bradley
a4esl.org Present Simple Verbs Click the answer button to see the answer.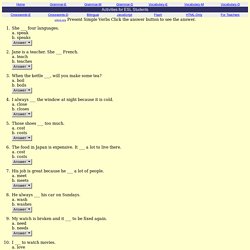 Present Simple Form
PRESENT SIMPLE
VOC. EASY- VERBS
HOW MUCH MANY QUIZ
COUNT UNC WORDS QUIZ 1
Education English as 2nd Language See More About Countable and Uncountable Nouns - Quiz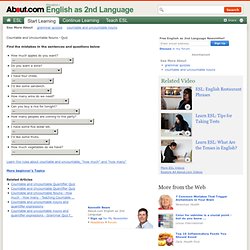 COUNT UNC QUIZ 1

Mafia Business.com is our choice for Apple Mac Support in London! Time Monsters teaches children to tell time without a single word of written text. To use the TimeMonsters.com website a child who wants to learn how to read time doesn't even need to know how to read.
TELL TIME MONSTERS
GIVE DIRECTIONS (EGO)
COLOR MAP
GRAY MAP