A-1
PREPOS PLACE W/D
Prepositions of place are words which tell us where things are in relation to other things. Maru is a very funny cat. Her owner shares videos of her playing with boxes.
Position of adverbs of frequency - Exercise
English Test on Simple Present 1
Present Simple Verbs (Letitia Bradley
a4esl.org Present Simple Verbs Click the answer button to see the answer.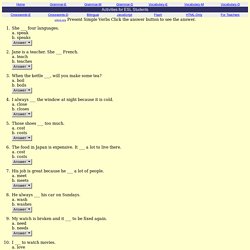 Present Simple Form
Home > Testing > Language Quizzes > Present Simple Quiz: Present Simple View: As a Printable Handout +1 37 Share 545 Tweet 22 Share 12 Share 3956 Q1 - He ____ it. Q2 - They _____ here very often.
PRESENT SIMPLE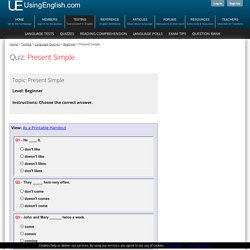 VOC. EASY- VERBS
HOW MUCH MANY QUIZ
COUNT UNC WORDS QUIZ 1
<meta http-equiv=refresh content="0;url=http://www.about.com/snf.htm?u=http://esl.about.com/library/beginner/blmuchmanyquiz.htm%3Frd%3D1"> English as 2nd Language Countable and Uncountable Nouns - Quiz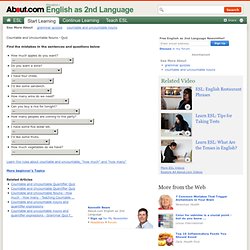 COUNT UNC QUIZ 1
TELL TIME MONSTERS
GIVE DIRECTIONS (EGO)
COLOR MAP
GRAY MAP