The Real WebBloggers
Start pearl: I like to collect all kind of info about making money with internet. Mar 13
Lifestyle Design | My 4 Hours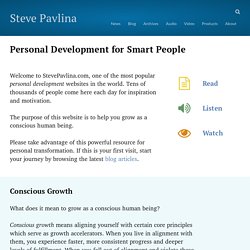 The purpose of this website is to help you grow as a conscious human being. This includes guiding you to discover and accept your life purpose; inspiring you to feel more motivated, energized, and passionate; helping you shed disempowering relationships and build a network of loving support; teaching you how to achieve stable financial abundance doing what you love; and encouraging you to make a genuine contribution to humanity -- so you can finally experience the kind of life that deep down, you always knew you were meant to live. You aren't here to struggle and suffer. You're here to express and share your creative gifts, to give and receive love, and to be happy. It will take time, but this site can certainly help you get there, and the vast majority of resources here are free. This site will help you make conscious decisions in your personal development journey and courageously follow through.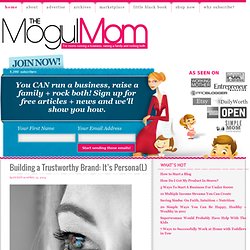 We're not trying to pull a lame pick up line on you, but do you come here often? If so, you might like to subscribe to our free articles by email for the freshest stuff sent straight to your inbox. :) Who needs a personal brand?
The Mogul Mom | For moms running a business, raising a family and rocking both
Countless hours lost. Writing, but never heard. You publish post after post, and see minimal results.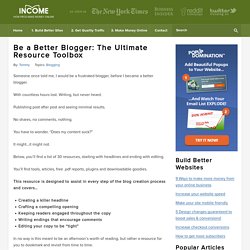 Be a Better Blogger: The Ultimate Resource Toolbox
Creating engaging headlines is the most important part of copywriting. It's also the most fun. Don't be afraid to put a significant amount of mental energy into your headlines… Your title is what audiences recall, even more so than the content itself. It's what's displayed in the search results and their bookmarks menu – setting the stage for the entire blog post. I invite you to create a word document with about 100 headlines for …
How Do I Find My Niche or Passion?
I received this question via AskJoelComm.com Joel, I can't find my passion. I have been a workaholic my whole life in areas that I do not enjoy. I don't even know what I enjoy doing. To make matters worse, my experience is not something that can become a product unless I compete with the top corporations. I have gathered and researched a lot of information on how to market, sales pages, setting up websites, etc. but still have not found that niche that meets my passion and others.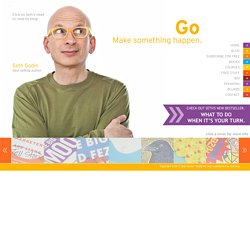 prev next Copyright © 2014 Seth Godin. Designed and maintained by Onramp.
Joel Comm - Entrepreneur, Speaker, Social Media Specialist, New York Times Best-Selling Author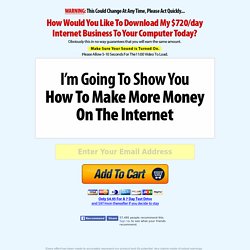 Every effort has been made to accurately represent our product and it's potential. Any claims made of actual earnings or examples of actual results can be verified upon request. The testimonials and examples used are exceptional results, and don't apply to the average purchaser and are not intended to represent or guarantee that anyone will achieve the same or similar results. Each individual's success depends on his or her background, dedication, desire and motivation. As with any business endeavor, there is an inherent risk of loss of capital and there is no guarantee that you will earn any money. ClickBank is a registered trademark of Keynetics Inc., a Delaware corporation.
Millionaire Society
Kenny Fabre's Internet marketing Teaching Blog.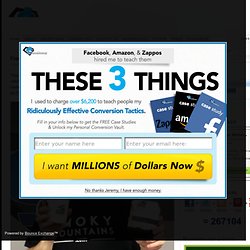 Why Change is the ONLY Thing Constant April 7, 2014 First it was Frienster, then MySpace, then Tagged/Hi5/etc.
Working Moms Only — Where Passion, Empowerment and Success Meet
Working Moms Only ® Copyright © 2013 All Rights Reserved Working Moms Only ® is a registered trademark of MetEdge LLC. MetEdge LLC retains all copyrights in any text, graphic images, and software owned by WorkingMomsOnly.com and MetEdge LLC and hereby authorizes you to electronically copy documents published herein solely for the purpose of transmitting or viewing the information. You may not mirror, modify or otherwise alter any files in this website for rebroadcast, or print the information contained therein, without written permission from MetEdge LLC. Except as expressly provided above, nothing contained herein shall be construed as conferring any license or right under any MetEdge LLC copyright, patent or trademark.
Digital Marketer | It's just smarter
Driving Traffic | The Internet Traffic Report
Hey, I'm Glen. In February 2009 I quit my full-time job and have made my living from the internet ever since. Having previously worked as the Social Media Manager for the likes of Nissan and Hewlett Packard, I took my skills and successfully applied them to my own projects. ViperChill is the place I share everything I've learned in order to help other people make a living online, and to live in the Cloud.
A few weeks ago I was one of the tens of thousands of people who enjoyed reading a blog post on Priceonomics about "The SEO Dominance of RetailMeNot". It was an absolutely fascinating read because, being a total SEO geek, I rarely find information in this space that hasn't been repeated 100 times before. I knew about the company already, but I had no idea about the scale in which they were absolutely annihilating their competitors. For the thousands of popular search terms that are out there in the coupon world, you'll see RetailMeNot as the number one search result for the vast majority of them. The Priceonomics article was a great read, but it's clear that a number of their readers were disappointed with what the article lacked, rather than what it included. I'm always up for doing some digging into the SEO background of a website, especially when 63% of their traffic comes from search and they're valued at $1.7 Billion dollars.
The other day, shortly after I sent out an email about my new live training, people emailed me back telling me: The link was broken for a few people. Just my luck. It quickly worked it self out, but… Here's why this is hilarious: [click to continue…]