Trucs et astuces ebooks
Discussions entre clients: Forum Kindle. Le Journal Du Kindle | Astuces / Critiques / News. Le Kindle et les mangas. Si vous êtes l'heureux possesseur d'un Kindle, vous aurez sans doute remarqué que l'une des remarques que l'on vous fait le plus souvent est probablement: "Et t'as la couleur dessus?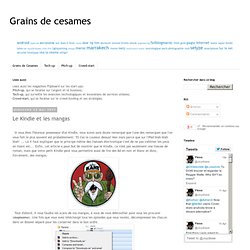 Non mais parce que sur l'iPad blah blah blah" ... Là il faut expliquer que le principe même des liseuses électronique c'est de ne pas s'abîmer les yeux en lisant etc... Enfin, cet article a pour but de montrer que le Kindle, ce n'est pas seulement une liseuse de roman, mais que votre petit Kindle peut vous permettre aussi de lire des Bd en noir et blanc et donc, forcément, des mangas. The big list of free Kindle tools. There are quite a few programs and web services that can be really useful to Kindle owners.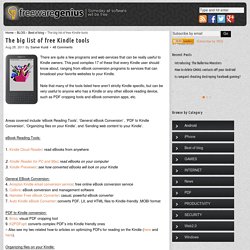 This post compiles 17 of these that every Kindle user should know about, ranging from eBook conversion programs to services that can broadcast your favorite websites to your Kindle. Note that many of the tools listed here aren't strictly Kindle specific, but can be very useful to anyone who has a Kindle or any other eBook reading device, such as PDF cropping tools and eBook conversion apps, etc.
Areas covered include 'eBook Reading Tools', 'General eBook Conversion' , 'PDF to Kindle Conversion', 'Organizing files on your Kindle', and 'Sending web content to your Kindle'. eBook Reading Tools: 1. Optimiser un PDF pour le Kindle. Optimiser un PDF pour le Kindle La lecture des PDF sur le Kindle d'Amazon, bien que ce soit possible, ce n'est pas vraiment le pied.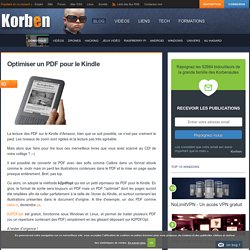 Les niveaux de zoom sont rigides et la lecture pas très agréable. Mais alors que faire pour lire tous ces merveilleux livres que vous avez scanné au CDI de votre collège ? ;-) Il est possible de convertir ce PDF avec des softs comme Calibre dans un format ebook comme le .mobi mais on perd les illustrations contenues dans le PDF et la mise en page saute presque entièrement. Kindle Touch compared to Nook Simple Touch, Kobo Touch, and Kindle 4.
Amazon's new Kindle Touch, Barnes & Noble's Nook Simple Touch (my review), and the Kobo Touch are surprisingly similar.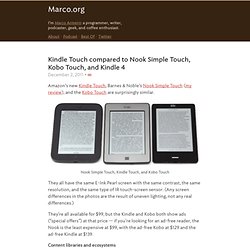 Nook Simple Touch, Kindle Touch, and Kobo Touch They all have the same E-Ink Pearl screen with the same contrast, the same resolution, and the same type of IR touch-screen sensor. (Any screen differences in the photos are the result of uneven lighting, not any real differences.) They're all available for $99, but the Kindle and Kobo both show ads ("special offers") at that price — if you're looking for an ad-free reader, the Nook is the least expensive at $99, with the ad-free Kobo at $129 and the ad-free Kindle at $139.
---