Tom Waits
Un article de Wikipédia, l'encyclopédie libre. Tom Waits Tom Waits en 2007 Thomas Alan Waits dit Tom Waits est un auteur-compositeur, musicien, chanteur, réalisateur musical et acteur américain né le 7 décembre 1949, à Pomona en Californie. Son travail se distingue par sa voix rocailleuse, sa forte personnalité, sa présence sur scène théâtrale et l'humour de mises en scène portées par des textes cyniques. Waits possède une voix reconnaissable, décrite un jour par un critique comme « trempée dans un fût de bourbon, séchée et fumée pendant quelques mois, puis sortie et renversée par une voiture »[1].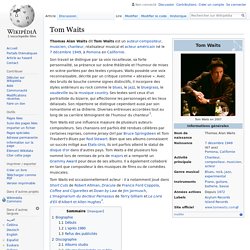 Tom Waits
The Eyeball Kid
A quick translation from the press release by the Danish Royal Theatre about Tom Waits and Robert Wilson's play based on the story of Bonnie and Clyde. The play, entitled Death car, is set to premiere on November 7, 2014 in Copenhagen. The production Death car reunites Tom Waits and Robert Wilson, who collaborated on productions like The black rider and Woyzeck, for the first time in 14 years. Death car is inspired by the story of Bonnie Parker and Clyde Barrow, a romantically involved couple of bankrobbers that defied authorities and caused a national media frenzy in the US in the 1930's. Their dramatic life is packed with feaurures that continue to fascinate present day audiences all over the world: a sheer lack of respect for banks and authorities, fast cars, weapons, violence, a love story, a desperate escape and their inevitable death. The play is produced by Nicolai Vemming / UnlimitedArts in collaboration with the Royal Theatre and a number of international partners.
Tom Waits - Spotify
Thomas Alan Waits est un compositeur, chanteur, musicien, acteur et réalisateur américain né à Pomona, en Californie, le 7 décembre 1949. La carrière de Tom Waits débute à Los Angeles en 1971 quand il signe avec Herb Cohen, manager de Frank Zappa entre autres. Il fait plusieurs séances d'enregistrement avortées avant de parvenir à l'album « Closing Time », mélancolique et teinté de country en 1973. L'album reçoit un bon accueil critique mais ne connait le succès qu'en 1974 quand les Eagles reprennent un de ses titres, « Ol' 55 ».
Tom Waits - Last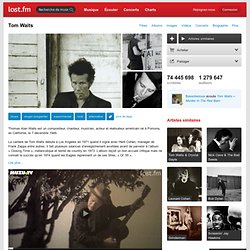 Musique : Tom Waits confesse Tom Waits
En exclusivité pour «Le Figaro» et avant ses concerts à Paris, le chanteur américain s'est interviewé lui-même. Mythe vivant du rock américain, Tom Waits n'aime guère répondre aux journalistes. L'exercice de l'interview lui semble étriqué, trop codé. Mais le chanteur aime se raconter.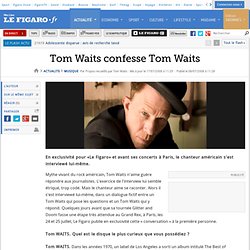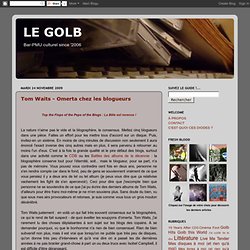 LE GOLB: Tom Waits - Omerta chez les blogueurs
La nature n'aime pas le vide et la blogosphère, le consensus. Mettez cinq blogueurs dans une pièce. Faites un effort pour les mettre tous d'accord sur un disque.
Tom Waits (1) - Le fil musique
Tom Waits - Heart Attack and Vine
Tom Waits - Christmas Card From a Hooker in Minneapolis
Tom Waits - Rain Dogs
Tom Waits - Way Down in the Hole
S'il lui a fallu un peu de temps, The Wire s'est faite une place parmi les plus grandes séries de la télévision. Rien d'étonnant alors qu'elle soit dotée d'un générique de qualité. Cela aurait pu s'arrêter à cette simple affirmation, cependant la séquence d'ouverture, qui change à chaque saison, est bien plus que cela. Le créateur David Simon s'est donc impliqué dans la création de ce générique, élaboré avec Nina Noble et Karen Thorson. Le générique de The Wire ne se contente pas de présenter les acteurs ou de créer une ambiance durant une minute ou plus. La séquence d'ouverture raconte une histoire qui prend place dans un contexte particulier.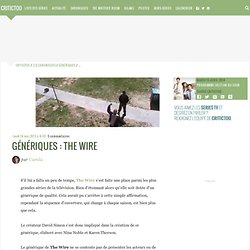 Génériques : The Wire