Marketingdeguerrilla
Lección de marketing guerrillero a lo Heineken
Grocery Store Musical
Campaña "Regala Memoria"
No Pants Subway Ride 2014 (View on YouTube) | Subscribe to us on YouTube Created and Directed by Charlie Todd / Produced by: Deverge / Music by Tyler Walker On Sunday, January 12th, 2014 tens of thousands of people took off their pants on subways in over 60 cities in over 25 countries around the world.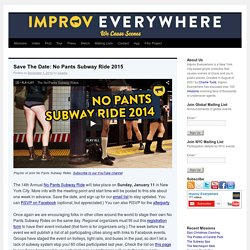 Food Court Musical
Beware. This Heineken guerrilla marketing video you're about to catch is definitely more mind blowing than the ones we have blogged about. The video captured the essence of this amazing campaign held on the same date and time of a UEFA Champions League clash between AC Milan and Real Madrid on 21 October 2009. Instead of catching the epic clash of titans soccer match, more than a thousand folks were literally forced to go to a musical concert instead. I'll let the video explain the rest.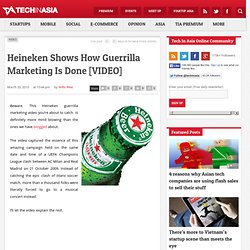 Heineken Shows How Guerrilla Marketing Is Done [VIDEO]
Marketing de guerrilla para pymes principiantes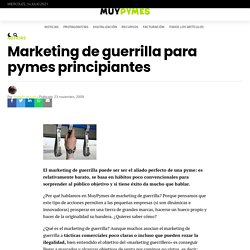 El marketing de guerrilla puede ser ser el aliado perfecto de una pyme: es relativamente barato, se basa en hábitos poco convencionales para sorprender al público objetivo y si tiene éxito da mucho que hablar. ¿Por qué hablamos en MuyPymes de marketing de guerrilla? Porque pensamos que este tipo de acciones permiten a las pequeñas empresas (si son dinámicas e innovadoras) prosperar en una tierra de grandes marcas, hacerse un hueco propio y hacer de la originalidad su bandera.