Inspiracje
Grafikdesign. 8 Chaos und Ordnung Simon Prades Design Drei Krisen unserer Zeit wurden mittels Zeichnung auf Tiere projeziert, die sowohl in ihrer Anmutung als auch ihrem Wesen einen ... 8 Messestand Noilly Prat Tim John Design Unter Beauftragung meiner Lieblingsagentur PIECE OF CAKE entwarf ich in Zusammenarbeit mit meinem Vater, Detlef John (Grafik/Illustration) diese kleine Promotionwelt ... 9 Barcelona Stadtplan Anna Härlin Design Für die dritte Ausgabe des Cut Magazines habe ich den Barcelona Stadtplan als 3D Papiermodell illustriert.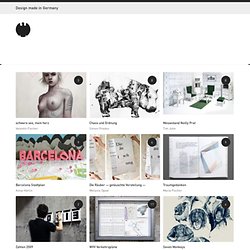 Portfolios projects — Featured. Colour Envelope #10 The Colour Envelope #10 by Studio Laucke Siebein Superb bookmanship mastering editorial design / layout and packaging.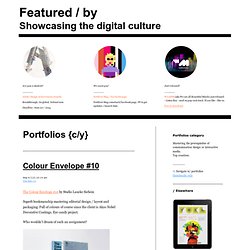 Full of colours of course since the client is Akzo Nobel Decorative Coatings. Eye candy project. Graphic Exchange. Dribbble. Cuded. Behance. Creattica. AisleOne - Graphic Design, Typography and Grid Systems.
Logo Design Inspiration: Top 10 Galleries to Check Out. A fine way to jumpstart any design project is to look at inspiring visuals, especially when your creativity is a bit depleted.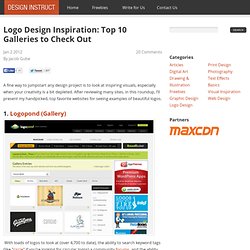 After reviewing many sites, in this roundup, I'll present my handpicked, top favorite websites for seeing examples of beautiful logos. 1. Abduzeedo | Graphic Design Inspiration and Photoshop Tutorials. Richard Arthur Stewart: Fast Eddie's Barber Shop. Designer Spotlight: Richard Arthur Stewart. CommonerInc. Illustration Directory :: Illustrators, Assignment Illustration, Stock Illustration, Illustration Portfolios. Think Design | Graphic Design Freebies, Resources, and Inspiration. Graphic Design Inspiration of digital photography and Photoshop Tutorials @Smashing Hub. Fudgegraphics | for lovers. Design Inspiration + Visual Art Inspiration | Designflavr |
Design Inspiration, Freebies and Tutorials - Creative Nerds.
---