ARCHITECTS AND STUDIOS
Get flash to fully experience Pearltrees
The new library is designed to become the center and heart for the local community with a strong relationship to the ocean and the bay. The building is placed in a park setting and aims to be a landmark for locals and visitors and a symbol for the creative and environmentally friendly future of New Pulian. It is a place for the public to read, contemplative and come together.
British designer Tom Price has made an enchanted grove of cherry trees out of plastic tubes and cable ties. The slender cherry trees occupied an entire room at Industry Gallery in Washington D.C last month, casting delicate shadows on the surrounding walls. Price was inspired to make the installation when he visited the US capital last spring during the National Cherry Blossom Festival. He used special tools to heat the plastic tubing so that he could then bend and twist it into the desired shape.
Mobile Pavilion for Contemporary Music, 2008 Synaesthetic Filter is a mobile pavilion for experimental music that can stage performances ranging from scenic plays to sound installations. Conventional concert spaces function like picture stages, although our ears know no perspective but are rather immersed in sound. Furthermore, the wide range of performances within contemporary music does not require a neutral multifunctional space, but rather a palette of transformable spatial instruments that trigger new experiments. The mobile music pavilion acts like a visual and acoustic filter that allows flexible positioning of musicians and audience and the integration of surroundings into the performance. Through pivotable acoustic elements, the pavilion can be closed or opened up to change visual and spatial qualities as well as certain acoustic properties of the space. By moving the elements, musical and spatial effects can be interlinked.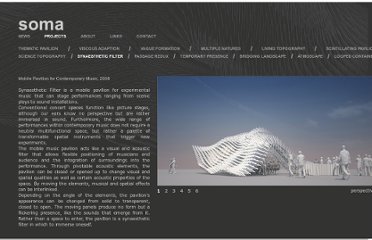 Written by: Staff Thursday, April 21st, 2011 . At the 2011 Salzburg Biennale in Austria this past March, visitors to this contemporary music festival must have been a little shocked when they first caught sight of the temporary pavilion designed by architecture firm Soma . A spectacular array of brilliant aluminum segments, the pavilion is not your typical performance hall. Although the festival is over, the pavilion will remain in Salzburg through May. Until then, it continues to showcase musical events, as well as performances in other artistic mediums. The building block of the pavilion is a 2-meter length of aluminum square tubing.
Written by: Staff Tuesday, November 16th, 2010 . Classical music is dying, or so nearly everyone says. Or perhaps, to be more accurate, I should say that the people who listen to classical music are dying, since the audiences at the Met and Chicago Lyric Opera are packed with fur stoles and Chanel No.5. But despite the insistence the classical music is going out of fashion, it's hard to deny the international attention newly designed concert spaces has been getting in the several years. Frank Gehry's Walt Disney Concert Hall in Los Angeles, Herzog & de Meuron's design for the Elbe Philharmonic Hall in Hamburg, Germany and Jean Nouvel's new Paris Philharmonie project are just some of the latest and most sparkling examples of contemporary concert hall design; these radical redesigns hope to mirror function and form, and are nothing like the dowdy concert halls built during the last 2 centuries.