herramientas =)
Get flash to fully experience Pearltrees
Las visualizaciones gráficas son herramientas poderosas para mostrar conceptos e ideas . Son útiles para atrapar a los usuarios en un gráfico con la información que compilamos para elaborarla. La mayoría de ellas está pensada para transmitir contenido relevante. Reunimos una serie de recursos gráficos para tener en cuenta
Feb 18 2009 For months, we have been bookmarking interesting, useful and creative Adobe After Effects tutorials and Resources, so you can now rest assured that you will have the necessary tools to get the job done. Whether you want to learn how to create vibrant motion graphics, breathtaking special effects or cinematic footage, today we got it all.
Looking to add motion design to your video projects but short on time or budget? Here's 10 free After Effects templates to add bang without the bucks! With the overwhelming interest in our previous post on free After Effects templates , we've decided to put together another batch of slick motion design project files that you can get gratis!
1 Define the project Ideas generated on evenings down the pub or at networking events may crackle with potential, but take time to consider the reality of the project and define what it will involve. Are you biting off more than you can chew? Will you and your collaborative partner expect payment?
May and 3D Max are using in film industry for making special effects. These software have strong modeling and animation capabilities and contain everything which you need to make heigh0end 3D graphics and animations. These tools are now using in logo designing and web designing. Now most of designers are learning and working for give better look to there designs. It is quit hard to learn these applications but there are a lot of tutorials online which make easy to learn. Below, you'll find 125 Excellent 3Ds Max and Maya Tutorials and Best Practices for your Graphics & Animation related needs.
Who can resist a colourful, thoughtful venn diagram anyway? In terms of blogging success, infographics are far more likely to be shared than your average blog post. This means more eyeballs on your important information, more people rallying for your cause, more backlinks and more visits to your blog. In short, a quality infographic done well could be what your blog needs right now.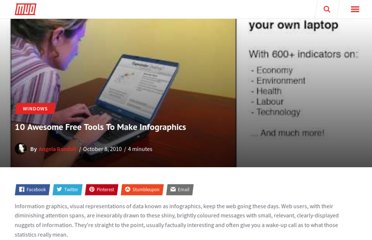 Awww, vintage and retro style designes are simply awesome. By using various design elements such as textures, patterns and brushes to add an aged or used appearance designers can easily pull of timeless look. To compliment retro/vintage appearance it's also important to use proper typography from the time period you are trying to represent. To help you out, I've rounded up 20 perfect retro and vintage fonts to use in your designs. I'm hoping that you found at least one new font to add to your collection.
This page is an online two dimensional code generator which is written in PHP. It can generate QR Code , Data Matrix , Aztec Code and Micro QR Code for the time being. Because QR Code is much more popular than the other code formats, it is separately named in the page title. If you need more information on two dimensional bar code systems, I strongly suggest that you take a look at Roger Smolski 's comprehensive blog on QR Code and two dimensional bar codes . Also you should check out John Hopkins 's extensive iPhone QR Code reader roundup .