Herramientas =)
Narración de Voz en Off, Narración en Primera Persona, Femenino & Masculino | Fiverr. Home | VideoScribe. Home | Whiteboard Animation. Wideo - Crea videos animados online gratis. The easiest way to create world-class Interactive Videos. Apple's New Mac Pro and Premiere Pro CC & GPU Debayer. Apple's New Mac Pro and Premiere Pro CC & GPU Debayer. A Complete Guide to Setting Up a Home Color Grading Suite. This is a guest post by Cinematographer Ryan E.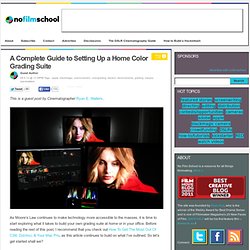 Walters. As Moore's Law continues to make technology more accessible to the masses, it is time to start exploring what it takes to build your own grading suite at home or in your office. Before reading the rest of this post, I recommend that you check out How To Get The Most Out Of CS6, DaVinci, & Your Mac Pro, as this article continues to build on what I've outlined. So let's get started shall we? First off, I think it is important to acknowledge that this grading suite does not replace a high end professional suite. Basecamp is everyone's favorite project management app.
Final
Musica. 3d. Infographics. Diseño. Nuke. Trello. How to Replace Your MacBook's Optical Drive With an SSD. Just before the latest MacBook Pro updates were released, rumors swirled that the new models would adopt solid-state drives (SSD) in addition to hard disk drives (HDD) and drop internal optical DVD drives across the line.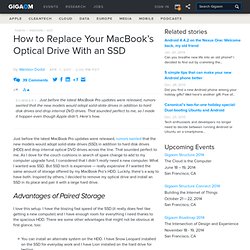 That sounded perfect to me. As I dove for the couch cushions in search of spare change to add to my computer upgrade fund, I considered that I didn't really need a new computer. What I wanted was SSD. 10 tips for painless collaborative projects. Working with another creative mind on a project can be rewarding and productive - but is fraught with potential pitfalls.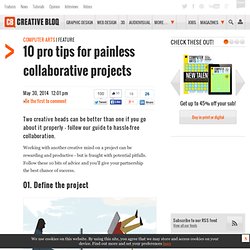 Follow these 10 bits of advice and you'll give your partnership the best chance of success. 01. Define the project Ideas generated on evenings down the pub or at networking events may crackle with potential, but take time to consider the reality of the project and define what it will involve.
Art + Tech: Public conversations through Arduino.
---