Streaming Media
The Classical MIDI Connection. The 20th Century. ADAMS, John (1947-) American Naive and Sentimental Music (478k) Philip Decloux Note: This is a large file and many instruments are sometimes compressed into one musical line (example: glockenspiel in celesta, several mallet percussion instruments into vibraphone).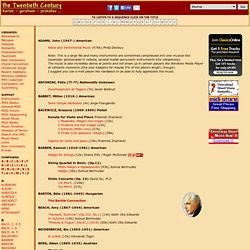 The music is also incredibly dense at points and will break up in certain players like Windows Media Player at climactic moments (this only happens for maybe 5% of the piece's length, though). I suggest you use a midi player like VanBasco to be able to fully appreciate the music. ANTONINI, Félix (?? The Impressionistic Period. DEBUSSY, Claude (1862-1918) French 24 Preludes, 1ere Livre Jeruen E.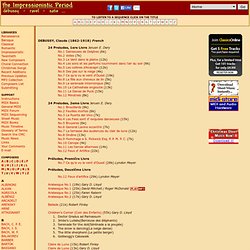 DeryNo.1 Danseuses de Delphes (6k) No.2 Voiles (7k) No.3 Le Vent dans la plaine (12k) No.4 Les sons et les parfums tournment dans l'air du soir (9k) No.5 Les collines d'Anacapri (12k) No.6 Des pas sur la neige (4k) No.7 Ce qu'a vu le vent d'Ouest (19k) No.8 La fille aux cheveux de lin (5k) No.9 La serenade interrompue (9k) No.10 La Cathedrale engloutie (13k) No.11 La Danse de Puck (15k) No.12 Minstrels (8k) 24 Preludes, 2eme Livre Jeruen E. The Romantic Period.
ACCOLAY, Jean Batiste (1845-1910) French Violin Concerto in Amin. (83k) Ayrton Pisco ALBÉNIZ, Isaac (1860-1909) SpanishAsturias (Leyenda) (26k) Asturias (Leyenda) (73k) George Pollen/Michael Myers Asturias-Leyenda (18k) John Cowles España (Op.65) for piano - Bernd Krüger.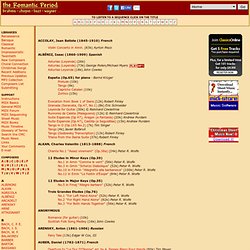 The Classical Period. ALBÉNIZ, Mateo (1760-1831) Spanish Sonata, zapateado, arrg. for guitar (11k) Ramón Pajares Box ANONYMOUSDie Zufriedenheit im niedrigen Stande (formerly attr. as Mozart's K.151) (4k) Camila ArgoloGeheime Liebe (formerly attr. to Mozart) (3k) Camila Argolo ARNE, Thomas Augustine (1710-1778) EnglishThe Overture and Scotch Air from the opera "Thomas and Sally, or The Sailor's Return".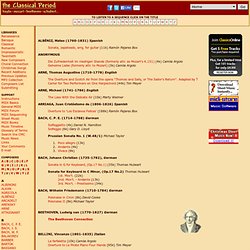 Adapted by T Carter for Two Performers on One Harpsichord (44k) Tim Meyer ARNE, Michael (1741-1786) EnglishThe Lass With the Delicate Air (10k) Marty Weimer ARRIAGA, Juan Cristóstomo de (1806-1826) SpanishOverture to 'Los Esclavos Felices' (188k) Ramón Pajares Box BACH, C. P. E. (1714-1788) German BACH, Johann Christian (1735-1782), GermanSonata in G for Keyboard, (Op.17 No.1) (35k) Thomas HubeartSonata for Keyboard in C Minor, (Op.17 No.2) Thomas Hubeart1st. Mov't. (22k) 2nd.
The Renaissance Period. The Baroque Period. ALBINONI, Tomaso (1671-1750) Italian Adagio in Gmin (20k) Stager / SchwobAdagio in Gmin (71k) Toru Yaskawa ANONYMOUSFive 18th Century Suites M.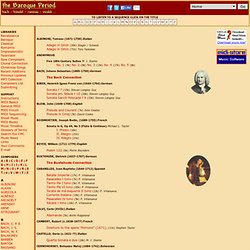 J. StarkeNo. 1 (9k) No. 2 (8k) No. 3 (15k) No. 4 (17k) No. 5 (8k) BACH, Johann Sebastian (1685-1750) GermanThe Bach Connection BIBER, Heinrich Ignaz Franz von (1644-1704) GermanSonata ŕ 7 (15k) Steven Langley GuySonata pro Tabula ŕ 10 (30k) Steven Langley GuySonata Sancti Polycarpi ŕ 9 (33k) Steven Langley Guy BLOW, John (1649-1708) EnglishPrelude and Courant (7k) John CowlesPrelude in Cmaj (5k) David Cooke BOISMORTIER, Joseph Bodin, (1689-1755) French Sonata in G, Op 44, No 3 (Flute & Continuo) Michael L.
TaylorI. iTunes.
---