Software
Open Source Matters, Inc.
What is OSM Open Source Matters (OSM) is a not-for-profit organisation, incorporated in the United States, created to serve the financial and legal interests of the Joomla project. OSM has been designed to be flexible and change as the needs of Joomla!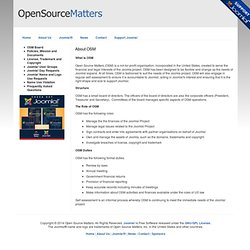 About OSM
Contacts
Latest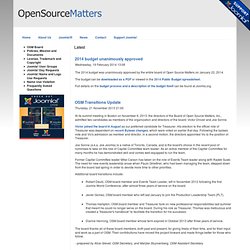 On October 3, 2012, the Community Oversight Committee (COC) approved the four nominees submitted to them by the Board of Open Source Matters, Inc. (OSM) Today we welcome: Mike Carson from Joliet, Illinois, USA Sandy Ordonez from Brooklyn, New York, USA Radek Suski from Schaafheim, Germany Sarah Watz from Stockholm, Sweden Our four new members cover a wide range of skills, and each one has done significant work to further the goals of the Joomla!
Support Joomla!
There are many ways you can support the Joomla! Project by contributing your time, talent and money. The most important support of the community comes from the many ways in which people volunteer in different parts of the Joomla!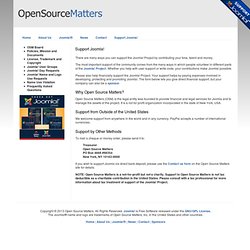 Joomla! ® is a free, award-winning content management system written in PHP which is allows users to easily publish their content on the world wide web and intranets. Joomla is created as an open-source project where individuals and teams contribute their skills to its development as well as its supporting systems. While Joomla is packed with features, its greatest quality is that it is extremely extensible.
Joomla!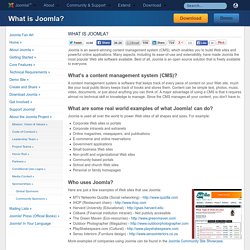 Joomla is an award-winning content management system (CMS), which enables you to build Web sites and powerful online applications. Many aspects, including its ease-of-use and extensibility, have made Joomla the most popular Web site software available. Best of all, Joomla is an open source solution that is freely available to everyone. What's a content management system (CMS)? A content management system is software that keeps track of every piece of content on your Web site, much like your local public library keeps track of books and stores them.
Accessibility Statement This statement addresses three main areas of accessibility for Joomla: Sites produced using Joomla (front end and back end), and the Joomla.org site. Sites produced using Joomla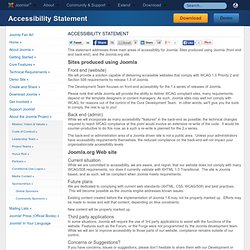 Accessibility Statement
Privacy Policy This web site is one of the family of web sites of Joomla!/Open Source Matters . Our postal address is: Open Source Matters PO Box 4668 #88354 New York, New York 10163-4668 Our legal address is:
Privacy Policy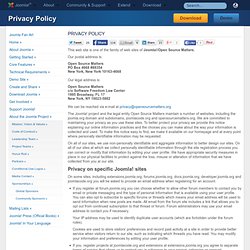 Hi there, my name is Koroush Ghazi and I'm the author of all the information you see on this site. I set up TweakGuides.com in April 2004 as a central place where all PC users can come to quickly find comprehensive guides on a variety of topics. The site name reflects the fact that the site focuses on providing top quality tweak guides, and acts as a repository for PC optimization and troubleshooting knowledge.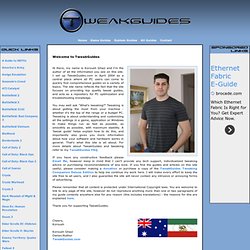 Contact
All Tweak Guides
Game Tweak Guides
System Optimization Tweak Guides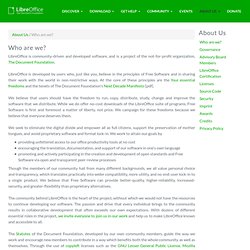 About Us
LibreOffice is community-driven and developed software which is a project of the not-for-profit organization, The Document Foundation . The LibreOffice software is developed by users, just like you, who believe in the principles of free software and in sharing their work with the world in a non-restrictive way. At the core of these principles is the promise of better-quality, highly-reliable and secure software that gives you greater flexibility at zero cost.
Developers
Primary points of contact and resources: the #libreoffice-dev channel at irc.freenode.net the Development wiki page and the developers mailing list at FreeDesktop (list archive via nabble) , please read these notes before posting. Get The Code
The LibreOffice Start Center (Click on image) LibreOffice is a comprehensive, professional-quality productivity suite that you can download and install for free. There is a large base of satisfied LibreOffice users worldwide, and it is available in more than 30 languages and for all major operating systems, including Microsoft Windows, Mac OS X and GNU/Linux (Debian, Ubuntu, Fedora, Mandriva, Suse, ...). You can download , install and distribute LibreOffice freely, with no fear of copyright infringement. What's outstanding about LibreOffice? LibreOffice is a feature-packed and mature desktop productivity package with some really great advantages:
Features
Get Help
LibreOffice end users are the people at the heart of everything we do in the LibreOffice project. To get help with your questions or problems concerning LibreOffice, we currently have the following resources available to you. We are hard at work to improve and augment them, and we invite you to get involved as well . For user support, we have:
LibreOffice has a large team of contributors based all over the world. We work round the clock on all aspects of the project: design, coding, testing, help systems, user support, documentation, localization and translation, creating sample content, developing tutorials, developing template documents for the LibreOffice applications, and many other types of work. Come join our community, and contribute in any way you like:
Get Involved
International Sites
Security
How to Report If you came here looking for end-user support, please send any question not related to a specific security bug to users@global.libreoffice.org . The security teams for products associated with the code-base can be contacted at officesecurity@lists.freedesktop.org , this includes representatives of many vendors, and associated projects. This email address is solely for reporting security issues related to the software.