Economie / Microfinance
India Real Time. End Poverty in South Asia | Promoting dialogue on development in South Asia. The biggest daily struggle for 28 year old mother of two Sima Begum, is feeding her young children and keeping them healthy.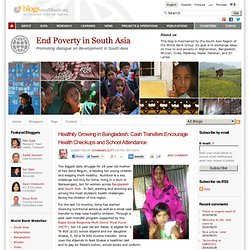 Nutrition is a key challenge not only for Sima, living in a slum in Narayanganj, but for women across Bangladesh and South Asia. In fact, wasting and stunting are among the most stubborn health challenges facing the children of this region. For the last 15 months, Sima has started receiving nutritional advice as well as a small cash transfer to help raise healthy children. Banking With The Poor Network: The Official Blog. Posted by admin on 28 February, 2014 RCDS is proud to share the most recent 2014 recipients of the First Pakistani STAR MFI and first 2014 STAR Socially Transparent & Responsible and powered by MIX.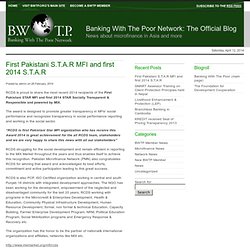 The award is designed to promote greater transparency in MFIs' social performance and recognizes transparency in social performance reporting and working in the social sector. Creating a World Without Poverty. By Kimberly Davies, Program Officer, Financial Services You've finally gotten that new savings product off the ground and into people's hands.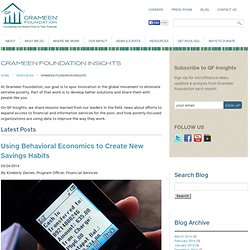 They sign up in droves—and then they go silent. Dormant accounts can be a huge problem for financial service providers. It puts a huge dent in their bottom line and could jeopardize their sustainability. Development Through Enterprise. Main Street Microfinance. "If you can't measure something, you can't manage it."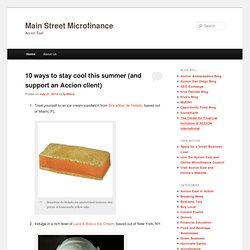 –Peter Drucker The abundance of data collection software available to small business owners has raised the bar for data analysis. Yet as big data becomes more accessible, the playing field is being leveled and small business owners can access data to enhance their business planning. Untitled. CGAP Microfinance Blog. Center for Financial Inclusion Blog. Kiva Stories from the Field. Kiva.org. Acumen Fund Blog. Globalization and Human Rights - Nicholas D. Kristof Blog. Adie.org | Nous donnons les moyens d'entreprendre à ceux qui n'ont pas les moyens. Global Social Business Summit 2011 | Grameen Creative Lab – pionieering for results. Welcome to the Micro Finance Club. Themicroloanfoundation's Blog. Babyloan, le blog - Première plateforme européenne de prêts solidaires.
---