Economie / Microfinance
India Real Time
End Poverty in South Asia | Promoting dialogue on development in South Asia
The biggest daily struggle for 28 year old mother of two Sima Begum, is feeding her young children and keeping them healthy. Nutrition is a key challenge not only for Sima, living in a slum in Narayanganj, but for women across Bangladesh and South Asia. In fact, wasting and stunting are among the most stubborn health challenges facing the children of this region. For the last 15 months, Sima has started receiving nutritional advice as well as a small cash transfer to help raise healthy children.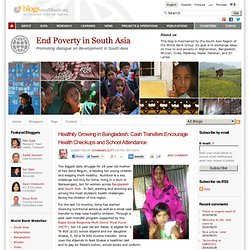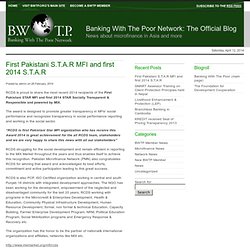 Posted by admin on 28 February, 2014 RCDS is proud to share the most recent 2014 recipients of the First Pakistani STAR MFI and first 2014 STAR Socially Transparent & Responsible and powered by MIX. The award is designed to promote greater transparency in MFIs' social performance and recognizes transparency in social performance reporting and working in the social sector.
Banking With The Poor Network: The Official Blog
By Kimberly Davies, Program Officer, Financial Services You've finally gotten that new savings product off the ground and into people's hands. They sign up in droves—and then they go silent. Dormant accounts can be a huge problem for financial service providers. It puts a huge dent in their bottom line and could jeopardize their sustainability.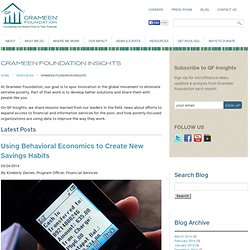 Creating a World Without Poverty
Development Through Enterprise
Main Street Microfinance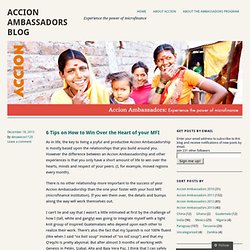 unnamed pearl
As in life, the key to living a joyful and productive Accion Ambassadorship is mostly based upon the relationships that you build around you. However the difference between an Accion Ambassadorship and other experiences is that you only have a short amount of life to win over the hearts, minds and respect of your peers. (I, for example, moved regions every month). There is no other relationship more important to the success of your Accion Ambassadorship than the one your foster with your host MFI (microfinance institution). If you win them over, the details and bumps along the way will work themselves out. I can't lie and say that I wasn't a little intimated at first by the challenge of how I (tall, white and gangly) was going to integrate myself with a tight knit group of inspired Guatemalans who depend upon each other to realize their work.
CGAP Microfinance Blog
Center for Financial Inclusion Blog
> Posted by Jeffrey Riecke, Communications Associate, CFI A few days ago news broke that Facebook, the social media giant with over a billion users worldwide, is making preparations to begin offering international money transfer services. Although the development has been dismissed by Facebook as rumor, the prospect of this enormous network enabled for money transfer and the huge global need for this service makes this a story worth following. The news, initially shared by the Financial Times and sourced from individuals involved in the proceedings, indicates that Facebook is weeks away from securing regulatory approval from Ireland's central bank to allow its users to store money on the site and use it to pay others. Facebook's headquarters for Europe, the Middle East, and Asia is in Dublin.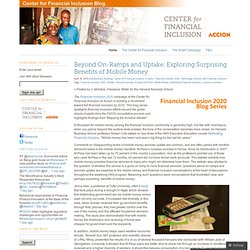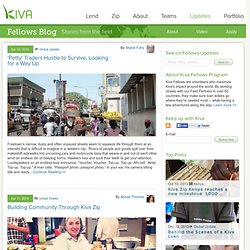 Freetown's narrow, dusty and often unpaved streets seem to squeeze life through them at an intensity that is difficult to imagine in a 'western city'. Rivers of people and goods spill over from makeshift sidewalks into oncoming cars and motorcycle taxis that weave in and out of each other amid an endless din of beeping horns. Hawkers hiss and suck their teeth to get your attention. Loudspeakers on an endless loop announce, "Voucher, Voucher, Top-up, Top-up, Afri-cell, Airtel, Top-up, Top-up." A man calls, "Passport photo, passport photo," in your ear, his camera sitting idle and ready...
Kiva Stories from the Field
I'm about to help a new friend blow up some stuff in Nicaragua. Luis Alberto and I are standing on a deserted rural road flanked by barbed wire, marking the edges of dry empty fields. Just a 20-minute ride from the bustling streets of León, the only sounds here are the rustling of dry leaves, the occasional bark of a distant dog, and metallic hammering from a nearby tin-roofed work site. A phone camera photo of Luis and Bob. Meanwhile, I've spent sizable chunks of the last few years traveling around the world to visit borrowers in Bosnia, Lebanon, Cambodia, and so on, writing a book about Kiva and microfinance while meeting as many loan recipients as I can. That's why I'm here.
Kiva.org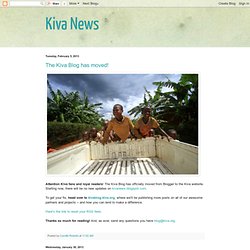 Acumen Fund Blog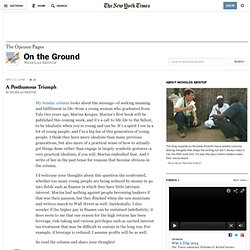 My Sunday column is about the unfortunate way America has marginalized university professors–and, perhaps sadder still, the way they have marginalized themselves from public debate. When I was a kid, the Kennedy administration had its "brain trust" of Harvard faculty members, and university professors were often vital public intellectuals who served off and on in government. That's still true to some degree of economists, but not of most other Ph.D programs.
Global Social Business Summit 2011 | Grameen Creative Lab – pionieering for results
Building Social Business Pioneering for Results We are delighted to announce the Global Social Business Summit 2011. Social business is spreading through all sectors of the economy, all over the world. We are building a strong global community committed to tackling society's most pressing needs. As the premier forum for the worldwide social business movement, the Summit brings together social business pioneers from corporates, civil society, academia and governments. Through an intensive program of talks, panels and workshops, it provides an occasion to share results, make connections and learn from others on the social business frontier – together with the Grameen Family.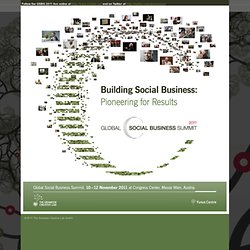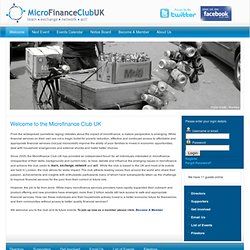 From the widespread (sometime raging) debates about the impact of microfinance, a mature perspective is emerging. While financial services on their own are not a magic bullet for poverty reduction, effective and continued access to affordable and appropriate financial services (not just microcredit) improve the ability of poor families to invest in economic opportunities, deal with household emergencies and external shocks and make better choices. Since 2005, the Microfinance Club UK has provided an independent forum for all individuals interested in microfinance (irrespective of their skills, backgrounds and current role) to hear, debate and influence the emerging issues in microfinance and achieve the club credo to learn, exchange, network and act. While the club is based in the UK and most of its events are held in London, the club strives for wider impact.
Welcome to the Micro Finance Club
Pennies for Life: Putting the power back into the public's pockets Malawi received £77.3 billion of aid from the UK in 2009. During the same year the president Mutharika spent 9 million on a private jet, £2 million on a wedding ceremony for his new bride and £3 million on 22 Mercedes limousines. Furious at these revelations, DFID officials reportedly cut the UK's poverty aid to Malawi by £3 million, "the equivalent to the annual cost of the plane over the next 5 years".
Themicroloanfoundation's Blog
Babyloan, le blog - Première plateforme européenne de prêts solidaires
Le samedi 17 mai 2014, l'association Financement Participatif France, qui regroupe la plupart des acteurs du crowdfunding en France – dont Babyloan – organise un grand événement à l'ESCP (Paris 11). Continue la lecture A la frontière nicaraguayenne © Microcrédit en 4L