Economie / Microfinance
India Real Time
End Poverty in South Asia | Promoting dialogue on development in South Asia
We rarely give the toilet a second thought. We use it when we need to, and we flush and forget. We are also able to conveniently wash our hands afterwards. But imagine if you are on a long hiking trip or a bus ride with no stops in sight and had no access to a toilet or running water.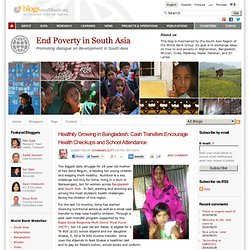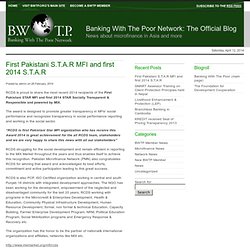 Posted by admin on 19 November, 2013 Subsequent to the Exposure Study Tour to Israel in the latter part of October 2012, a knowledge dissemination and awareness program was conducted to share the learning's of the study tour by the team of 05 senior level officials led by Deputy General Manager – Development Banking. The program held at the HNB Head Office Training Center with the patronage of Development Banking Division was attended by all agriculture officers attached to Development Banking Division.
Banking With The Poor Network: The Official Blog
By Kimberly Davies.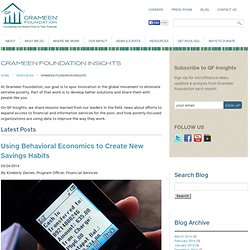 Creating a World Without Poverty
Development Through Enterprise
Main Street Microfinance
unnamed pearl
CGAP Microfinance Blog
Center for Financial Inclusion Blog
Kiva Stories from the Field
Kiva.org
Acumen Fund Blog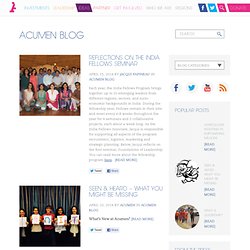 Although I've always dreamed of being an artist, my stick figure drawings or Power Point presentations have somehow never quite qualified me. However, according to one of Pakistan's most well known novelists, my dreams might not be completely hopeless. During a talk last week at the Acumen Fellows' Irtiqa conference, Mohsin Hamid painted a simple yet profound [re]definition of art: "Art is the unwillingness to accept the way things are."
David Roodman's Microfinance Open Book Blog
Globalization and Human Rights - Nicholas D. Kristof Blog
Global Social Business Summit 2011 | Grameen Creative Lab – pionieering for results
Welcome to the Micro Finance Club
Themicroloanfoundation's Blog
Babyloan, le blog - Première plateforme européenne de prêts solidaires