Remote-Sensing
NCGIA Core Curriculum in GISci - Detailed Outline. Last update - August 13, 2000 Legend (001) - Numbers in brackets indicate each unit's unique key number.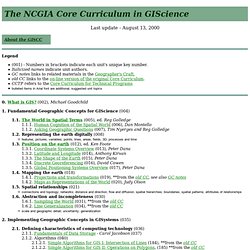 Italicized names indicate unit authors. GC notes links to related materials in the Geographer's Craft. old CC links to the on-line version of the original Core Curriculum. Official GRASS GIS Homepage - The World Leading Free Software GI. Table of Contents for the NCGIA Core Curriculum 1990 Version. NCGIA CORE CURRICULUM 1990 VersionTable of contents The National Center for Geographic Information Analysis (NCGIA) is a research consortium whose main focus is to conduct basic research in geographic information science and its related technology.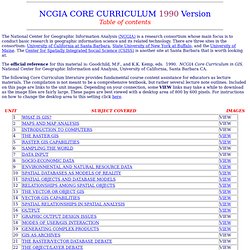 There are three sites in the consortium: University of California at Santa Barbara, State University of New York at Buffalo, and the University of Maine. The Center for Spatially Integrated Social Science (CSISS) is another site at Santa Barbara that is worth looking at. The official reference for this material is: Goodchild, M.F., and K.K. SPACE - Spatial Perspectives on Analysis for Curriculum Enhancem. This website is preserved as an Archive for the NSF-funded SPACE program (2003-2007).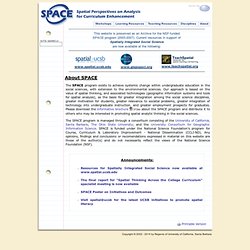 Current resources in support of Spatially Integrated Social Science are now available at the following: The SPACE program exists to achieve systemic change within undergraduate education in the social sciences, with extension to the environmental sciences. Our approach is based on the value of spatial thinking, and associated technologies (geographic information systems and tools for spatial analysis), as the basis for greater integration among the social science disciplines, greater motivation for students, greater relevance to societal problems, greater integration of technology into undergraduate instruction, and greater employment prospects for graduates.
Please download the informative brochure. Notes for GIS and The Geographer's Craft. Sample Examination and Study Questions Aerial Photography and Remote Sensing by Shannon Crum -- An introduction to the basic concepts of remote sensing, with emphasis on air photograph interpretation.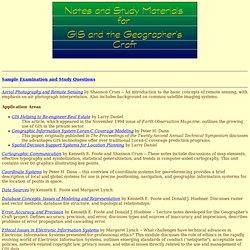 Also includes background on common satellite imaging systems. Geography 165. Introduction to Cartography and Remote Sensing.
---