@
Messagerie - envoi de fichiers lourds - programmez vos mails May 7
Telephoner gratuitement avec Likiwi !
Solution sécurisée de transfert de fichiers volumineux - dropCloud
MailTester.com
contacts
programmez l'envoi de vos emails
By downloading Right Inbox for Gmail below, you agree to the Terms and Conditions of use. 1 Start download Click the button to the left to download Right Inbox browser extension for Google Chrome. Or you may click here if it does not work.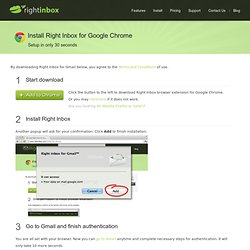 Install Right Inbox for Google Chrome