Extension chrome
Version : 2.2.3Mise à jour : 20 décembre 2013Taille : 85.67KBLangues : Bahasa Indonesia, Deutsch, English, English (UK), Français, Nederlands, Tiếng Việt, Türkçe, català, dansk, eesti, español, español (Latinoamérica), hrvatski, italiano, latviešu, lietuvių, magyar, polski, português (Brasil), português (Portugal), română, slovenský, slovenščina, suomi, svenska, čeština, Ελληνικά, Српски, български, русский, українська, עברית, हिन्दी, ไทย, ‫العربية, 中文 (简体), 中文 (繁體), 日本語, 한국어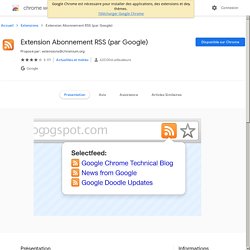 Backup and sync your bookmarks and open tabs across computers and browsers. Xmarks is also available for Firefox, Safari and IE. Xmarks is the #1 bookmarking add-on. Xmarks synchronizes across multiple computers, and across web browsers: Chrome, Firefox, Safari and Internet Explorer. After you install the add-on, click on the Xmarks icon to start backing up and synchronizing your bookmarks.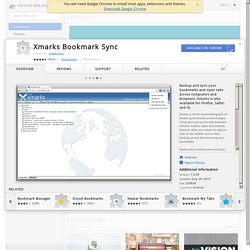 Chrome Web Store - SingleFile
Télécharger ChromePass - 01net.com - Telecharger.com
Chrome Web Store - SimilarWeb
Chrome Web Store - Google Similar Pages Bêta (par Google)
Version : 0.6.6.2Mise à jour : 7 avril 2014Taille : 225KBLangues : Bahasa Indonesia, Deutsch, English, English (UK), Français, Nederlands, Tiếng Việt, Türkçe, català, dansk, eesti, español, español (Latinoamérica), hrvatski, italiano, latviešu, lietuvių, magyar, polski, português (Brasil), português (Portugal), română, slovenský, slovenščina, suomi, svenska, čeština, Ελληνικά, Српски, български, русский, українська, עברית, हिन्दी, ไทย, ‫العربية, 中文 (简体), 中文 (繁體), 日本語, 한국어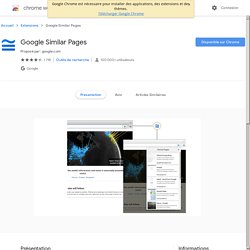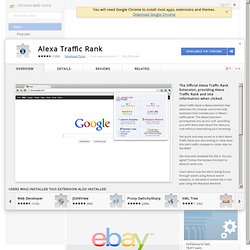 Chrome Web Store - Alexa Traffic Rank
The Official Alexa Traffic Rank Extension, providing Alexa Traffic Rank and site Information when clicked. Alexa Traffic Rank is Alexa Internet's free extension for Chrome, and is the only extension that includes you in Alexa's traffic panel. The Alexa extension accompanies you as you surf, providing you with Alexa data about the sites you visit without interrupting your browsing.
Chrome Web Store - Ghostery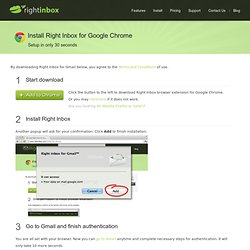 Install Right Inbox for Google Chrome
By downloading Right Inbox for Gmail below, you agree to the Terms and Conditions of use. 1 Start download Click the button to the left to download Right Inbox browser extension for Google Chrome.
Chrome Web Store - new metroTab