Clipart
OpenClipArt. 3 Tutorials to Help You Get More Out of PowerPoint's Image Editing. I know it's hard to believe, but apparently there are many people who don't like PowerPoint.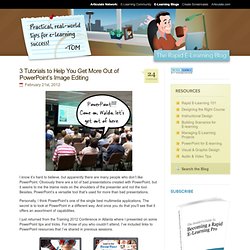 Obviously there are a lot of bad presentations created with PowerPoint, but it seems to me the blame rests on the shoulders of the presenter and not the tool. Besides, PowerPoint's a versatile tool that's used for more than bad presentations. Personally, I think PowerPoint's one of the single best multimedia applications. The secret is to look at PowerPoint in a different way. Little Known Ways to Create Your Own Graphics Using PowerPoint. If you follow Sweller's cognitive load theory, then you understand that the graphics in your elearning course are very important and play a large role in its effectiveness.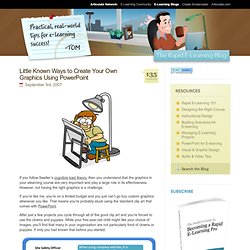 However, not having the right graphics is a challenge. If you're like me, you're on a limited budget and you just can't go buy custom graphics whenever you like. That means you're probably stuck using the standard clip art that comes with PowerPoint. After just a few projects you cycle through all of the good clip art and you're forced to use the clowns and puppies. Find Free Clip Art on Microsoft Office Online | How to PowerPoint. Create your own graphics and icons for PowerPoint: Part I–Using clip art. Yes, you can create your own graphics and icons for PowerPoint!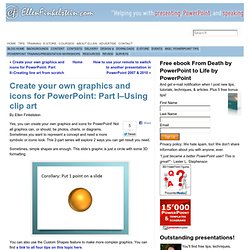 Not all graphics can, or should, be photos, charts, or diagrams. Sometimes you want to represent a concept and need a more symbolic or iconic look. This 2-part series will explore 2 ways you can get result you need. Sometimes, simple shapes are enough. Welcome to Flickr - Photo Sharing. See How Easily You Can Design a Consistent Look for Your E-Learning Courses. My kids love stickers.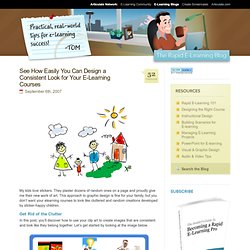 They plaster dozens of random ones on a page and proudly give me their new work of art. This approach to graphic design is fine for your family, but you don't want your elearning courses to look like cluttered and random creations developed by sticker-happy children. Get Rid of the Clutter. 3 Tutorials to Help You Get More Out of PowerPoint's Image Editing.
OpenClipArt. DryIcons.com - Free Icons and Vector Graphics. VectorFinder. Free Vectors - Free Vector Art, Vector Images & Vector Graphics. Free Icons Web - Icons, Free Icons, Png Icons, Desktop Icons. Paper icons. 15 Interesting Clip Art Styles for Your E-Learning Courses. If you're like many of us, you don't have a lot of money to buy stock images or hire a graphics designer.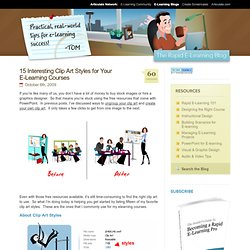 So that means you're stuck using the free resources that come with PowerPoint. In previous posts, I've discussed ways to ungroup your clip art and create your own clip art.
---