Programas descargas
eMule-Project.net - Official eMule Homepage. Downloads, Help, Docu, News
What is eMule? At dawn of May 13th 2002 a guy called Merkur was dissatisfied with the original eDonkey2000 client and was convinced he could do better. So he did. He gathered other developers around him, and eMule Project was born. Their aim was to put the client back on track where eDonkey had been famous before, adding tons of new features and a nice GUI.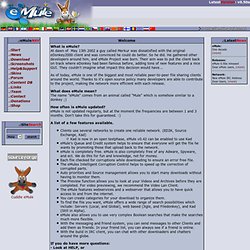 Mipony - Download manager for Rapidshare, Megaupload,...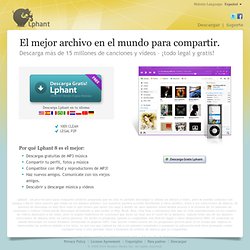 Lphant - un peer-to-peer para compartir archivos programa que no sólo te permite descargar lo último en música y vídeo, pero te puedes conectar con amigos y hacer otros nuevos que están en los mismos artistas. Los usuarios pueden acceder fácilmente a otros perfiles, fotos y sus colecciones de música. El proceso de descarga es muy fácil todo lo que tienes que hacer clic aquí y dentro de unos minutos usted tendrá acceso a la friolera de 20 millones de canciones y videos! Usted puede descargar fácilmente a más tardar el Pop, Rock, Rap / Hip Hop y alternativa hits que se está reproduciendo en los canales de vídeos musicales y de radio, pero la amplia biblioteca de canciones que tiene un viaje por el carril de la memoria. Lphant tiene una de las mejores colecciones de música retro en varios géneros. De hecho el programa Lphant es compatible con iPod de Apple y otros dispositivos MP3.
Lphant