Identidad
OpenID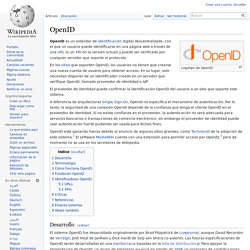 Logotipo de OpenID. OpenID es un estándar de identificación digital descentralizado, con el que un usuario puede identificarse en una página web a través de una URL (o un XRI en la versión actual) y puede ser verificado por cualquier servidor que soporte el protocolo. En los sitios que soporten OpenID, los usuarios no tienen que crearse una nueva cuenta de usuario para obtener acceso.
Yahoo! OpenID (beta)
Home
Weblogs SL :: OpenID
OpenID.es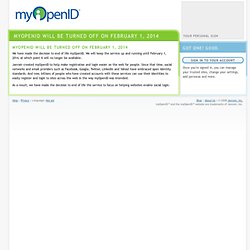 We have made the decision to end of life myOpenID. We will keep the service up and running until February 1, 2014, at which point it will no longer be available. Janrain created myOpenID to help make registration and login easier on the web for people. Since that time, social networks and email providers such as Facebook, Google, Twitter, LinkedIn and Yahoo! have embraced open identity standards.