Downloads
Lphant - un peer-to-peer para compartir archivos programa que no sólo te permite descargar lo último en música y vídeo, pero te puedes conectar con amigos y hacer otros nuevos que están en los mismos artistas. Los usuarios pueden acceder fácilmente a otros perfiles, fotos y sus colecciones de música. El proceso de descarga es muy fácil todo lo que tienes que hacer clic aquí y dentro de unos minutos usted tendrá acceso a la friolera de 20 millones de canciones y videos! Usted puede descargar fácilmente a más tardar el Pop, Rock, Rap / Hip Hop y alternativa hits que se está reproduciendo en los canales de vídeos musicales y de radio, pero la amplia biblioteca de canciones que tiene un viaje por el carril de la memoria.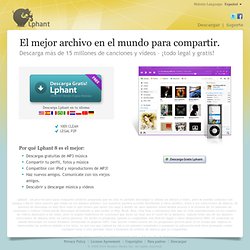 Lphant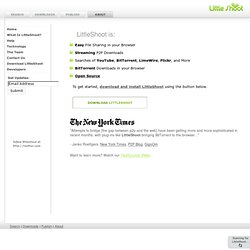 LittleShoot -- P2P 2.0 -- P2P File Sharing in the Browser
LittleShoot is: Easy File Sharing in your Browser Streaming P2P Downloads Searches of YouTube, BitTorrent, LimeWire, Flickr, and More BitTorrent Downloads in your Browser Open Source Faster Downloads More Search Results No Ads Ever Free Tech Support $34.95 for One Year of Pro Updates Better Publishing (Coming Soon!)
twit Exchange files, video and pictures with your twitter friends
Descarga Programas Gratis Descargar
Download Mp3 / Files from Google [Video Tutorial] How to build google chrome extensions Download anything from mp3s to anime using the drop down box. Right click save as on the link to save a file to your computer instead of streaming.