Búsqueda e Investigación
Followeye - sigue conversaciones en redes sociales en tiempo real
Sistema de busqueda para músicos
Busca textos, actividades, etc. - Proyecto Palladium
Today's links, randomly drawn from VoS ( Apr. 19, 2014 ) Currently, the site is best viewed in Internet Explorer 5+ and Netscape 6+. We are still working on full compatability with Netscape 4.x. Other interface and usability improvements will be introduced in the future. In a later implementation phase of the new VoS, users who have signed up for accounts will have additional editorial privileges allowing them to maintain/revise links that they have contributed. There will also be group accounts that enable classes, organizations, conferences, etc. to build subsets of VoS resources that will appear both on the regular VoS pages and on a special page set aside for the group (e.g., the "English 130," "History 186," or "Conference 2001" VoS Resources Page).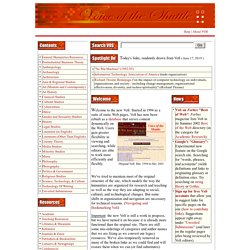 Voice of the Shuttle
Search Videos from - YouTube, MySpace, LiveVideo, DailyMotion, MetaCafe
Artworkproject - Show your project
Juice - The intelligent discovery engine from Linkool Labs (Now available as Firefox plugin)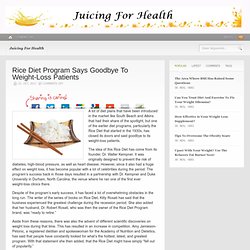 A lot of diet plans that have been introduced in the market like South Beach and Atkins that had their share of the spotlight, but one of the earlier diet programs, particularly the Rice Diet that started in the 1930s, has closed its doors and said goodbye to its weight-loss patients. The idea of this Rice Diet has come from its founder, Dr. Walter Kempner. It was originally designed to prevent the risk of diabetes, high-blood pressure, as well as heart disease. However, since it also had a huge effect on weight loss, it has become popular with a lot of celebrities during the period. The program's success back in those days resulted in a partnership with Dr.